Welsh Government planning second firebreak lockdown from 28 December
10 December 2020, 17:58 | Updated: 11 December 2020, 18:01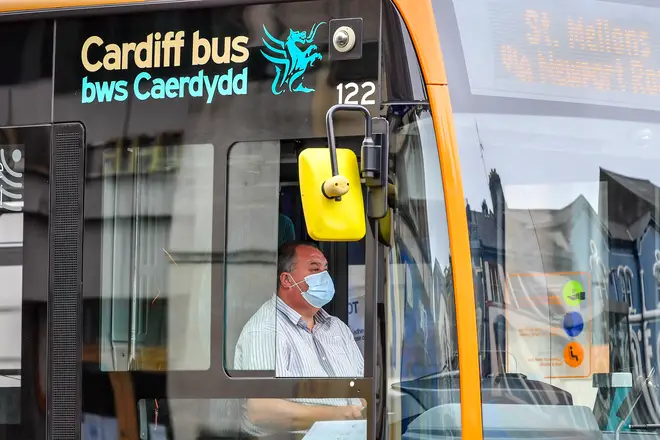 The Welsh government have warned that unless cases fall "it is inevitable" Wales will face a lockdown "immediately after Christmas".
The comments from First Minister Mark Drakeford confirm LBC's exclusive reporting from Thursday, with sources telling LBC the Welsh government is planning a firebreak lockdown from 28 December.
Wales will move to a four tier regional system, with Tier 4 comparable to a full lockdown, closing non-essential shops .
Currently all of Wales is in Tier 3, but, on Friday, the first minister told a press conference in Cardiff that the "virus is rising everywhere in Wales" and is "accelerating away".
Read more: Welsh secondary schools and colleges moving online from Monday
Mr Drakeford said: "Today in Wales, we are at alert level 3, the traffic light is red, the level of risk is very high.
"If the strengthened measures of last week and the extra action of this week - together with the efforts each and every one of us need to make - if those measures do not succeed in turning the tide of the virus then it is inevitable that we will have to consider a move to alert level 4 immediately after Christmas."
However, he added: "That move is not a foregone conclusion, the future remains in our hands. If we act together and all reduce the people we see and mix with, we can change the course of this terrible virus."
In contrast to the time limited firebreak lockdown introduced in November, the new measures will be reviewed on a rolling basis, every three weeks.
Raed more: Mass testing rolled out at secondary schools in London, Kent and Essex
Wales to increase fines for illegal gatherings from £200 to £500
The plan is "due to immense pressure on the NHS and infection rates rising in all Welsh local authority (LA) areas", LBC was told, ahead of Mr Drakeford's announcement.
"The tiers will broadly be as follows: Tier 1 – low risk, equivalent to the situation we had in the summer; Tier 2 – medium risk, equivalent to the situation we had post-firebreak; Tier 3 – high risk, equivalent to the situation we have now; Tier 4 – very high risk, equivalent to a firebreak/lockdown," the source said.
They continued: "It is likely that Wales will be placed into Tier 4 as of 28 December.
"The decision will be based on a number of factors - confirmed case rates, projection of case incidence rate over the following two weeks, rate of change in cases and positivity rates and hospital capacity.
"Broadly speaking, case rates under 50 would likely be Tier 1, 50-150 Tier 2, 150-300 Tier 3 and over 300 Tier 4.
Read more: London 'has highest Covid rate in England' as concern grows over Tier 3
Explained: New Welsh coronavirus rules - Alcohol restrictions and are hotels open?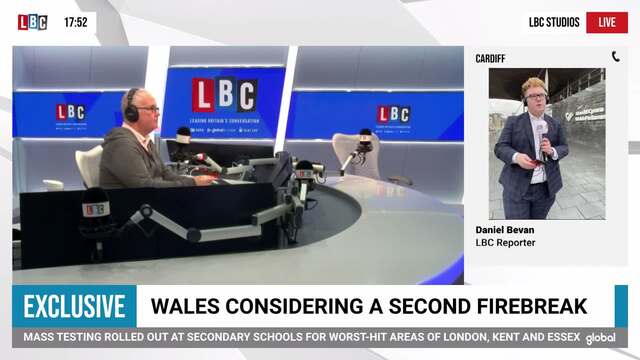 Wales considering a second firebreak lockdown
At Friday's press conference, Mr Drakeford also announced that outdoor attractions across Wales, such as winter wonderlands, would be closed to limit the spread of Covid-19.
The first minister warned the NHS in Wales "will not be able to cope as it is today" if the current levels of coronavirus-related admissions continue in the coming weeks.
"In some parts of Wales, such as Neath Port Talbot, Blaenau Gwent and Rhondda Cynon Taf, the rates are now incredibly high," Mr Drakeford told a press conference in Cardiff.
"These very high levels of coronavirus are translating inevitably into significant and sustained pressure on our NHS," he continued.
"This week the number of coronavirus related patients in hospital passed 1,900 for the very first time and continues to rise.
"If this increase continues at this rate, we could see 2,500 people with coronavirus in hospital by Christmas Day."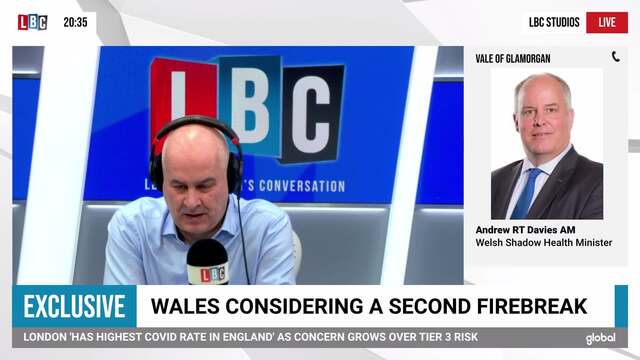 Welsh Shadow Health Minister lambasts Drakeford over second firebreak
It comes after all Welsh secondary schools and colleges were told they will move to online learning from Monday 14 December as part of a "national effort to reduce transmission of coronavirus".
Welsh Education Minister Kirsty Williams confirmed the move today, describing as part of a "national effort to reduce transmission of coronavirus".
It is understood that primary schools will remain open for in-person learning.
While half of all schools in Wales have had zero coronavirus cases since September, the Welsh government said education settings "can contribute to wider social mixing outside the school and college environment".
The decision to move secondary school lessons online in Wales comes as English Health Secretary Matt Hancock announced immediate testing would be rolled out for 11 to 18-year-olds in London, Essex and Kent.
"We want to keep schools open because that is both right for education and for public health," Mr Hancock told a press conference on Thursday.
"We need to do everything we can to stop the spread amongst school-age children right now."
He added: "We need to take targeted action immediately... we have decided to put in place an immediate plan to test all secondary school children in the seven worst-affected boroughs of London, in parts of Essex that border London and in parts of Kent."
Listen & subscribe: Global Player | Apple Podcasts | Google Podcasts | Spotify