'Hippy crack' laughing gas made illegal in UK - with dealers facing up to 14 years behind bars
8 November 2023, 09:33 | Updated: 8 November 2023, 09:38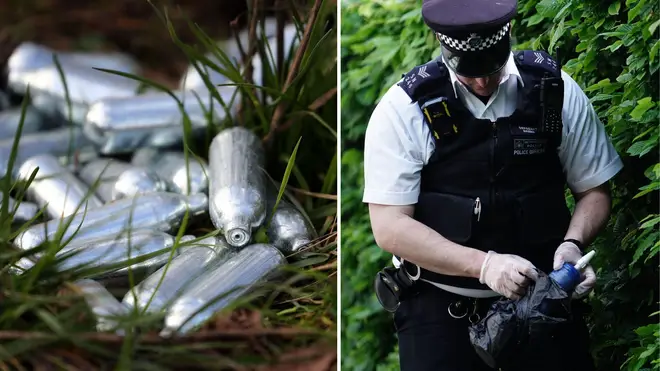 Possession of nitrous oxide is now a criminal offence in the UK, with dealers of the recreational drug facing up to 14 years in prison.
Dealers who peddle nitrous oxide - nicknamed "hippy crack" - could face up to 14 years behind bars.
The ban on laughing gas came into force today after the Home Office announced plans to criminalise the drug last month, which was promised as part of the Government's Anti-Social Behaviour Action Plan.
Nitrous oxide is now classified as a Class C drug under the Misuse of Drugs Act 1971.
It means possession of nitrous oxide, where a person intends to wrongfully inhale it for a psychoactive effect, is now an offence.
Consequences could include an unlimited fine, community sentences or, for repeat serious offenders, a prison term of up to two years.
Read more: Driver jailed after inhaling laughing gas and driving van off bridge, killing teenage girl
Read more: 'Hippy crack' laughing gas to become illegal next month - with dealers facing up to 14 years behind bars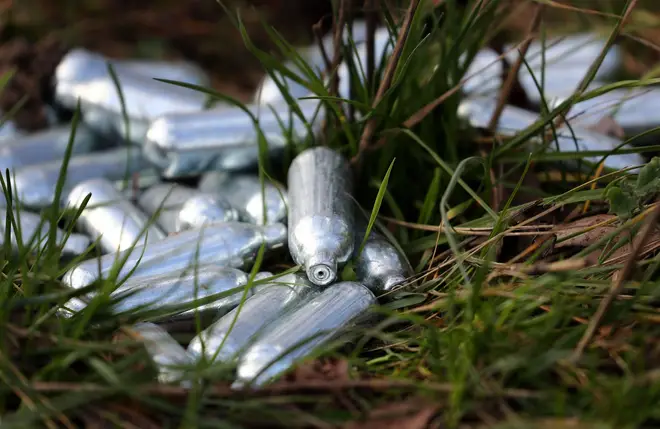 However, it will still be possible to use the gas for legitimate reasons, such as catering, pain relief during labour or in model rockets.
Licences will not be required to carry nitrous oxide, but users will need to demonstrate they are lawfully in possession of the gas and not intending to wrongfully inhale it.
Also known as NOS, a drug can damage the nervous system, is most commonly used recreationally by 16 to 24-year-olds.
The government has said a ban on 'hippy crack' will reduce anti-social behaviour.
Crime and Policing Minister Chris Philp said: "Today we are sending a clear signal to people, especially young people, that not only is abuse of nitrous oxide dangerous to their health, but it is also illegal and those caught possessing it will face consequences."