'I just hope our house is still there': Devastating fires break out as UK endures 40C heat
19 July 2022, 00:25 | Updated: 19 July 2022, 22:28
Major incidents have been declared in London, Leicestershire, South Yorkshire and Hertfordshire among other places
A huge fire broke out in Wennington, east of London, where a fire ripped through a home and spread
More fires have broken out in grassland in different parts of the UK
Britain experienced temperatures above 40C for the first time, with Coningsby in Lincolnshire reaching 40.3C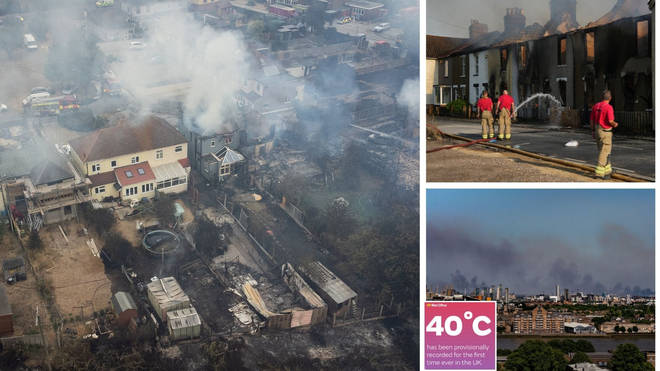 Villagers who have seen their community ravaged by a fire have been left hoping their home is still standing after blazes broke out roasts in 40C for the first time.
Parts of London and surrounding grassland in the South East region have seen fires break, sending smoke billowing over homes and motorways as firefighters rush to tackle them.
In Northamptonshire, the fire service has issued an urgent warning after reports people were releasing floating sky lanterns - also known as Chinese lanterns - hours after 15 fire crews attended a major fire on a farm.
"Tonight we've unbelievably had reports of 'Floating sky lanterns' (also referred to as Chinese Lanterns) in the Earls Barton area," the force wrote on Twitter.
"These pose a HUGE fire risk all year round but tonight, it is quite frankly reckless and endangering life, wildlife, crops & property. PLEASE STOP!"
Tonight we've unbelievably had reports of 'Floating sky lanterns' (also referred to as Chinese Lanterns) in the Earls Barton area. These pose a HUGE fire risk all year round but tonight, it is quite frankly reckless and endangering life, wildlife, crops & property. PLEASE STOP! pic.twitter.com/PycedFTSJ9

— Northamptonshire Fire & Rescue (@northantsfire) July 19, 2022
The biggest fire was in Wennington where multiple homes were ablaze, as dramatic footage showed tall flames and smoke billowing from properties there.
At least one home appeared completely destroyed while thick black smoke covered the village, where houses were evacuated.
The London Fire Brigade, which declared a major incident, said "15 fire engines and around 100 firefighters dealing with this blaze on The Green".
Land near the burning buildings also appeared scorched, with parts of the grassland on fire.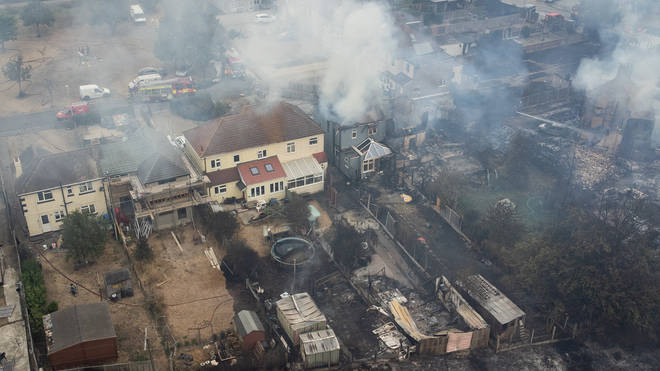 Janet Hickey, 70, who has terminal pancreatic cancer, had to leave her cancer drugs behind as she evacuated.
"I've got all my cancer drugs in the fridge," she said.
Mrs Hickey fought tears as she spoke about how she had built up her garden for five decades. "We've been living there 50 years. I'm terminally ill so it's not great to lose all that. I'm also an artist and all my paintings are there."
Patrick Hickey, 71, her husband, said: "We had to leave everything.
"We're hoping against hope that our house is still there."
Marketing employee Freya Gutteridge, 23, from nearby Hornchurch, said: "I noticed the fire in Wennington when I went to lunch at two and since then our whole office has just been watching - everywhere we look there's a new one.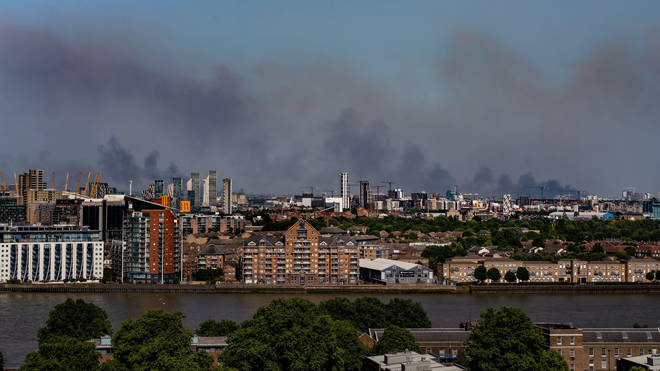 "We're all really worried, the wind is strong and we're seeing on the news that loads of houses are on fire and there isn't enough fire engines.
"It's crazy. Most of us in the office live really locally so we're all worried about families' houses at the moment.
"We know that if we were in any danger that we would be evacuated but there are petrol stations around and things like that so we're more scared for everyone in the area."
Sadiq Khan, the mayor of London, said the fire service was coming under "immense pressure".
A number of houses were also alight in Dagenham.
Update!! Sorry guys, this is actually from the green on Wennington Road. Too many fires to keep track of at the moment… I hope the residents of Wennington are all okay. Keep safe everybody! Current view from Wennington Road. 😡

Posted by Megan Jones on Tuesday, July 19, 2022
NEW: London Fire Brigade has just declared a Major Incident in response to a huge surge in fires across the capital today.

This is critical: @LondonFire is under immense pressure. Please be safe.

I'm in touch with the Commissioner and will share updates when I have them.

— Sadiq Khan (@SadiqKhan) July 19, 2022
The London Fire Brigade's assistant commissioner for operational resilience and control, Patrick Goulbourne, said: "The brigade remains ready to respond to incidents.
"However, we want to ensure our resources are available for people who really need our help.
"If you see a fire smouldering, please don't hesitate to call us.
"The sooner we know about a fire, the sooner we can bring it under control and prevent it from spreading further, reducing the need for us to mobilise additional resources.
"We are also strongly urging people not to have barbecues or bonfires today as the ground is incredibly dry, which means even the smallest sparks could cause a fire.
"Please take care during the heatwave as all emergency services are facing unprecedented challenges."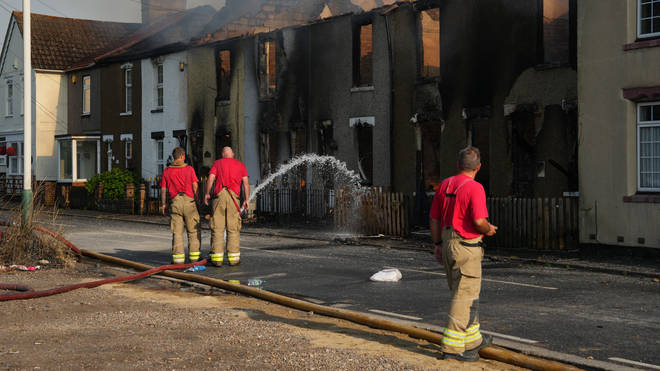 Authorities in a range of other places, including Leicestershire and South Yorkshire, joined London in declaring major incidents.
One fire saw flames get close to a slip road on the A2, with people standing on a footbridge gesturing to drivers about the blaze.
Another broke out at grassland in Upminster, sending smoke onto the usually busy M25 motorway.
A house fire has been reported at Wembley while a blaze broke out at Hatch End in North West London. A line-side fire started in Harrow, north-west London, leading to disruption.
Firefighters were also battling flames at a commercial building in Wooburn Moore, near High Wycombe.
Flying into Heathrow, I have never seen so many fires in and around London. The place is on fire.

— Felix M. Simon (@_FelixSimon_) July 19, 2022
"Temperatures are still climbing in many places, so remember to stay #WeatherAware," the Met Office said.
The institution added later that some showers having been moving north and east but "the rain is falling into very dry air so very little of the rain is reaching the ground".
Coningsby in Lincolnshire posted a record temperature of 40.3C on Tuesday, the first time the UK has experienced heat above 40C.
Britain had already experienced its hottest day on record earlier on Tuesday, when Charlwood, Surrey, recorded 39.1C - breaking the previous highest temperature from 2019.
In total, 13 people are confirmed to have died so far as a result of the heat, including a 14-year-old boy who is believed to have drowned in the Thames in Richmond.
A man in his 20s was confirmed dead shortly after being pulled from the water at the Cotswold Water Park at 6pm on Monday.
Two simultaneous grass fires broke out in Croydon, South London, on Oaks Road and Chapel View, spending plumes of smoke above the South London skyline. The London Fire Brigade said it had gone to a "motorbike, car and fence panels badly damaged by fire outside home on Church Road" where a woman was treated for smoke inhalation.
Fires and smoke have also been reported in North Ockendon in London.
The soaring heat brought with it growing travel chaos as trains were cancelled and schools and attractions were closed. Network Rail confirmed this morning that track temperatures reached as high as 62C.
The Met Office has issued its first ever red alert for extreme weather for Monday and Tuesday.
Met Office meteorologist Annie Shuttleworth said it is "extraordinarily unusual" to see temperatures in the 30s by the morning rush-hour in the UK.
"We're looking at the maximum temperatures somewhere between 40C-41C, and that's looking to be across the Lincolnshire and Yorkshire region," she said earlier.
Read more: Heatwave triggers travel chaos as Luton Airport runway melts and trains cancelled
Read more: What should I do if I see a dog shut in a hot car?
Network Rail had already announced that the East Coast Main Line will be closed on Tuesday from midday to 8pm, when the hottest temperatures are expected.
It means there will be no services between London King's Cross and York and Leeds, and passengers were advised not to travel on Tuesday at all.
Thameslink also announced a reduced service, with no trains running on the Midland Main Line between Bedford and London Blackfriars on Tuesday.
Merseyrail did the same, saying the high temperatures were causing "a number of heat related problems" to track and equipment.
Other train companies suspended services or warned people not to travel on Tuesday.
The hottest railway track reached 62C on Monday, Network Rail said.
It tweeted: "Our hottest rail recorded yesterday was 62C, in Suffolk! Rail temperature can be about 20C higher than air temperature, causing it to expand, bend and break."
Rail users have been warned of delays, cancellations and changes to train services amid the extreme heat.
A number of schools were also set to remain shut on Tuesday amid fears the buildings were not built to withstand the sweltering temperatures.
Monday saw fires breaking out across the country, including a two-acre grass fire on Woolwich Common and another large blaze at Cranford Park in Hayes.