Inevitable demise: Residents predicted HS2's collapse years ago due to impractical route and ballooning costs
4 October 2023, 14:24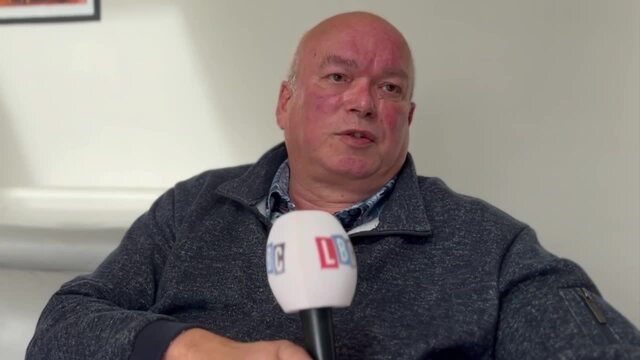 Residents in an HS2-affected village say the project's scrapping was inevitable.
Residents in a village that was on the HS2 route, have told LBC News it was inevitable that the project would have to be scrapped.
The Prime Minister has confirmed plans to end Phase 2 of the high-speed rail link between Birmingham and Manchester because "the facts have changed".
Sarah Flannery lives in the village of Pickmere, Cheshire, which was set to be carved up by diggers had the HS2 project gone ahead. She has told LBC:
"It's logically impossible. If you look at the line, the wavy line from Crewe to Manchester, there's two right-angle bends, it's not going to happen. As soon as the trains come out of Crewe they'll be slowing down for the first bend, slowing down for the second.
Read more: HS2 extension scrapped and £36bn to be spent on new transport projects in the North, says Rishi Sunak
Read more: HS2 should go to Manchester, Gary Neville insists as he slams Tories for doing 'everything but level up'
We haven't got the landmass to support it. This area of the world produces chlorine which ensures 98% of Britain's water supplies stay clean. If there's any interruption to that supply we have a crisis within 48 hours.
"The designers who looked at the route of the M6 had deliberately skirted around the salt district. Everyone knows there's problems around subsidence, and we couldn't see how it was going to be possible to cost-effectively design a railway capable of coping with the level of ground movement.
Sarah's neighbour, Chris Tarrant, is also part of the group which has spent ten years campaigning against the plans:
"Not very far from here we have Winsford salt mine which produces most of the rock-salt that's used for gritting the roads for the nation. We have underground gas storage, and there is an inherent danger of running an ultra-high-speed train over a volatile gas, particularly if the ground underneath is unstable."
Through their own research, they estimate the cost of building HS2 would have extended to in excess of £180bn pounds.
Sarah has told LBC their concerns have been ignored for years and could have saved the government a lot of time and money, she said: "It looks as though HS2 Ltd has been allowed to casually burn through taxpayers' cash – there has never been a penny coming from external investment – with scant oversight from Parliament despite numerous red flags from various bodies such as the Public Accounts Committee and the Infrastructure and Projects Authority.
"I hate the phrase 'lessons must be learned' because no-one ever seems to learn them, but the HS2 saga must change the way in which any government deals with procurement on major projects."