Iceland braced for volcanic eruption as river of magma flows under town and huge cracks open up in the ground
14 November 2023, 12:27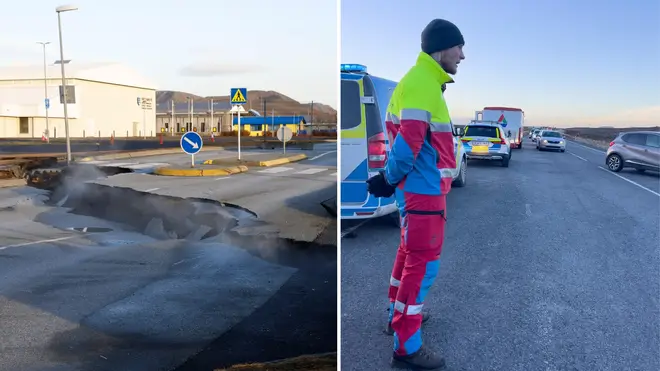 Iceland is braced for a volcanic eruption after hundreds of earthquakes struck a town.
More than 500 earthquakes hit Iceland's south-western Reykjanes Peninsula on Monday.
Scientists are still expecting the Fagradalsfjall volcano to erupt, despite the strength of the quakes decreasing.
A state of emergency has been declared and the town of Grindavik has been evacuated, with 4,000 people told to leave their homes.
Huge cracks and large sinkholes have opened up around Grindavik.
Video footage from the scene shows smoke pouring out of gaping cracks in the earth.
Authorities are urgently preparing to build defence walls around a geothermal power plant.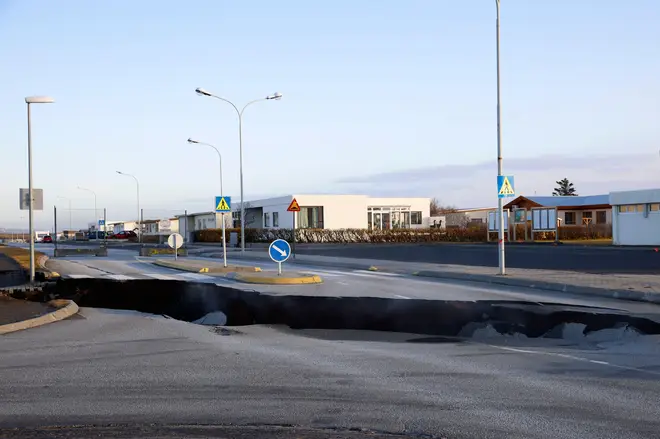 Iceland's Justice Minister Gudrun Hafsteinsdottir told state broadcaster RUV that a large dike has been built to protect the Svartsengi geothermal power plant, which is six kilometres from Grindavik.
Hans Vera, a Belgian-born 56-year-old who has lived in Iceland since 1999, said his family home had been shaking constantly.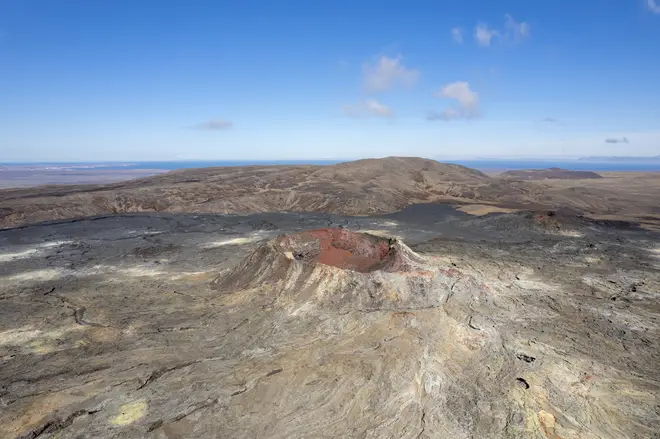 "You would never be steady, it was always shaking, so there was no way to get sleep," he said.
"It's not only the people in Grindavik who are shocked about this situation it's the whole of Iceland."
Seismic activity in the area moved south towards Grindavik, with a corridor of magma, or semi-molten rock, now thought to be extending under the community, Iceland's Meteorological Office said.
The situation continues to be monitored on a "minute by minute" basis.
Read more: British 'woman with the flower tattoo' murdered in Belgium identified after three decades as hunt for killer continues
Read more: Teacher wanted by police after holding sign comparing Sunak and Braverman to coconuts at Palestine protest
The town is just 15km south of Keflavik International Airport, but flights are still arriving and departing as normal.
Caitlin McLean, from Scotland, was visiting her boyfriend, Gisli Gunnarsson, in Grindavik when they were forced to flee his home at midnight on Friday, packing only a few essential items.
Ms McLean, 34, captured the moment the furniture and light fixtures shook violently in Mr Gunnarsson's home on Friday.
"At around four on Friday, (the earthquakes) just started being non-stop. Just constant big quakes for hours," Mr Gunnarsson, 29, said.
The music composer, who was born and raised in Grindavik, described the situation as "grim".
He said: "First and foremost, the thought that you might never see your home town ever again, that's tough.
"We all rushed out of (Grindavik) so quickly, in a matter of hours, so we didn't really think at the time that might possibly be the last time we see our home, so that's been difficult.
"It's a pretty grim situation at the moment."
Ms McLean, an artist, added that the situation has been "difficult" for people to understand.
She said: "I think it's difficult for the residents to really process that.
"I think everyone's still a wee bit shocked and it's not really sinking in there is a possibility they're not going to be able to go home."
Ms McLean has urged volcano enthusiasts to avoid the area and "be respectful" to people whose homes have been affected.
She said: "I would definitely say there's been quite a lot of people wanting to fly over (to Iceland), like people that are interested in volcanoes and lava.
"They're trying to keep tourists away because there's been people already trying to fly drones over the town.
"I understand for a lot of people this is a big spectacle, but these people are losing their homes potentially, so just to be respectful."
Mr Gunnarsson said the earthquakes on Friday were the worst he has experienced.
"Not even the search and rescue are really going (to the town) at the moment.
"The uncertainty is too high and it's ready to pop at any moment, the eruption," he said.
The Blue Lagoon geothermal spa, one of Iceland's biggest tourist attractions, said on Thursday it would close until November 16 due to the risk of an eruption.