Imran Khan says he saw racism in English cricket and is 'not surprised' to hear about Azeem Rafiq's experience
2 April 2023, 14:30 | Updated: 3 April 2023, 00:56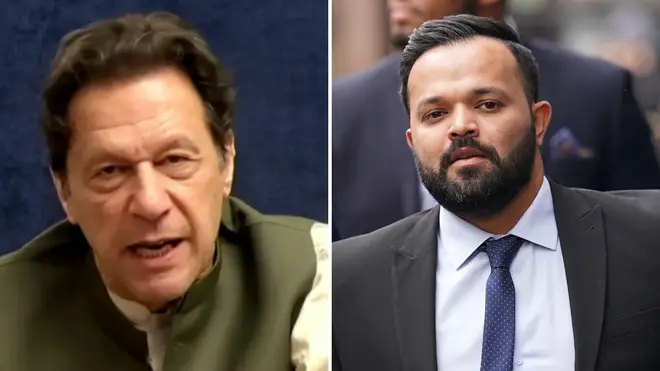 Imran Khan has told LBC he was not surprised to hear Azeem Rafiq's revelations of racism in English cricket.
The embattled former prime minister of Pakistan told Sangita Myska he heard racist remarks on the field during his stint in England.
He said he found "overt" racism began to "disappear" in the 1980s but it also became "covert".
Asked if he was then surprised to hear about Rafiq's experience of it in this century, Mr Khan said: "No, I wasn't. I wouldn't be surprised because racism has to be constantly challenged.
"If you do not challenge it, it's very natural. If people are not educated, if they're ignorant, it's very natural to blame issues on some other race and whenever there was unemployment in England, you would have a rise in racism.
"So, it has to be challenged by people all the time. Otherwise, it can surface."
Ex-Pakistan PM Imran Khan says we must keep challenging racism
Rafiq's revelations about racism in cricket rocked the sport and led to resignations and probes into the game.
Mr Khan spoke of his own experience starting as a county cricket player in England as a teenager.
He had stints at Worcestershire in the 1970s and then Sussex in the 1980s, during an illustrious career that saw him take the Pakistan team's captaincy, before eventually launching a controversial political career that included an assassination attempt last year.
"When I started as an 18 year old, I started playing county cricket.
Read more: Racism charge against ex-England cricket captain Michael Vaughan 'not proved' with witness accounts 'inconsistent'
"Racism was overt. You would get remarks on the cricket field all the time… in some counties, it was much more than others.
"In the northern counties it was - but actually throughout England, racism was very obvious.
"But gradually, over a period of time, I felt that it went down from the 70s. Gradually in the 80s, there was, overt racism began to disappear.
"I did not find racial remarks, which I found when I started off, but then I was a young boy then, then I became a fast bowler, and I think people are scared off fast bowlers anyway to pass any racist remarks.
Ex-Pakistan PM Imran Khan says accusations against him are fabricated & politically motivated
"So, naturally, the remarks disappeared during my latter career. Plus the West Indies fast bowlers dominated county cricket and people were petrified of them.
"So racism diminished over a period of time. But if it went under the surface, it wasn't obvious. When I started on the cricket field, you would have racist remarks. But late 70s, 80s, it wasn't obvious anymore. It was covert."
Read more: Animal Rebellion plot to disrupt Grand National by glueing activists to racecourse to form 'human barrier' exposed
Mr Khan, the ex prime minister of Pakistan, is charged along with politicians, ex-ministers and supporters of a raft of accusations.
Claims levied against them include terrorism and corruption. While he maintains he has always acted lawfully, he accuses the government of cracking down on him and says the charges are politically motivated.
He said: "They (Pakistanis) know I've never broken one law of Pakistan in these 50 years, so these are completely fabricated cases, politically motivated, basically to keep me out of the election run."
Mr Khan left office after a vote of no confidence in April last year.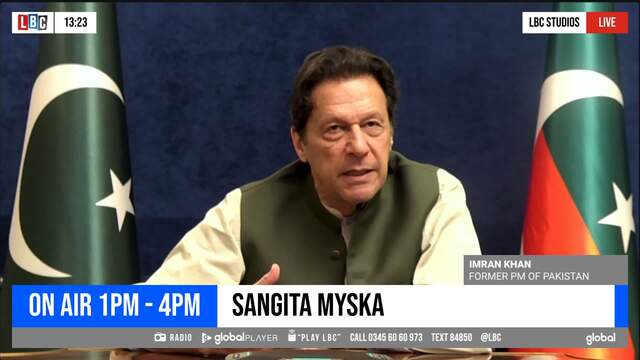 Ex-Pakistan PM Imran KhanPTI reacts to Sangita Myska challenging him on his Prime Ministerial record
Since then, he was wounded in his lower leg after a man opened fire on a march on Islamabad. The government has blamed a suspect while Mr Khan believes it was orchestrated by the state.
Speaking about the failed assassination in November, he said: "Ever since my party was removed from power, never has it happened that a political party's popularity has soared after that."
He added: "No party has the sort of popularity we have, hence the plot to kill me."
Pakistani authorities say the gunman has confessed to Mr Khan's attempted killing.