Hamas kills Israeli soldier during raid to free hostages, as Rishi Sunak calls for release of remaining 200 captives
23 October 2023, 06:31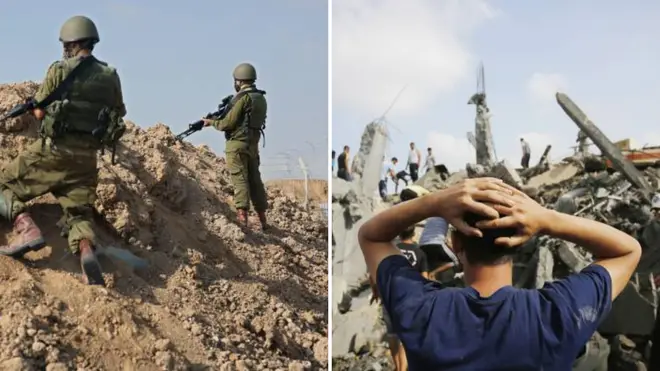 Hamas has killed an IDF soldier taking part in a raid to free hostages in Gaza, as the Israeli army began its biggest bombardment of the territory since the conflict began.
Benjamin Netanyahu brought together his war Cabinet to assess the state of the conflict, as Israel continues to hold Gaza under total siege.
Meanwhile Hamas met with the foreign minister of Iran and Israel continued to clash with Lebanon on its northern border, sparking fresh fears the conflict could spread into a wider regional war.
The IDF also hit Syrian airports with airstrikes again.
Israel's General Hagari confirmed that one soldier had been killed and three had been injured during the raid in the Khan Younis city, in southern Gaza.
Read more: Israel pummels Gaza and bombs mosque in the West Bank as Iran threatens that the Middle East 'will go out of control'
Read more: Israeli tank accidentally fires 'at Egyptian position' as IDF expresses 'sorrow' after border guards injured in blast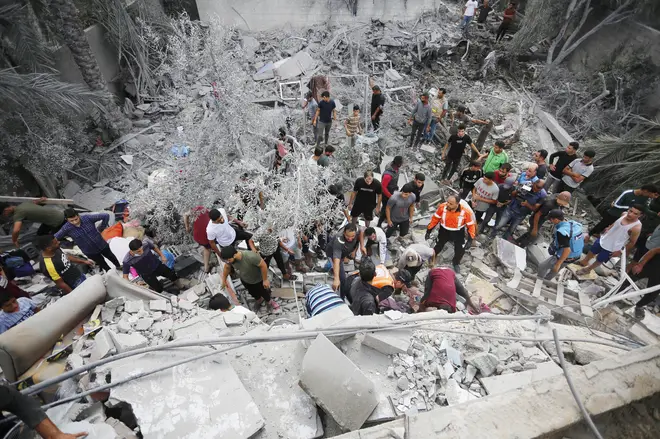 The soldiers were trying to rescue some of the roughly-200 hostages taken by Hamas during its attacks on October 7.
Hamas said that it had fought with Israel in the south of the territory, destroying a tank and two bulldozers.
Israel confirmed the death and the three injuries from an anti-tank missile.
"An IDF (Israel Defense Forces) soldier was killed, one was moderately injured, and two were lightly injured as a result of an anti-tank missile launched toward an IDF tank and an engineering vehicle," the army said.
Israel has repeatedly hinted at a ground invasion that will see its troop enter the dense urban environment, which sits on top of a miles-long underground tunnel system dubbed the "Gaza metro".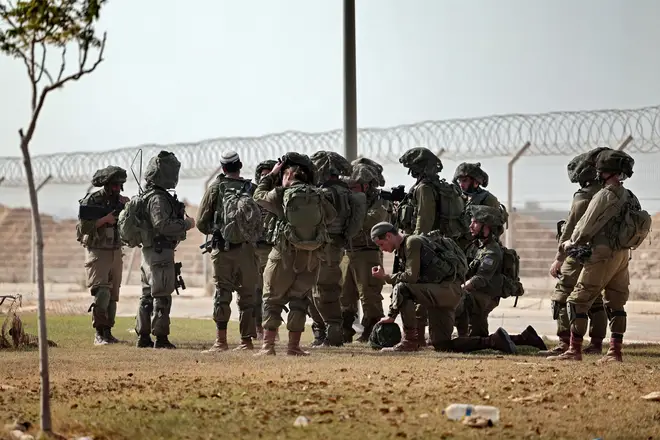 The Israeli Defence Forces also said it had hit an "Egyptian position near the border" in a statement on Sunday, and expressed sorrow.
Meanwhile Palestinian media said that Israeli air strikes had killed more than 400 people, which they called the 'heaviest bombardment' since the October 7 Hamas attack.
Dozens were killed in the Jabalia refugee camp in northern Gaza, according to local officials. These figures have not been verified independently.
It comes as world leaders including Rishi Sunak and Joe Biden ramp up diplomatic efforts to prevent the war triggering wider bloodshed across the Middle East.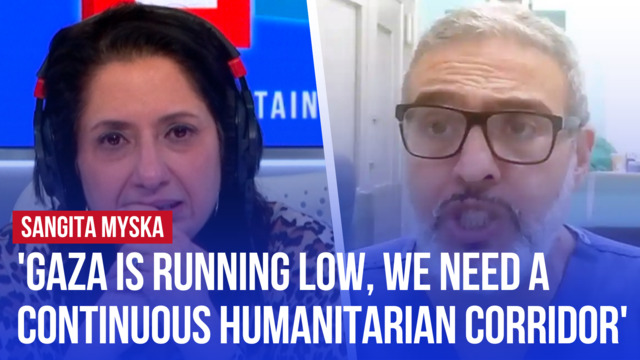 Dr Ghassan Abu-Sitta speaks to Sangita Myska from Gaza
The Prime Minister and US president, along with the leaders of France, German, Italy and Canada, called for Israel to respect international humanitarian law, demanded the release of the hostages held by Hamas and pushed for aid for Gaza.
A Downing Street spokeswoman said: "The leaders reiterated their support for Israel and its right to defend itself against terrorism and called for adherence to international humanitarian law, including the protection of civilians.
"They welcomed the release of two hostages and called for the immediate release of all remaining hostages."