Israel pummels Gaza and bombs mosque in the West Bank as Iran threatens that the Middle East 'will go out of control'
22 October 2023, 14:32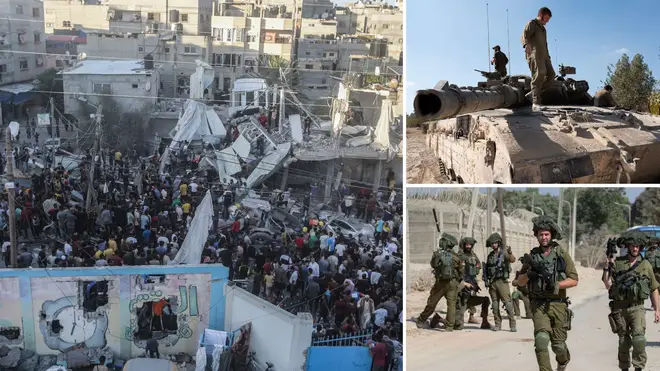 Israeli airstrikes have battered Gaza ahead of its expected ground invasion as Iran warned "anything is possible" and the situation "will go out of control" if they do not stop.
Attacks overnight pummelled the strip as Hamas claimed 55 people were killed.
Israel has repeatedly hinted as a ground invasion that will see its troop enter the dense urban environment, which sits on top of a miles-long underground tunnel system dubbed the "Gaza metro".
It wants to end Hamas's capacity to harm its citizens again after losing 1,400 people since the terror group launched its massacre on October 7.
And it wants to bring back as many hostages as it can. It has confirmed 212 people are being held in Gaza.
Read more: Israel vows to 'go after the head of the snake' in Iran if Hezbollah joins war as northern border tensions rise
Israeli troops have massed outside the strip as their defence minister Yoav Gallant promised they would soon see it from "inside".
Foreign minister Eli Cohen recently spoke about the possibility of Gaza shrinking, suggesting either an annexation or possible buffer region that pushes Palestinians further away from the border with Israel.
Residents in the north of the strip have been told to flee south to avoid a future attack.
Read more: Government to probe why Met Police concluded 'jihad' chant and 'Muslim armies' signs at Palestine demo were lawful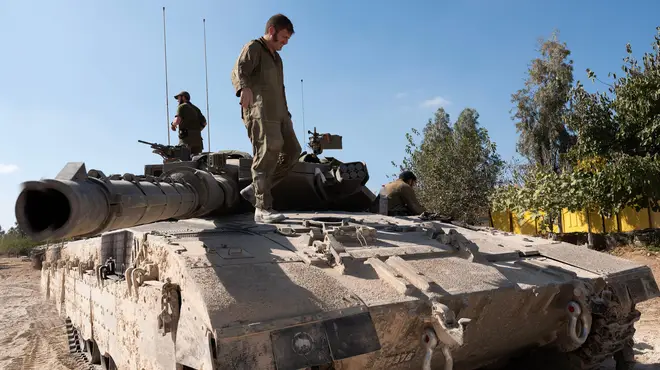 The country's air force has been pummelling it, with Hamas claiming more than 4,600 people have died.
It has also hit a mosque in the West Bank, which is partially under the control of the Palestinian National Authority.
A mosque in Jenin was hit as Israel claimed a Hamas-linked terror cell was hiding there.
Iran issued a fresh threat, with its foreign minister Hossein Amir-Abdollahian saying: "I warn the US and its proxy [Israel]... that if they do not immediately stop the crime against humanity and genocide in Gaza, anything is possible at any moment and the region will go out of control."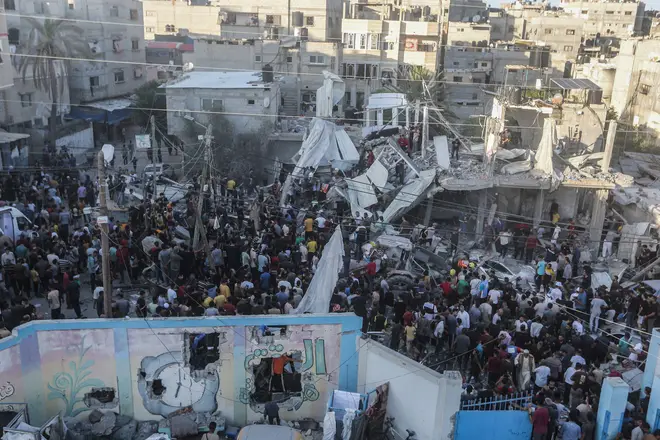 That comes amid fears that Hezbollah, the powerful Lebanon-based militia backed by Iran, could get involved.
Nik Barkat, Israel's economy minister, warned Iran that should Hezbollah attack Israel, they will "get the same treatment" as Gaza.
The Israeli Defence Forces (IDF) would not only "eliminate Hezbollah" but would "actually target Iran".
"If we find they intend to target Israel, we will not just retaliate to those fronts, but we will go to the head of the snake, which is Iran," he said.
Israel has reinforced its border in the north after calling up tens of thousands of reservists for its war against Hamas.
Its security service, Shin Bet, has set up a team dedicated to tracking down some 2,500 terrorists behind the October 7 attack.
But a bloody ground invasion could set back Israel-Arab relations after years of progress. It had been hoped a deal could be struck to normalise ties between the country and Saudi Arabia, which could be on hold if Riyadh feels it has to act over future Palestinian casualties or damage in Gaza.