Israel vows to 'go after the head of the snake' in Iran if Hezbollah joins war as northern border tensions rise
22 October 2023, 00:19 | Updated: 22 October 2023, 00:21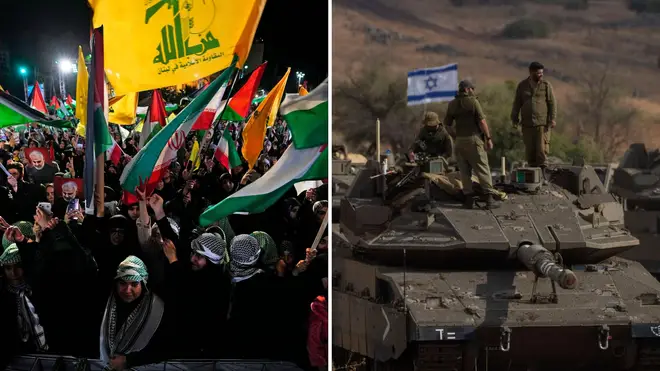 Israel has vowed to cut off "the head of the snake" and launch a military attack on Iran if Hezbollah joins the war, while the US has urged Sunak to ban Iran's terrorist forces.
Nik Barkat, Israel's Minister of Economy, has warned Iran that should the Tehran-backed group Hezbollah attack Israel, they will "get the same treatment" as Gaza.
He warned that if the group attacked Israel, the Israeli Defence Forces (IDF) would not only "eliminate Hezbollah" but would "actually target Iran".
"If we find they intend to target Israel, we will not just retaliate to those fronts, but we will go to the head of the snake, which is Iran," Mr Barkat told The Mail on Sunday.
Prime Minister Rishi Sunak is among those to have warned that Israel now faces the threat of the "heavily armed, Iranian-backed force of Hezbollah" on its northern border.
Mr Barkat continued: "The Ayatollahs in Iran are not going to sleep good at night, we are going to make sure they pay a heavy price if, God forbid, they open the northern front.
"Lebanon and Hezbollah are going to pay a heavy price, similar to what Hamas is going to pay. But that's not enough.
"The very clear message is that we are going to be going after the heads of Iran as well. When will we do that? When we decide.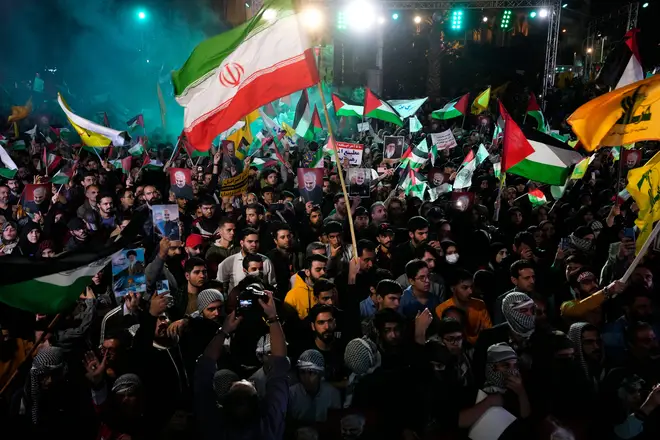 "Israel has a very clear message to our enemies. We are saying to them, look what's happening in Gaza – you are going to get the same treatment if you attack us. We are going to wipe you off the face of the Earth."
Hezbollah is one of the most powerful paramilitary forces in the Middle East, with some 20,000 fighters, and has been trading fires with Israel since October 7.
The group's involvement in the Israel-Hamas war has left many concerned the conflict could spread to Lebanon as Hezbollah is a Lebanon-based group and ally of Hamas, and Israel's threat of a ground invasion on Gaza looms.
It also follows the war that broke out between Israel and Lebanon in 2006 after Hezbollah launched missiles at various Israeli cities.
Mr Barkat's warning comes as the US has also called on the UK to proscribe Iran's Islamic Revolutionary Guard Corps as a terrorist organisation amid Tehran's alleged role in Hamas' October 7 attack on Israel that saw 1,400 people massacred.
"We absolutely think that other countries should designate the IRGC as a terrorist organisation," the US State Department's official spokesman Matthew Miller said.
"It's a position that we've made clear a number of times. They finance terrorist activities, they have around the world for some time, and we think that other countries should take that step of designating them."
Read more: Israel is under 'no obligation' to supply Gaza, IDF spokesperson tells Sangita Myska
Read more: Israel reveals plans to sever links with Gaza as part of a 'three phase' war with airstrikes and ground manoeuvres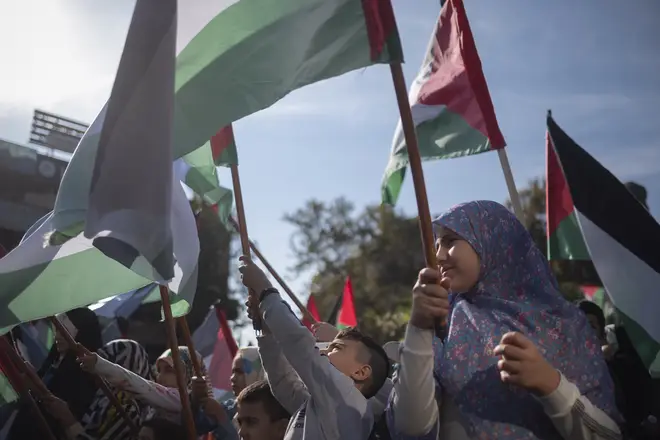 The Islamic Revolutionary Guard Corps (IRGC) has been banned in the US since 2019.
Several Tory MPs have already called on Mr Sunak to proscribe the organisation.
"The view from the American government can not be clearer, that they expect their allies to act and act swiftly to proscribe the IRGC," former defence secretary Liam Fox said.
Senior members of Hamas claimed that IRGC officers worked with the group to coordinate its October 7 attack on Israel.
Home Secretary Suella Braverman, who is responsible for formally proscribing terror organisation, is understood to be fighting to designate the IRGC a terrorist group, according to The Telegraph.
Foreign Secretary James Cleverly, however, has said the "sanctions regime" was already achieving "many of the things people want" from a proscription.
Speaking at a peace summit in Cairo, Mr Cleverly also said: "We must work together to prevent the tragic situation in Gaza becoming a regional conflict because that is exactly what Hamas wants."
Mr Sunak has warned against unleashing a "contagion of conflict" across the Middle East as he met with leaders in Israel, Saudi Arabia and Egypt earlier this week.
"The overwhelming view I got from everyone I spoke to this week was that we need to do everything possible to stop a contagion of conflict in the region," he said.
"We need to keep our aspirations for a more peaceful and stable future firmly in our sights as we work together to defeat the evil of terrorism."