Government to probe why Met Police concluded 'jihad' chant and 'Muslim armies' signs at Palestine demo were lawful
22 October 2023, 08:28 | Updated: 22 October 2023, 08:37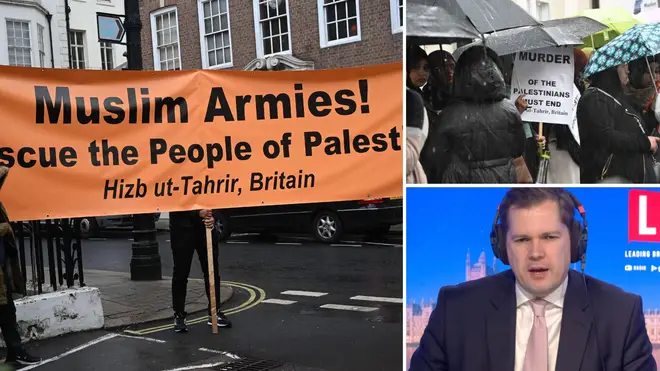 The Met's conclusion that chants of "jihad" during a pro-Palestine protest in London was "surprising", the immigration minister has told LBC.
Robert Jenrick said the government will speak to the force about the splinter demonstration by Hizb ut-Tahrir, which took place in parallel to the main Palestine Solidarity Campaign march on in the centre of the capital on Saturday.
The Met said specialist officers had reviewed clips of a man chanting "jihad, jihad" and signs and banners that referred to Muslim armies but said it did not identify any offences.
It added that "jihad" has "a number of meanings" while "there are varying interpretations" of what "Muslim armies" can refer to.
Read more: 'Sometimes I feel safer in Israel': Rabbi Leo Dee speaks to LBC on return to UK to support Jewish Community
But speaking to LBC's Andrew Castle on Sunday morning, Jenrick said: "I think a lot of people would find the Metropolitan Police analysis surprising and that's something we intend to raise with them and to discuss this incident with them."
He added: "I don't think that there's any place for chants of 'jihad' on the streets of Britain, I think that's totally unacceptable.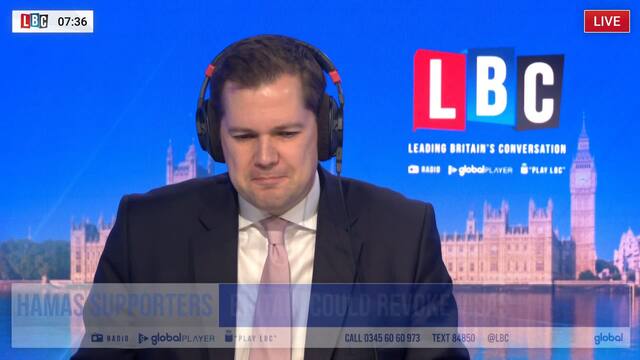 Robert Jenrick calls cries of 'jihad' at Free Palestine march 'unacceptable'
"In the context that was said yesterday, from what I've seen, that is an incitement to terrorist violence.
"Ultimately it's a decision for the police and the Crown Prosecution Service whether to take action, it's not for me to tell them what to do.
"Beyond the legality there is a question of values and I would hope there would be a consensus in this country that chanting 'jihad' on the streets of Britain is completely reprehensible and should not be allowed to continue."
Read more: At least four Jewish schools forced to close as fears grow over global day of jihad
Tens of thousands of people marched through the centre of London on Saturday and called for an end to Israel's attacks on Gaza.
Israel is bombarding the strip ahead of an expected ground invasion to destroy Hamas after the terror group massacred more than 1,000 people on October 7.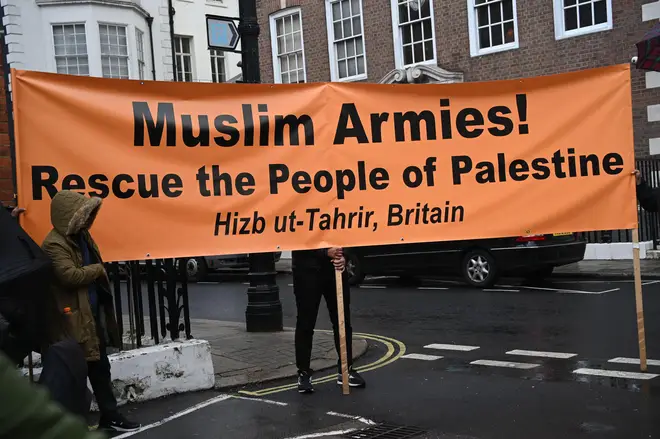 The demonstrators marched from Marble Arch to Parliament bearing Palestinian flags and green smoke devices.
Some were seen with signs bearing the controversial "rivers to the sea" slogan which some have deemed anti-Semitic.
Five police officers suffered minor injuries during the protest, in which 10 people were arrested for assaulting an emergency worker, offences related to fireworks and public order breaches.
During the campaign, the Met said it was told about clips showing a man at a Hizb ut-Tahrir protest chanting "jihad".
Read more: Israel vows to 'go after the head of the snake' in Iran if Hezbollah joins war as northern border tensions rise
The force said in a statement: "The word has a number of meanings but we know the public will most commonly associate it with terrorism.
"Specialist officers have assessed the video and have not identified any offences arising from the specific clip. We have also sought advice from specialist Crown Prosecution Service lawyers who have reached the same conclusion.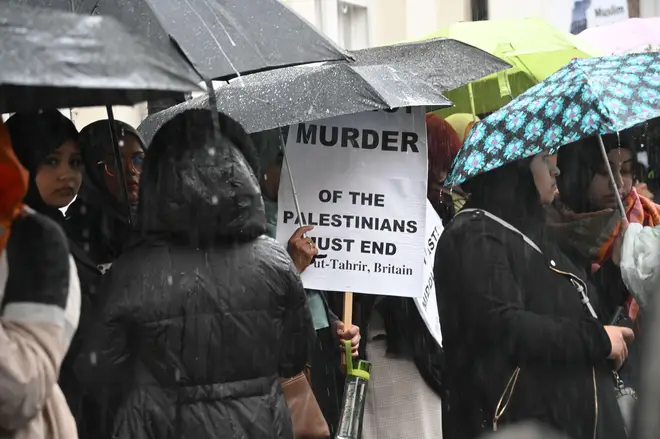 "However, recognising the way language like this will be interpreted by the public and the divisive impact it will have, officers identified the man involved and spoke to him to discourage any repeat of similar chanting.
"We are also aware of photos from the same protest showing signs and banners referring to 'Muslim armies'.
"While there are varying interpretations of what the language on the placards should be interpreted to mean, officers must take decisions based on the wording actually used.
"Again, this was subject to a careful assessment and no signs or banners were identified that were unlawful."