King Charles mourns 'heartbreaking loss of life' and calls for tolerance and respect amid Israel-Hamas conflict
18 October 2023, 23:20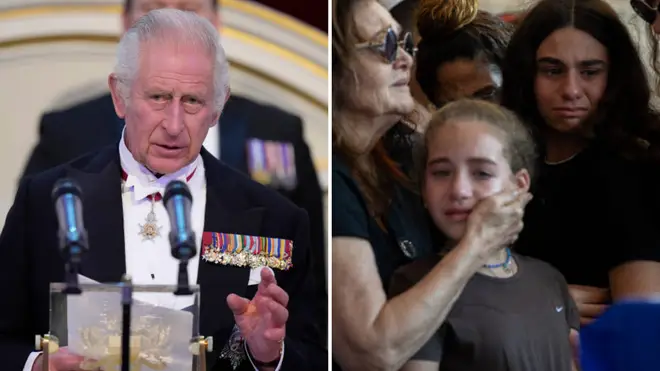 King Charles has called for "politeness and respect" among people of different faiths as he mourned a "heartbreaking loss of life", against the backdrop of the Israel-Hamas conflict.
Although Charles did not specifically mention the violence in his speech in the City of London on Wednesday night, he spoke of a time of "international turmoil".
The monarch said that civility and selflessness should be among the values championed by British people from all walks of life.
He told the audience at the Mansion House that "the breathing space we afford one another" was one of the "deep wells" that make Britain "so special".
"This well carries the politeness and respect we owe to one another," Charles said.
"Our willingness to put others first and treat them as we would wish them to treat us. To listen to their views and, if we do not agree, to remind ourselves to engage in a way which is passionate, but not pugnacious.
"This includes the practice of our religious faiths, in freedom and mutual understanding."
Read more: Kate and William join King Charles in expressing 'profound distress' at Hamas' 'terrorist attack' on Israel
Read more: Rishi Sunak to fly to Israel on Thursday, as he says Gaza hospital blast should be 'watershed moment' in conflict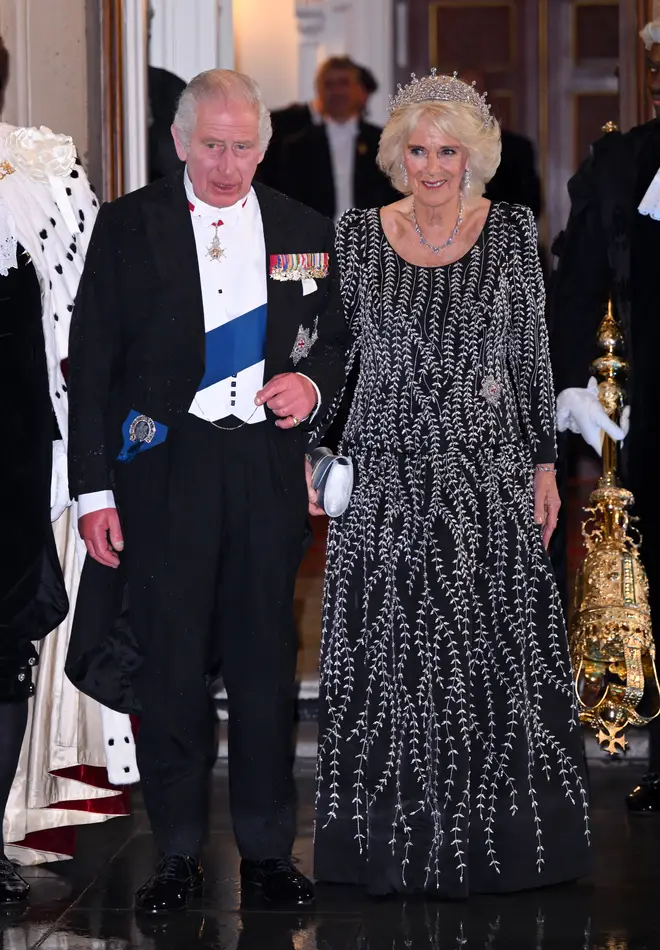 He added: "Such understanding, both at home and overseas, is never more vital than at times of international turmoil and heartbreaking loss of life."
Charles said that the UK draws its strength from being "a community of communities," adding that "there is far, far more that unites us than divides us".
The king said that British people's shared values could "raise hope, shared purpose and, above all, a genuine togetherness that will see us through good times and bad".
The king went on: "The instinct to cooperate wherever and whenever possible is deep within us.
"Even in the most fractious times – when disagreements are polished, paraded and asserted – there is in our land a kind of muscle memory that it does not have to be like this; that the temptation to turn ourselves into a shouting or recriminatory society must be resisted, or at least heavily mitigated whenever possible, especially in the digital sphere, where civilised debate too often gives way to rancour and acrimony."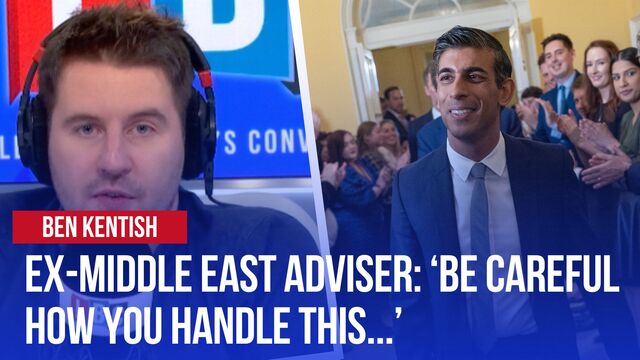 Ex-Middle East adviser offers words of advice to Rishi Sunak ahead of his Israel visit
Charles made his speech as part of his first official visit to the City of London as the monarch.
He was speaking at an event to commemorate the work of the City of London civic institutions and Livery Companies.
His comments come after an increase in anti-Semitic incidents in the UK in the wake of the outbreak of the Israel-Hamas conflict.
The terror threat level is also likely to increase in the UK. The past two weeks have seen two acts of deadly terrorism in western Europe. A teacher was killed in the town of Arras in France, and two Swedish people were shot dead by a gunman in Brussels on Tuesday.
Charles earlier said he was "appalled" by the "barbaric acts of terrorism" in Israel after Hamas' original attack on October 7.
Meanwhile Prince William and Kate also said they "utterly condemn" the "appalling terrorist attack upon Israel".
"As Israel exercises its right of self defence, all Israelis and Palestinians will continue to be stalked by grief, fear and anger in the time to come."Their Royal Highnesses hold all the victims, their families and their friends in their hearts and minds."