King Charles to lead 10,000 in Remembrance Day service at Cenotaph after over 120 arrested in Armistice Day violence
12 November 2023, 08:54 | Updated: 12 November 2023, 08:56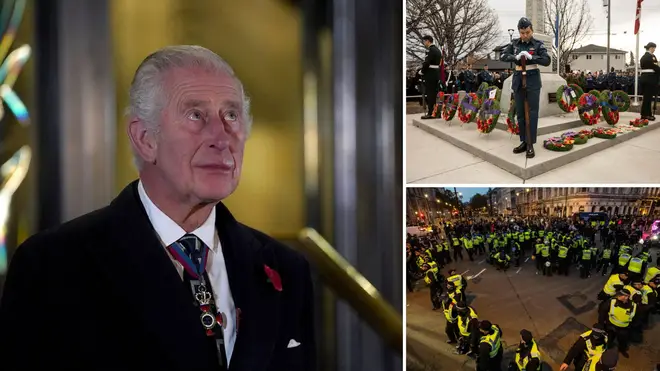 King Charles is set to lead a remembrance service at the Cenotaph on Sunday - just hours after chaos unfolded in the area amid protests.
It comes after counter-protests held on Saturday's Armistice Day saw 126 arrested by the Metropolitan Police and left nine officers injured.
Almost 10,000 veterans and 800 armed forces personnel are set to participate in a Remembrance Day march-past, while members of the Royal Family will lay wreaths in dedication to the war dead at the Cenotaph.
Officers will be on a 24-hour guard of the Cenotaph, while some 1,375 cops are expected to be on duty throughout the day's services - more than double the usual amount.
Prime Minister Rishi Sunak said: "The courage and commitment shown by our servicemen and women, both today and throughout the generations that came before them, is humbling and I know many across the country will be honouring their memory today in quiet reflection.
"Recent events have served as a stark reminder that we cannot take the hard-earned peace we live in for granted, which is why I am honoured to lay a wreath on behalf of the nation in the memory of all those that have lost their lives defending our country and the values we hold so close.
"I am determined to ensure we never forget the ultimate sacrifice they have made."
Read more: PM and Met slam chaotic Armistice Day which saw more than 100 arrests and nine police officers hurt
Read more: Violent clashes erupt between counter-protesters and police as 300,000 Palestine activists march through London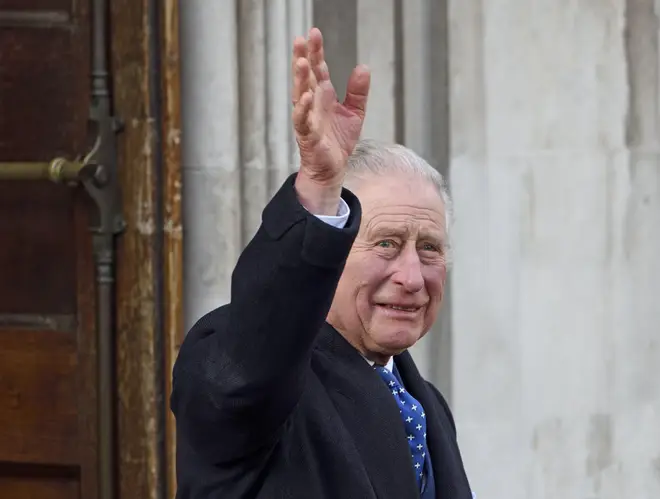 The clashes between counter-protesters and police erupted on Saturday as some 300,000 pro-Palestine activists marched through central London.
Now the Metropolitan Police has been urged to prevent further disruption during Sunday's event.
Rishi Sunak has faced further calls from Labour MPs to sack Home Secretary Suella Braverman after she was accused of "sowing the seeds of hatred" ahead of Saturday's march in an article she wrote for The Times.
She called on the Met to ban Saturday's pro-Palestinian protest and accused the police of bias.
Labour leader, Sir Keir Starmer, and Mayor of London, Sadiq Khan, are among those who have called on Mr Sunak to sack the Home Secretary.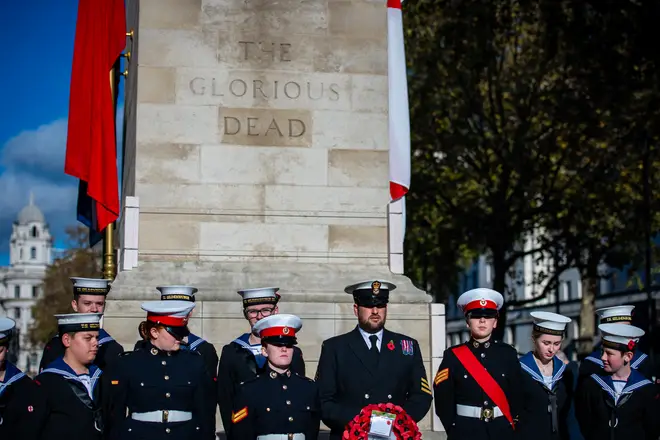 Of the 126 arrests made during Saturday's events, it is thought at least 92 were right-wing counter-protesters.
While 150 pro-Palestinian protesters were detained by police - although it is understood not all of those detained went on to be arrested.
Mr Sunak said of the scenes: "I condemn the violent, wholly unacceptable scenes we have seen today from the EDL and associated groups and Hamas sympathisers attending the National March for Palestine.
"The despicable actions of a minority of people undermine those who have chosen to express their views peacefully."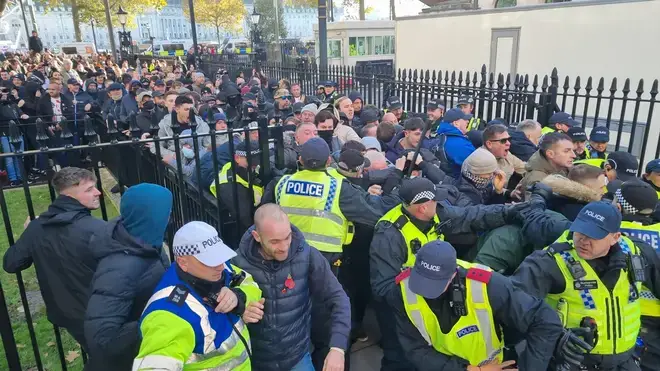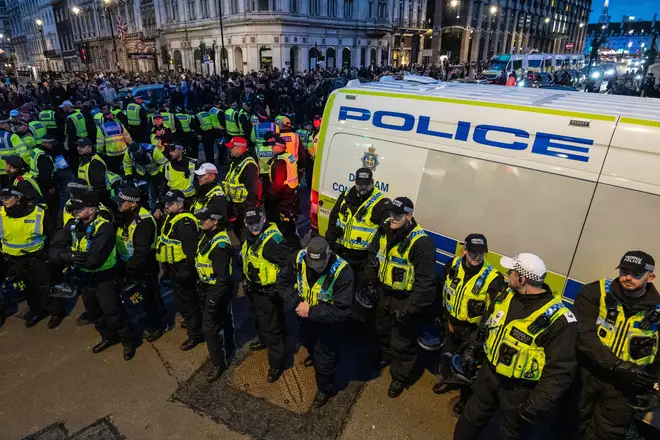 AC Matt Twist said: "This operation took place in unique circumstances, against a backdrop of conflict in the Middle East, on Armistice Day and following a week of intense debate about protest and policing.
"These all combined to increase community tensions. The extreme violence from the right-wing protestors towards the police today was extraordinary and deeply concerning.
"They arrived early, stating they were there to protect monuments, but some were already intoxicated, aggressive and clearly looking for confrontation.
"Abuse was directed at officers protecting the Cenotaph, including chants of 'you're not English any more'."