As it happened: Russian troops close in on Kyiv on day two of Russian invasion
25 February 2022, 07:51 | Updated: 26 February 2022, 00:02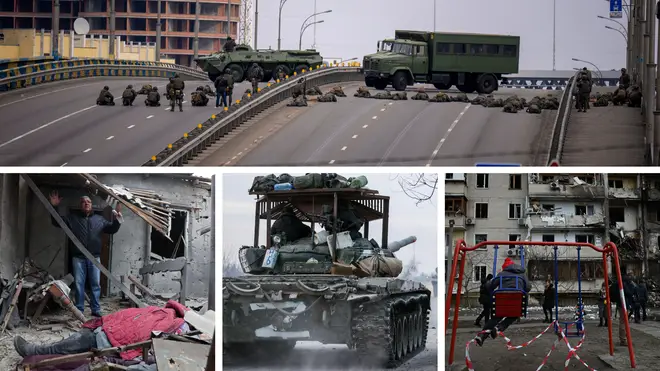 Ukrainian citizens were taking up arms against Russian invaders today as Putin's forces entered the nation's capital Kyiv.
Fierce fighting took place in the city after missiles rained down on the capital.
Ukrainian people were being armed and urged to make petrol bombs to take on the invading Russian troops.
The Ministry of Defence said Russia is likely to have failed to achieve its day one objectives, despite them seizing the Chernobyl area north of the capital.
Read more: Ukraine: 'Hundreds killed' and Russian forces march on Kiev as invasion enters day two
Read more: Russian 'failed its invasion objectives' on day one as Ukraine mounts fierce fightback
The key developments on the second day of Russia's invasion of Ukraine were:
Multiple explosions heard in Ukrainian capital Kyiv with officials saying Russia launched missile strikes
Late on Friday President Zelesky warned Russia would try to storm Kyiv that night, while the Ministry of Defence said troops were approaching from "multiple axes in an attempt to encircle the city"
Anti-war protests took place all over the world, including in Russia itself – and UK Prime Minister Boris Johnson directly addressed Russian people and told them he does "not believe this war is in [their] name"
More sanctions were announced by western leaders, including asset freezes for Putin and foreign minister Sergei Lavrov
Russia vetoed a draft resolution to condemn Putin's actions at a meeting of the UN Security Council – but China abstained rather than voted against it, in a move seen as a win for the West
Here are the key developments as they happened.
Happening Now