Ukraine: 'Hundreds killed' and Russian forces march on Kyiv as invasion enters day two
25 February 2022, 07:09 | Updated: 25 February 2022, 12:47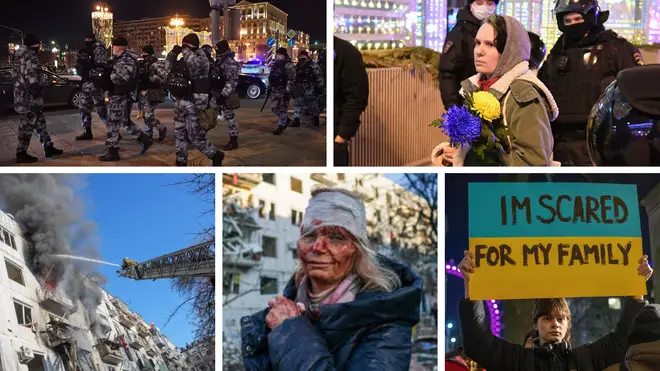 More than 130 people have been killed and hundreds more injured on the first day of Russia's military action in Ukraine - with fresh missile strikes reported on Friday morning as the war approaches the capital.
Ukrainian President Volodymyr Zelensky said on Thursday night that 137 Ukrainian citizens - both soldiers and civilians - had died and hundreds more had been hurt. It was feared the death toll may be higher.
Russian forces also captured the site of the Chernobyl nuclear power plant, and there are reports staff there have been taken hostage.
That is just north of Kyiv, the capital, which it is feared the Russians are attempting to encircle, possibly with a view to overthrowing the democratically elected government. The Associated Press said the Kremlin's forces were just 20 miles away.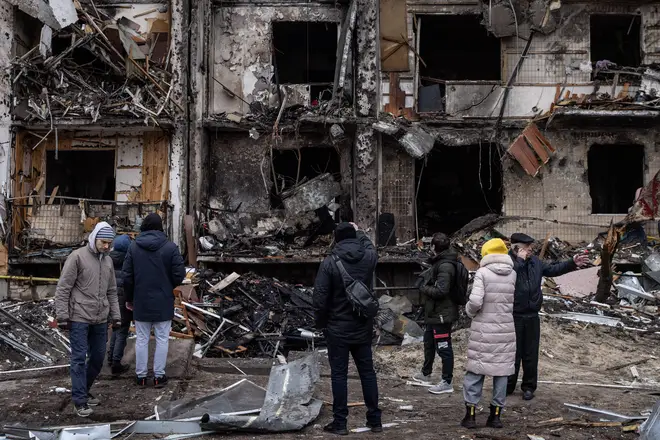 Loud explosions were heard overnight there and reports say a Russian fighter jet was shot down over Kyiv
In the early hours of the morning, President Putin launched a major unprovoked assault on Ukraine, firing missiles on cities and military targets. The invasion came despite weeks of Russian claims that they had no intention of invading. #StandWithUkraine pic.twitter.com/KltWqYMvdD

— Ministry of Defence 🇬🇧 (@DefenceHQ) February 24, 2022
On Friday, the Russian bombardment continued, with Ukraine's foreign minister Dmytro Kuleba saying "horrific rocket attacks" hit Kiev just before 4am.
"Last time our capital experienced anything like this was in 1941 when it was attacked by Nazi Germany," he said.
"Ukraine defeated that evil and will defeat this one. Stop Putin. Isolate Russia. Sever all ties. Kick Russia out of [everywhere]."
Ukraine has banned all men aged 18 to 60 from leaving the country, and Ukrainian President Volodymyr Zelensky signed a decree ordering a general mobilisation - meaning all Ukrainians are being urged to defend their homeland and conscripts and reservists are being called up.
Read more: Ukraine invasion: Day one as it happened
Read more: Putin is a 'bloodstained aggressor,' says PM as he unveils new sanctions on Russia
Vladimir Putin said in a televised address early on Thursday morning that Russia was launching what he called a "special military invasion", but what is widely recognised by western leaders as an invasion.
Explosions were heard across the country on Thursday as Russia launched strikes against a number of targets - some of which are close to the capital of Kyiv.
Western leaders have announced a number of economic sanctions in response to the invasion.
In Russia itself, anti-war demonstrators have taken to the streets to protest against the actions of their leader.
More than 1,700 arrests have been made across the country, mainly in Moscow.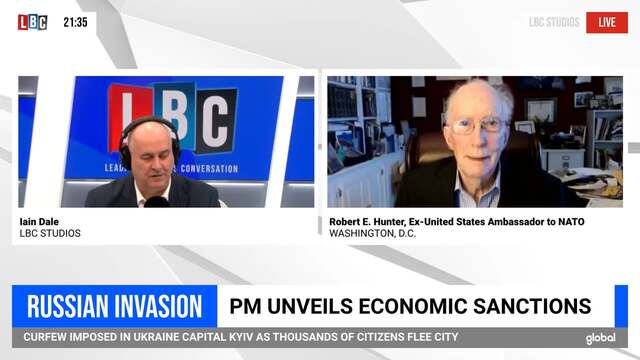 NATO has failed to 'cut the props off from under' Putin's arguments
On Friday morning, President Zelensky said he was Russia's "target number one" and his family "target number two".
"According to our information, the enemy has listed me as target number one, and my family – as target number two. They want to destroy the country politically, terminating the head of state," he said in a video address.
"Today, we all heard from Moscow that they want to talk in the end. They want to talk about Ukraine's neutral status. I am telling all our country's partners: right now, the fate of our state is being decided. I am asking them: Are you with us? They answer that they are. But they are not ready to take us into the alliance.
"We are not afraid to talk about security guarantees for our country. Not afraid to talk about neutral status. But what will be our security guarantees? And what countries will provide them?
"We must talk about the end of this invasion. We must talk about ceasefire. But right now, our country's fate depends fully on our military."
He also denounced claims he had left the capital.
"I know there is much fake news including those as if I had left Kyiv," he said.
"I remain in the capital with my people."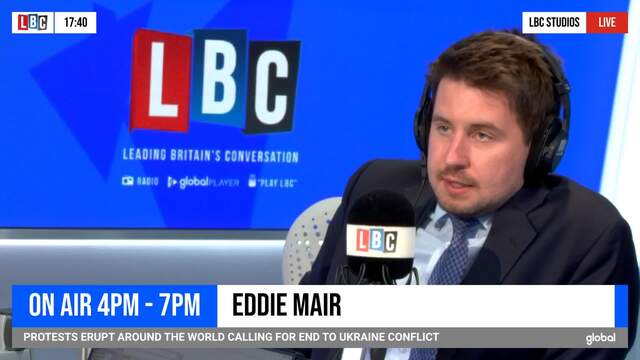 'What more do they need to see before they exclude Russia from SWIFT?'
Boris Johnson called Putin a "blood-stained aggressor" in the House of Commons on Thursday, and said it was evident he was always planning on invading Ukraine despite the UK and it's allies trying to to come to a diplomatic agreement.
"At this stage, Ukrainians are offering a fierce defence of their families and their country," he told MPs.
"Earlier today, President Putin gave another televised address and offered the absurd pretext that he sought the de-militarisation and de-Nazification of Ukraine.
"In fact, he is hurling the might of his military machine against a free and peaceful neighbour in breach of his own implicit pledge and every principal of civilised behaviour between states.
"He will never be able to cleanse the blood of Ukraine from his hands.
"I'm driven to conclude that Putin was always determined to attack his neighbour, no matter what he did.
"Now we see him for what he is, a blood-stained aggressor who believes in imperial conquest."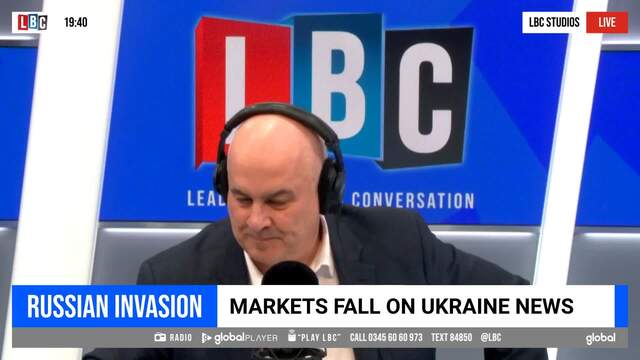 Some soldiers are 'dropping their weapons' and 'don't want to fight'
The seizing of the nuclear power plant Chernobyl sparked concern on Thursday.
An adviser to the Ukrainian presidential office confirmed the site of the worst nuclear disaster in history had been seized by the Russians on Thursday evening.
"It is impossible to say the Chernobyl nuclear power plant is safe after a totally pointless attack by the Russians," said Mykhailo Podolyak.
"This is one of the most serious threats in Europe today."
Ukraine's prime minister also said the Chernobyl area near Kyiv was now under the control of Russian troops.
White House press secretary Jen Psaki just told reporters there are reports staff at the site are being held hostage by Russian soldiers.
"We are outraged by credible reports that Russian soldiers are currently holding the staff of the Chernobyl facilities hostage," she said.
"This unlawful and dangerous hostage-taking, which could upend the routine civil service efforts required to maintain and protect the nuclear waste facilities, is obviously incredibly alarming and gravely concerning.
"We condemn it and we request their release."
Read more: Thousands of people in cities across Russia defy Putin and join anti-war protests
Read more: First photos from the Ukraine frontline: Harrowing images of Russia's invasion
Heavy fighting broke out earlier after invading Russian troops tried to seize the nuclear plant. An alert was also issued over a possible nuclear cloud covering the region if sensitive sites containing radioactive material were destroyed in the fighting.
Senior Ukrainian officials warned that fighting near Chernobyl could cause nuclear waste contamination to spread across the region and further across Europe.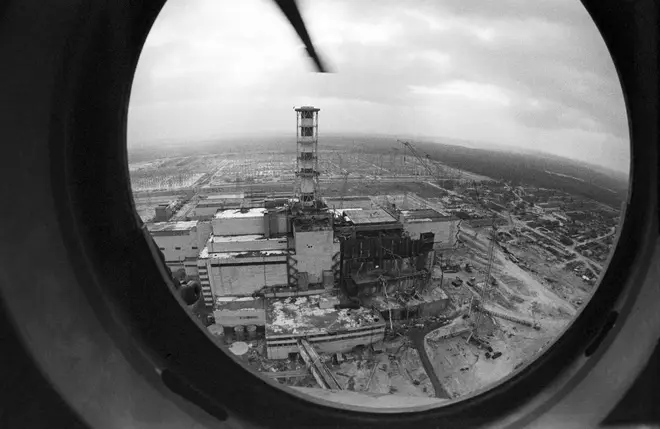 An adviser for the Interior Minister of Ukraine, Anton Gerashchenko said today: "The invaders from the territory of Belarus have moved into the Chernobyl AES Zone.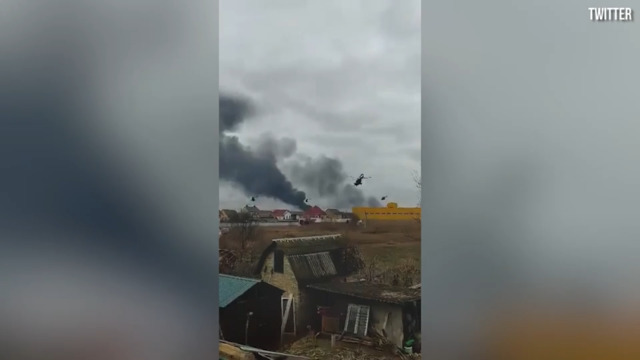 Footage purports to show Russian helicopters heading inwards towards Kiev as they fly near Gostomel Airport
"The National Guardsmen, who guard the collectors of unsafe nuclear radioactive waste, are fighting hard.
"If the invaders artillery hits and ruins/damages the collectors of nuclear waste , radioactive nuclear dust can can be spread over the territory of Ukraine, Belarus and the country of the EU!"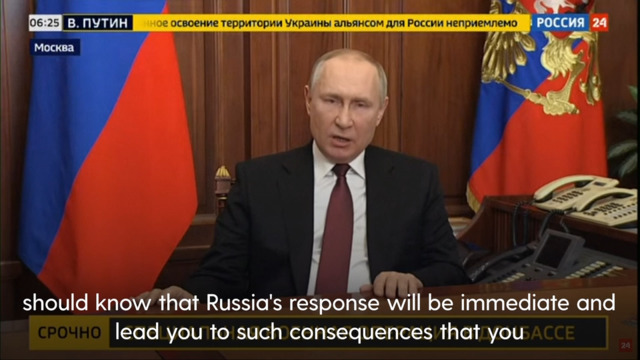 Vladimir Putin makes dire warning as he announces military action in Ukraine
The plant lies 130 kilometres (80 miles) north of the capital Kyiv.
The exploded reactor has been covered by a protective shelter to prevent radiation leak and the entire plant has been decommissioned.
Ukraine's ambassador to Estonia wrote online: "Bloody battle near Chornobyl nuclear facilities. Our people die to prevent ecological catastrophe in Europe."
Read more: UK petrol and diesel prices surge as Russia launches attack on Ukraine
One journalist based in Minsk wrote: "Russian troops from Belarus entered the Chernobyl zone. Heavy fights between them and Ukrainian soldiers guarding the storage of radioactive waste. We don't know about the fallout yet. But this is an absolute madness."
A radioactive disaster struck the Chernobyl nuclear plant in 1986. It is considered the worst nuclear disaster in history.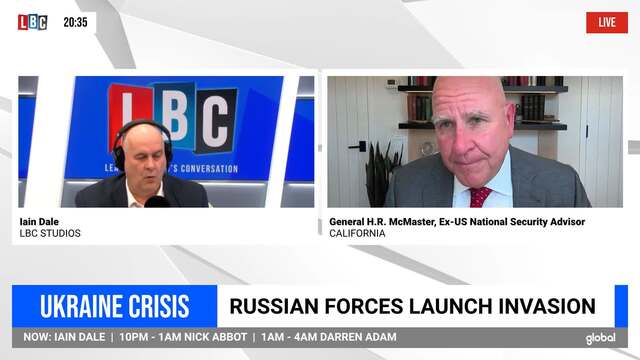 Putin has concluded the US won't confront him based on Afghanistan
The development came hours after Russian president Vladimir Putin ordered a full-scale invasion of Ukraine.
Hundreds of civilians were reported dead after Russian and Belorussian tanks rolled across the Ukrainian border and missiles rained down on cities after Putin launched a "special military operation" and saying he wants to "demilitarize", not occupy, the country.
Boris Johnson said early on Thursday: "I am appalled by the horrific events in Ukraine and I have spoken to President Zelenskyy to discuss next steps.
"President Putin has chosen a path of bloodshed and destruction by launching this unprovoked attack on Ukraine.
"The UK and our allies will respond decisively."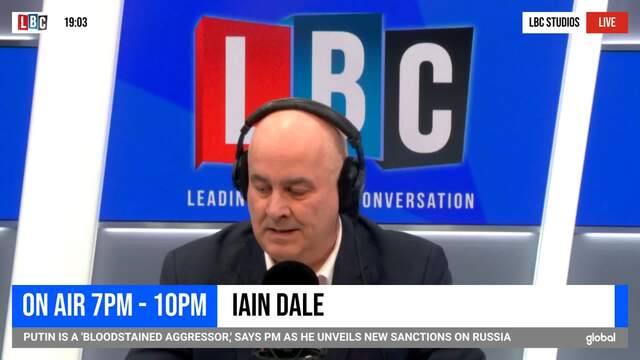 'You will remember where you were when you heard Russia had invaded.'
Defence secretary Ben Wallace said: "This is naked aggression against a democratic country which had dared to express a different aspiration than being a supine neighbour to Russia.
"No one should forget this day. Putin thinks this land grab is about securing his legacy -it will be, but not the one that he wishes."
In a statement the Ukrainian foreign ministry said: "This is an act of war, an attack on sovereignty and territorial integrity of Ukraine, a gross violation of the UN Statute and the fundamental norms and principles of international law."