Ukraine invasion: Day one as it happened
24 February 2022, 05:31 | Updated: 25 February 2022, 00:09
Vladimir Putin said in a televised address early on Thursday that Russia was launching a "special military operation"
Explosions were heard in the Ukrainian capital Kyiv and have been reported in many other cities as Russia launched strikes against targets including airfields
At least 137 people have died in the first day of the invasion and hundreds more have been injured, according to Ukrainian authorities
Russian forces have taken the Chernobyl power plant and are trying to take an airport close to Kyiv, the Ukrainian Ambassador has warned
Western leaders announced a number of economic sanctions in response
Over 1,700 Russian anti-war protesters were arrested on Thursday, mainly in Moscow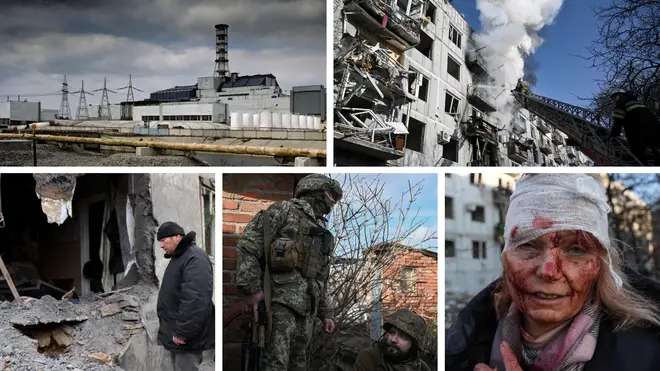 Vladimir Putin has ordered a military operation in Ukraine as explosions were heard early on Thursday in the capital of Kyiv.
Russia has been internationally condemned for what the Ukrainian foreign minister described as a "full-scale invasion".
Mr Putin announced a special military operation during a televised address early on Thursday, saying it was a response to threats posed by Ukraine.
Here's what happened on the first day of the invasion.
Happening Now