Putin is a 'bloodstained aggressor' says PM as he unveils new sanctions on Russia
24 February 2022, 13:40 | Updated: 25 February 2022, 00:31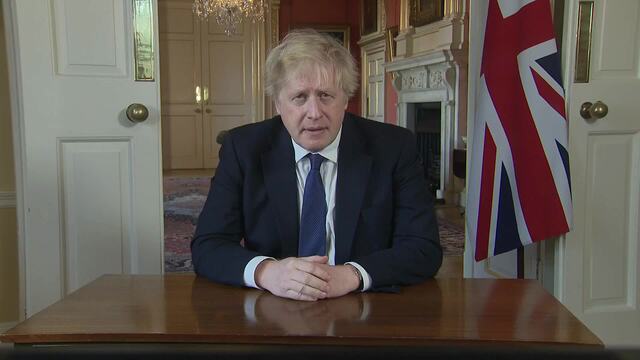 Boris Johnson's address to the nation as Russia invades Ukraine
President Putin is a "bloodstained aggressor" who was "always determined" to attack Ukraine, the Prime Minister has said as he unveiled a tougher package of sanctions against Russia.
Boris Johnson said in a statement to MPs this afternoon: "Putin will stand condemned in the eyes of the world and of history. He will never be able to cleanse the blood of Ukraine from his hands.
"I am driven to conclude that Putin was always determined to attack his neighbour, no matter what we did."
"Now we see him for what he is - a bloodstained aggressor, who believes in imperial conquest."
Mr Johnson announced 10 major sanctions on Russia including:
Plan to freeze UK assets of all major Russian banks, including immediate asset freezes on VTB – Russian's second largest bank.
Ban on all major Russian companies raising finance on UK markets, and stopping Russian state raising sovereign debt in UK.
Individual sanctions (including complete asset freezes) to be imposed on over 100 individuals, companies, entities and subsidiaries, including a handful of oligarchs, plus Rostec – Russian's biggest defence company – and 4 other defence companies and their subsidiaries.
Banning Aeroflot flights in the UK.
Prohibiting dual-use export licenses to Russia, i.e. items that could have either a civilian or military use.
Banning hi-tech exports in parts of the extractives industry, e.g. semi-conductors, aircraft spare parts, oil refinery equipment.
Limiting the size of the deposits that Russian nationals can hold in UK bank accounts. Details of the limit TBC at a later date.
Working with allies to shut off Russia's access to the Swift payment system. Needs international agreement but UK is pushing for it.
Extending the full range of sanctions to Belarus – i.e. treating Belarus as part of same sanctions regime as Russia.
Bringing forward passage of the Economic Crime Bill to before Easter recess.
Earlier, in a national address, Mr Johnson said the world would join together and that the UK would "not look away" as Russia unleashes war on Ukraine.
He said: "Today in concert with our allies we will agree a massive package of economic sanctions designed in time to hobble the Russian economy.
"And to that end we must also collectively cease the dependence on Russian oil and gas that for too long has given Putin his grip on Western politics.
"Our mission is clear: diplomatically, politically, economically – and eventually, militarily – this hideous and barbaric venture of Vladimir Putin must end in failure."
Mr Johnson also addressed Ukrainians, saying "we are with you" and "we are on your side" as they go through "this moment of agony".
Read more: Footage shows 'moment Russia invades Ukraine' as armoured column rolls in
Read more: 'Why would they stop him now?': Nick Ferrari grills minister over 'pointless' sanctions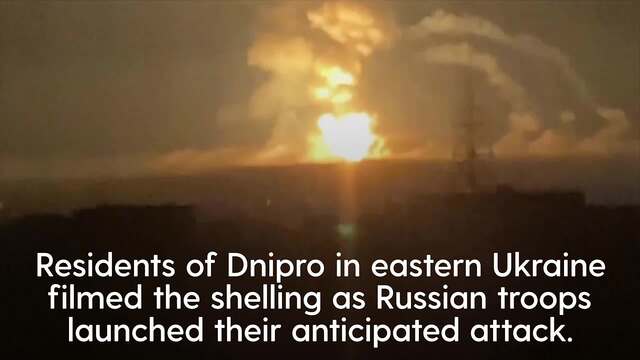 Resident of eastern Ukraine city films shelling
The PM ended his speech saying: "This crisis is about the right of a free, sovereign independent European people to choose their own future and that is a right that the UK will always defend."
It comes as Putin announced in the early hours of Thursday that a "special military operation" was being launched in Ukraine.
Hundreds of locals are said to have been killed after Russian and Belorussian tanks rolled across the border and missiles rained down on cities devastating areas in the east of Ukraine.
A caller in the Kharkiv area told LBC's Nick Ferrari on Thursday that he had been "terrified for quite a while".
He added: "Like many Ukrainians, we want peace, we don't want war.
"We want to solve this peacefully but obviously Russia is an aggressor and they justify it as 'peace-keeping' or 'pacifying a Nazi country' when in reality Ukraine is a multi cultural and very open country."