Local lockdown introduced in region of south Wales as coronavirus cases rise
16 September 2020, 12:53 | Updated: 16 September 2020, 22:37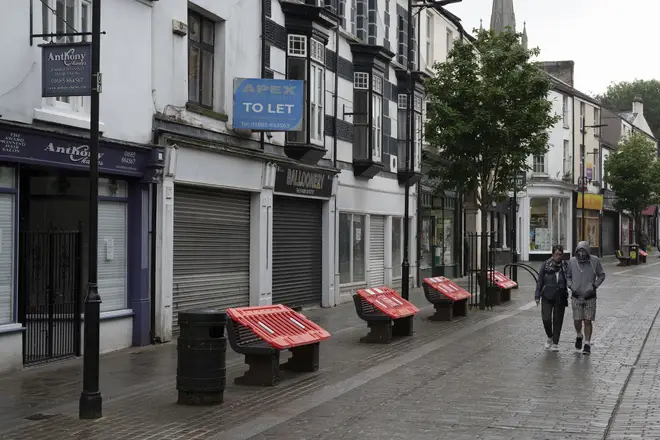 A local lockdown has been introduced in Rhondda Cynon Taf, a region of south Wales, as coronavirus cases continue to rise.
From 6pm on Thursday, people will not be allowed to enter or leave the Rhondda Cynon Taf Council area without a reasonable excuse, and licensed premises will have to close at 11pm.
People will only be able to meet outdoors for the time being and will not be able to meet members of their extended household indoors or form an extended household.
Read more: Testing, testing...Govt announces urgent review after LBC probe
Read more: Labour leader Sir Keir Starmer 'relieved' after his child's covid test is negative
The measures follow a "rapid increase" in the number of Covid-19 cases, which have been linked to people meeting indoors, not following social distancing guidelines and returning from holidays abroad, it said.
The rolling seven-day new case rate in the area has hit 82.1 per 100,000 people, with the testing positivity rate at 4.3 per cent – the highest in Wales.
The measures will be reviewed in two weeks.
The Welsh Government said contact tracing teams have been able to trace about half of the cases back to a series of clusters in the borough. The rest are linked to community transmission.
There are a number of clusters in Rhondda Cynon Taf – two of which are significant.
Health Minister, Vaughan Gething, said: "We have seen a rapid rise in cases in Rhondda Cynon Taf in a very short space of time, linked to people socialising indoors and not following social distancing guidelines.
"We now have evidence of wider community transmission in the borough, which means we need to take urgent action to control and, ultimately, reduce the spread of the virus and protect people's health.
"We need the help of everyone across Wales to prevent the increasing and onward spread of coronavirus. We can bring coronavirus under control if everyone pulls together and follows the rules we have put in place. They are there to protect you, your family, and your community.
"Coronavirus has not gone away. It is still circulating in communities across Wales. It's vital people stick to the rules."
Andrew RT Davies, shadow health minister for the Welsh Conservatives, said the announcement of a local lockdown in Rhondda Cynon Taf (RCT) had been "on the cards".
"Any local lockdown should, however, be for as short a time as possible," Mr Davies said.
"Every effort must be made to avoid a similar situation occurring in other parts of Wales, which includes by learning from these two local lockdowns, and I see that there are some differences between them.
"In RCT, licensed premises have to close by 11pm, but this wasn't imposed in Caerphilly.
"The Health Minister must explain the rationale behind this and give guidance across Wales to prevent other lockdowns."