Lord Dubs, who fled Nazis as a child, calls for UK to take Palestinian refugees amid Israel-Hamas conflict
18 October 2023, 19:08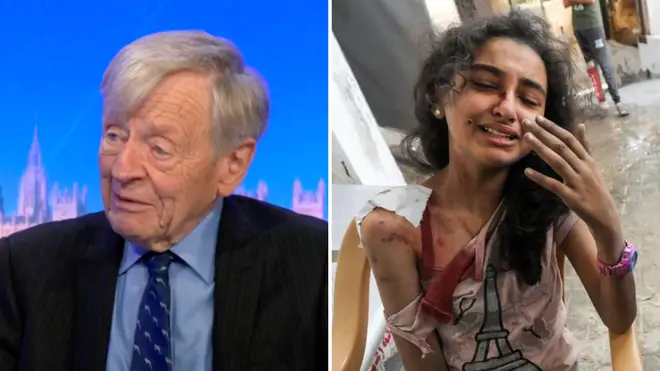 Lord Dubs, who came to the UK as a child refugee from the Nazis, has called for the UK to welcome people from Palestine, amid the conflict between Israel and Hamas.
The Labour peer, 90, who as a young Jewish boy left Czechoslovakia with his family in 1939, said he thought the numbers fleeing the conflict would be "small" but "significant for the people who want to get out."
Hundreds of thousands of Palestinians living in Gaza have been displaced from their homes, after Israel told people in the north of the territory to go south as it prepared to take on Hamas.
Many have flocked into the southern city of Khan Younis, which is now severely overcrowded. Basic amenities are in short supply, although aid is set to start coming in through Rafah, Gaza's southern border with Egypt.
But Egypt does not appear to want to allow Palestinians to leave via Rafah, although the crossing is open to people with foreign citizenship.
Read more: New livestream footage claims to prove rocket fired from Gaza killed hundreds at hospital
Read more: Terror fear spreads in Europe: Six French airports evacuated after bomb threats and German synagogue firebombed
Lord Alf Dubs says we should base Palestinian refugee scheme off Afghan/Ukrainian models
Lord Dubs told LBC's Andrew Marr: "I think for those who wish to leave Gaza, and some don't, for understandable reasons, yes, I think there should be an international effort to welcome them, particularly those who have connections with Britain in our case, and we should make it possible for them to come here if they want to.
"I think the numbers will be small but they will be significant for the people who want to get out."
Asked if the UK should start a specific refugee scheme for Gazans, such as those for Afghanistan, Ukraine and Hong Kong, Lord Dubs said "we should look at those as models".
He added: "I think we should make it possible, provided they are allowed to leave Gaza via the Egyptian exit, then I think we should be welcoming to them, and we should be doing this in concert with other European countries."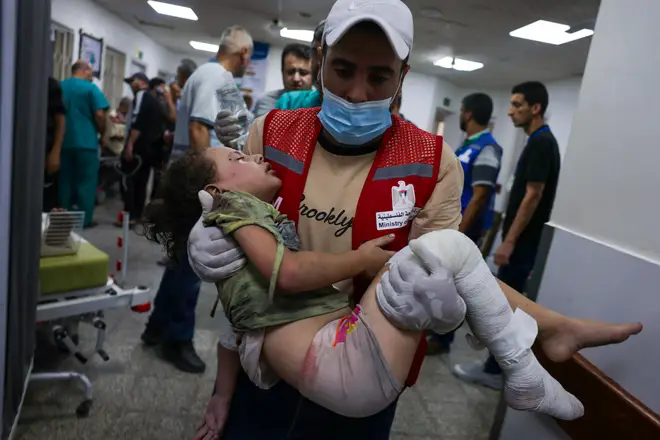 Pressed on whether the UK might be courting danger by allowing in refugees from Gaza, some of whom may hold radical views, Lord Dubs said: "I think we've got to be careful, obviously, but that's the case for all people who migrate from one country to another.
"I think we've got to be careful, but given the dire circumstances for some of these people I would have thought that humanitarian reasons would say bring them here, if they really want to come."
Some of the recent terror attacks committed in the UK were carried out by asylum seekers. Khairi Sadallah, a refugee from Libya, stabbed three men to death in a Reading park in 2020. Emad al-Swealmeen, who set off a bomb outside a hospital in Liverpool in 2021, claimed to be a refugee from Syria.
Lord Dubs said that both Israel and Gaza are in "desperate situations, and we've got to help the individuals who are victims in each case."
Thousands of people have died in both Gaza and Israel from Hamas' attack and Israel's response.