Brexit was never going to make the UK better off, says former Chancellor Lord Hammond
21 June 2023, 19:30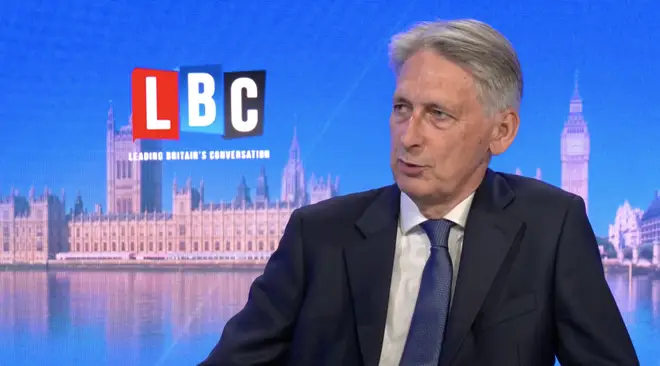 Former Chancellor Lord Philip Hammond has told LBC that Brexit has come "at a cost" to the economy.
Speaking to Andrew Marr, Lord Hammond said that the picture wasn't yet clear as the "waters had been hugely muddied" by Covid, spiralling energy costs, and the war in Ukraine.
But he added that "as the dust settles, it will, be clear that being outside the single market has had a cost to the British economy."
"My opponents, the Leave campaign, tried to argue that we would be better off in financial terms as well as having more sovereignty.
Read more: 'What?!': James O'Brien expresses shock at British five-year-olds being shorter than western peers
Read more: Chancellor says Government will 'stick to its guns' as UK inflation stays at 8.7%
UK's 'sovereignty' and 'financial market' have suffered as a result of Brexit says Philip Hammond
"That was never going to be true and it has proven not to be true."
He also said the government should consider relaxing immigration rules to avoid sending the country into recession.
He said: "The labour market in the UK is very tight. So, inflation is being driven by rising wages.
"And there are two ways we can tackle this, you can either dampen down the economy as a whole by raising interest rates and reducing economic activity [and] slowing growth. Or you could try to soften the labour market, which of course, in the days when we were in the single market would have happened automatically, more labour would have come in, attracted by higher wage rates here.
"That's not happening now. And I think the government has regarded any relaxation of migration rules as being politically toxic.
But rising mortgage rates on the scale we're seeing is also politically toxic."