Gas crisis: major CO2 supplier restarts UK production
21 September 2021, 14:29 | Updated: 21 September 2021, 18:08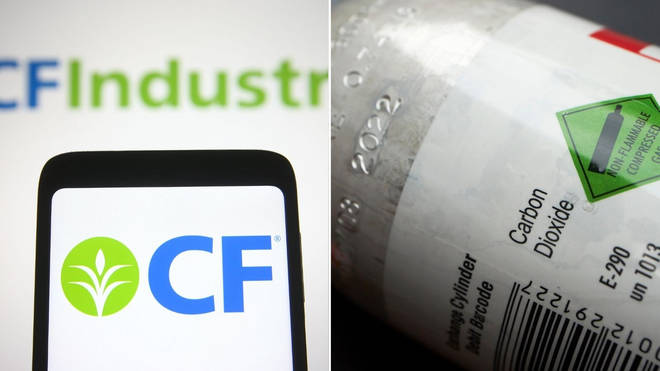 The Government has struck a deal with a major carbon dioxide supplier to restart production at its UK sites.
The deal with fertiliser firm CF Industries comes as part of an effort to ensure availability of the gas for industries including the food sector.
It follows talks between the company and Business Secretary Kwasi Kwarteng.
READ MORE: Energy supplier Green faces administration with hundreds of job losses
READ MORE: Gas prices: What happens if my energy supplier goes bust?
Carbon dioxide is used in food packaging and as a method of stunning animals prior to slaughter but supplies are running low.
Downing Street is yet to confirm details of the deal, with a spokesman saying: "The Business Secretary has been in discussions with CF Industries since the weekend on how we get their plants up and running as soon as possible to secure a continued supply of CO2 to UK businesses."
Prime Minister Boris Johnson said this afternoon that the Government was taking "direct steps" to ensure availability of carbon dioxide.
He said the spikes in gas prices which have led to the disruption of production "are being caused by the world economy waking up after quite a long period of cryogenic paralysis - it's unfreezing everywhere and that is causing supply chain problems".
"Obviously, we're working with the companies to make sure that we can keep the supplies going," he said.
"On the carbon dioxide issue that's particularly important for some industries, we're taking direct steps to make sure that that continues to be available."
Asked by the BBC whether that meant subsidies, he added: "We'll do what's necessary and you'll be hearing a bit more about that later on in the day."
Mr Kwarteng previously said a deal with the company "may come at some cost".
Spiralling energy costs have led to the suspension of operations at fertiliser plants - which produce carbon dioxide as a by-product - having a knock-on effect on the food industry.
The gas is injected into the packaging of perishable foods such as meat and salads to inhibit the growth of bacteria.
It typically prolongs the shelf life of products such as beef steak by around five days.
The halt to its production comes as supply chains are already grappling with a shortage of HGV delivery drivers, heaping yet more pressure on UK supermarkets.
Alongside warnings of gaps on supermarket shelves if the issue is not resolved promptly, the result would be widescale food waste as retailers are forced to discard otherwise perfectly good products.