Nottingham Forest fan jailed for assaulting Sheffield United's Billy Sharp on pitch
19 May 2022, 08:54 | Updated: 19 May 2022, 12:57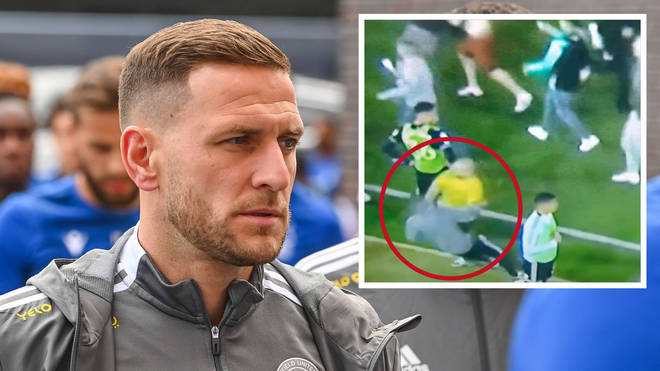 A 30-year-old man has been jailed for assaulting Sheffield United's Billy Sharp on the pitch.
Robert Biggs, of Derbyshire, was jailed for 24 weeks after pleading guilty to assault occasioning actual bodily harm.
He was also ordered to pay Sharp £500 in compensation, as well as £85 in costs and a £128 victim surcharge.
Biggs appeared in court in custody on Thursday, not opposing an application for a football banning order during the hearing.
A separate charge of illegally entering the playing surface was dropped.
Passing sentence on Biggs, District Judge Grace Leong said: "The video-clip proves to me that you were running towards Billy Sharp and that you dodged all the other spectators to get towards him.
"I am of the view that it was a targeted act of aggression... even if it was not premeditated.
"The forceful impact resulted in a very unpleasant injury to Mr Sharp.
"You must have seen him fall over but you did not stop to check if he was alright or whether he was seriously injured.
"This is so serious that a custodial sentence must be imposed."
Read more: Westminster sleaze: Drugs so common that MPs 'have been known to snort cocaine from desks'
Sharp was knocked to the ground near the touchline at the City Ground at the end of the Championship play-off semi-final against Nottingham Forest on Tuesday.
Prosecutor Marianne Connally told the hearing that he required four stitches to a wound to his lip after being headbutted.
She said the incident was caught by cameras covering the play-off semi-final for live television.
She told the court: "A large number of fans entered the field of play.
"Mr Sharp hadn't directly participated in the game. He appears to be standing with his hands in his pockets.
"Mr Biggs can be seen to run along the pitch. He then headbutts Mr Sharp.
"The Crown's case is that this is a deliberate and senseless act of violence."
Read more: Chancellor vows to cut taxes for businesses as he warns of 'tough' months ahead
Ms Connally went on to say: "Mr Biggs has, to his credit, turned himself in.
"It's an assault on an employee, effectively in his place of work."
An extensive police investigation was quickly launched following the incident which left the player requiring medical treatment.
Assistant Chief Constable Rob Griffin, of Nottinghamshire Police, said: "I am pleased we have now charged a suspect in connection with this assault. This is a result of hard work done throughout the night and today involving numerous police departments.
"We continue to work closely with both football clubs who are supporting our investigation following this incident.
"Cases such as this will hopefully serve as a deterrent to anyone thinking of getting involved in violent disorder at football matches. Incidents are treated extremely seriously by the force and football clubs and people involved will be held to account."