Watch shocking moment activist shouting 'free Palestine' lets dozens of mice loose in McDonald's
30 October 2023, 23:11 | Updated: 1 November 2023, 12:27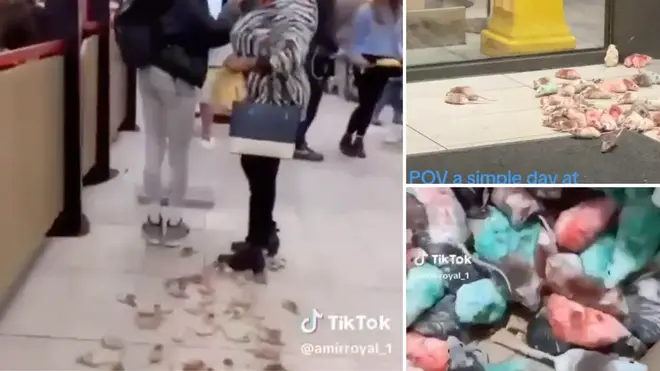 This is the shocking moment a pro-Palestinian activist let dozens of mice loose at a McDonald's in Birmingham over its 'support for Israel'.
Footage posted online shows a man with a 'Free Palestine' number plate pulling up outside of a McDonald's in Birmingham, carrying boxes filled with mice.
He also appears to be wearing a Palestine flag on his head as he walks into the McDonald's.
The man then shows a group of young teenagers the mice, before throwing them onto the floor.
A spokesperson for McDonald's has confirmed 'a number of mice' were released inside the restaurant and that it has now been sanitised by pest control.
Warning: footage below contains strong language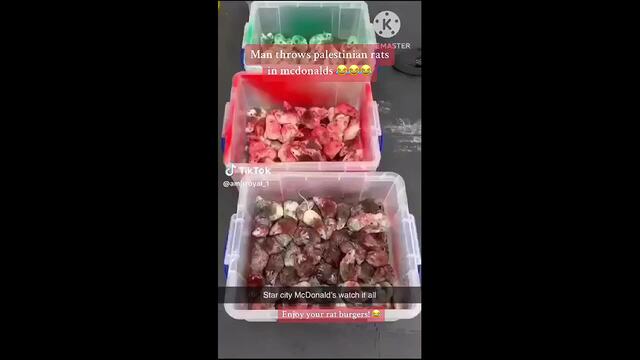 Rats let loose in Birmingham McDonald's
The mice are thrown towards two women standing at a self-order kiosk.
A man at the end can be heard shouting 'Free f**king Palestine' and 'F**k Israel'.
Read More: Labour MP suspended after using 'deeply offensive' phrase 'between the river and the sea' at pro-Palestine rally
Read More: Two women arrested after attending Palestine protest with 'pro-Hamas paraglider signs'
They then start to scurry around the restaurant as customers look on in horror.
In a statement issued on Wednesday, McDonald's said: "We are extremely disturbed by the disinformation and inaccurate reports regarding our position in response to the conflict in the Middle East. McDonald's Corporation is not funding or supporting any governments involved in this conflict, and any actions from our local Developmental Licensee business partners were made independently without McDonald's consent or approval.
"Our hearts are with all of the communities and families impacted by this crisis. We abhor violence of any kind and firmly stand against hate speech, and we will always proudly open our doors to everyone. 
"We are doing everything we can to ensure the safety of our people in the region while supporting the communities where we operate."
A spokesperson for McDonald's told LBC after the incident: "We are aware of an incident in our Birmingham Star City restaurant this evening where a number of mice were released by a member of the public.
"Following the removal of the mice, the restaurant has been fully sanitised and our pest control partners have been called out to conduct a full inspection."