Two women arrested after attending Palestine protest with 'pro-Hamas paraglider signs'
30 October 2023, 20:45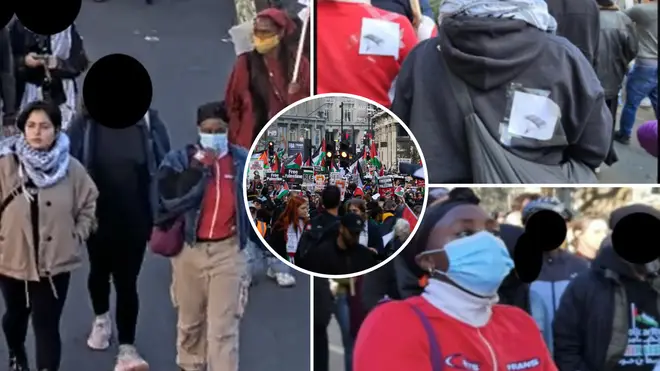 The Met Police have arrested two women who wore paraglider stickers at a pro-Palestine protest on Saturday 14 October.
After images of the women went viral online, two of the three women handed themselves into the police on 30 October.
The women, aged 29 and 44, were arrested on suspicion of inviting support for a proscribed organisation, contrary to section 12(1)(a) of the Terrorism Act 2000 and are being held in custody at a police station in west London.
Some of the Hamas members who murdered Israelis arrived in the country via paraglider.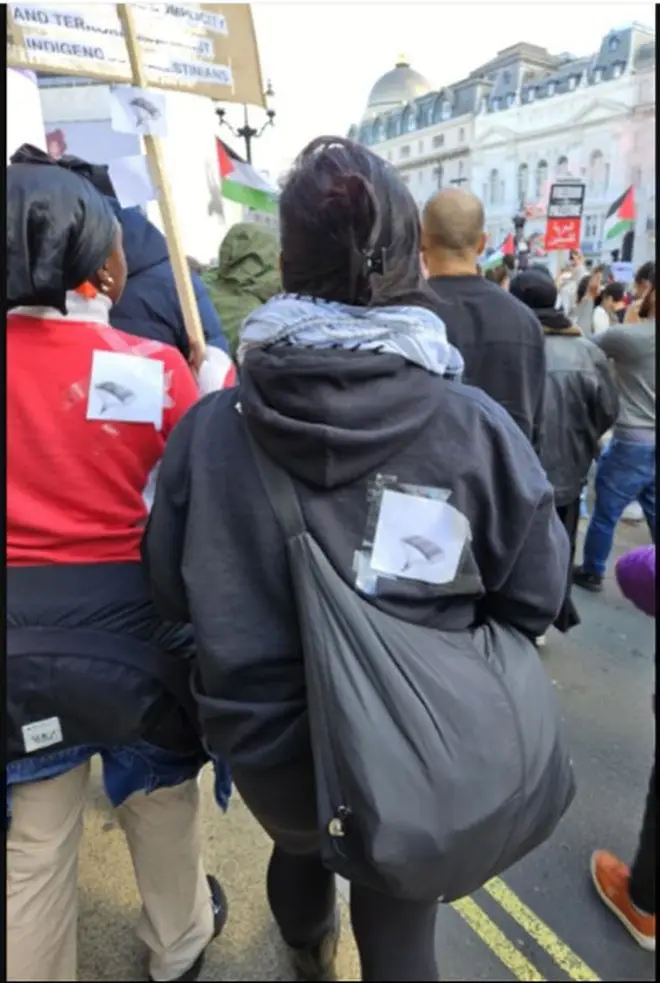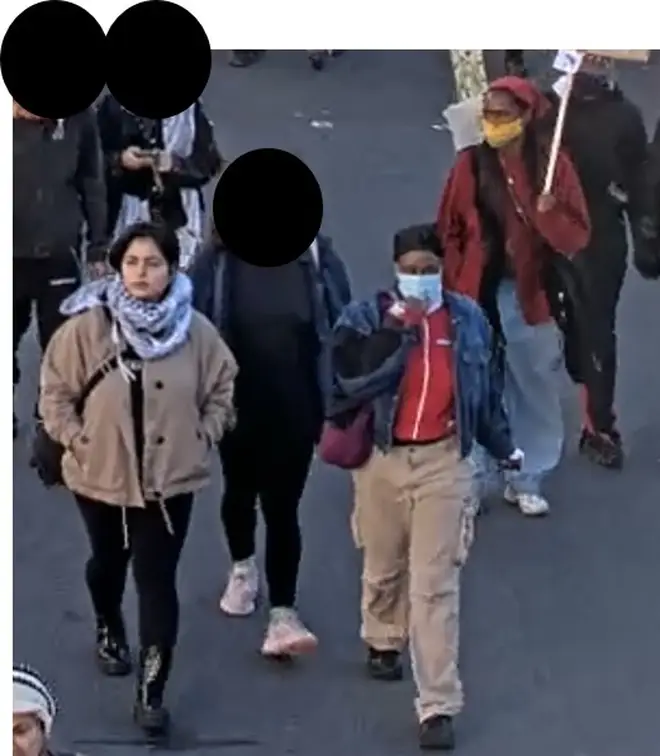 The police are still looking to identify a third woman who wore a paraglider on her top and attended the same protest.
Read more: Hunt for Palestine supporters with 'pro-Hamas hang-glider signs', as Suella Braverman vows crackdown
Read more: Two women at London Palestine protest arrested for racial hatred after chant referencing ancient massacre of Jews
She is described as having dark skin and was wearing light brown trousers and a long-sleeved red top.
Police added that she also had a blue denim jacket tied around her waist, which she later put over her top.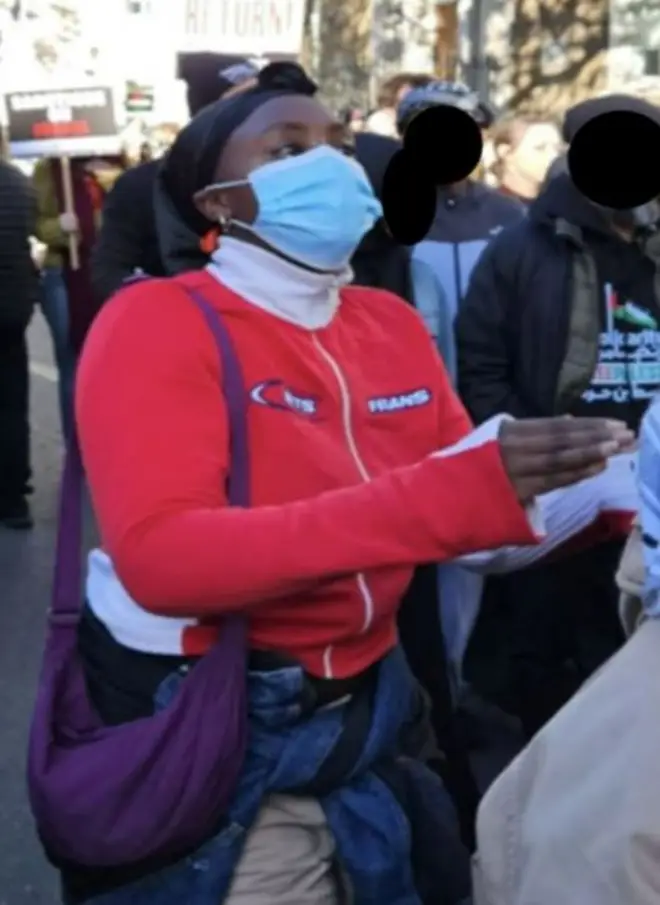 In addition, images show her with a light blue medical face mask and a dark scarf or bandana around her head, with a dark red/burgundy over-the-shoulder bag.
Police are also looking for a man who was seen waving a placard with the words "I fully support Hamas" on it during a protest on Bond Street on Saturday, 21 October.
He has short hair, light skin and is wearing a blue jacket with a light top underneath, a light stripy scarf around his neck, and light trousers or jeans.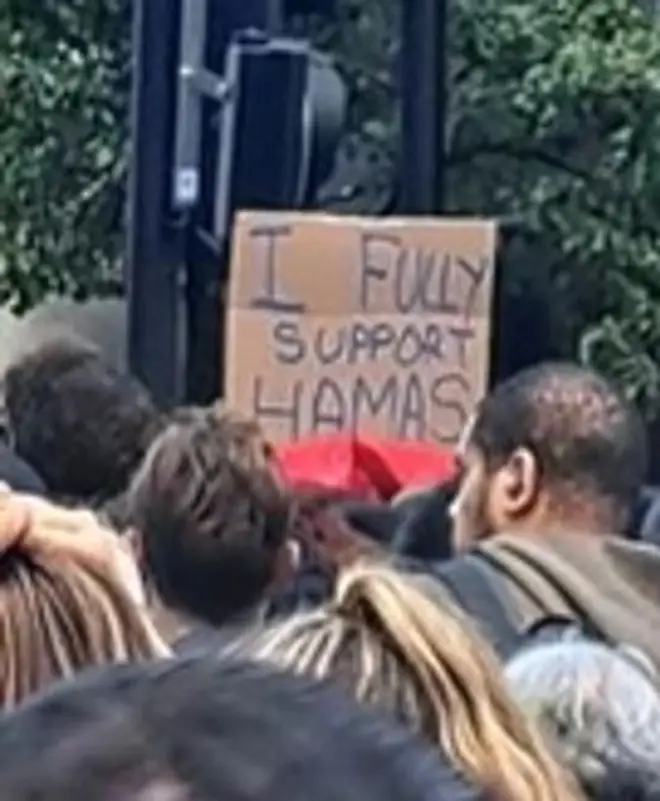 Commander Dominic Murphy, head of the Met's Counter Terrorism Command said: "My officers are working night and day with our colleagues across the country to investigate suspected terrorism offences committed in the real world and online.
"I am grateful to the public who have reported information to us and I urge anyone who has information about the man and woman we are still seeking to please let us know.
"If the people in the pictures recognise themselves, I urge them to come forward so we can speak with them."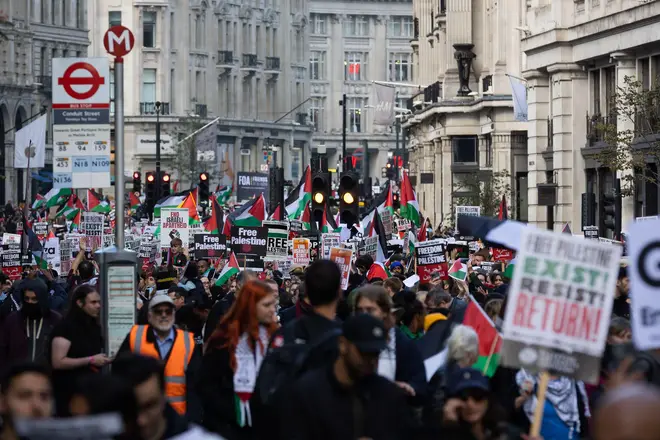 Tens of thousands of people gathered in central London on Saturday 14 October to protest Israel's reaction to Hamas' attack on its people last weekend.
There were fifteen arrests during and after the protest.
Glorifying a proscribed terrorist organisation like Hamas carries a possible jail sentence of up to 14 years.