Fancy mangers and bash, rausage solls or teans on boast? US chef horrifies Brits with 'cursed' take on classic UK dishes
30 March 2023, 14:03 | Updated: 30 March 2023, 14:26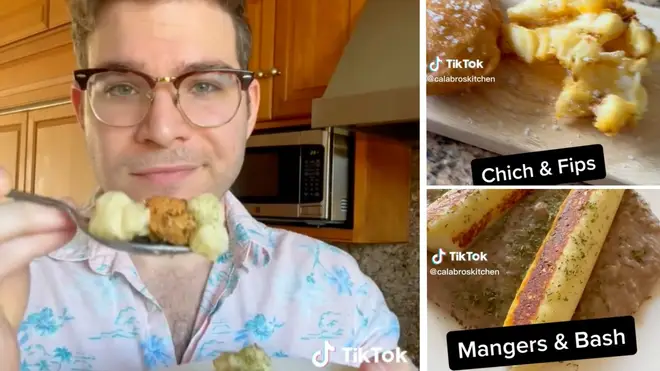 An American chef has horrified Brits by taking classic UK meals and turning them inside out – designing dishes called mangers and bash and teans on boast.
Anthony Calabro's amusing TikTok videos have been viewed by millions.
In the 27-year-old's mangers and bash video, he makes a potato mixture and arranges it in a tube shape – as if it were a sausage – then makes mashed up sausage meat as the base, flipping the classic bangers and mash dish on its head.
"First, we're going to start off making the same type of batter like we did for chich and fips," he explains, videoing himself making the potato mixture.
TikToker goes viral over variation of British sausage rolls
"But this time, we're going to stuff it into a sausage casing. Let the mangers boil for a bit, but while they're boiling we can make the bash.
"We start off with some water and some sausage meat, and then blend it all up, put it in a pan and cook it til it gets nice and thick.
"And then sear your mangers and then just plate it up. First, we start with the bash, and then the mangers on top, a little bit of greenery, and there you have British famous mangers and bash."
Read more: Heart-rending final photo of beauty queen, 25, who collapsed and died while working at Michael Owen's stables
Showing off the dish – effectively two cylinders of potato mixtures sitting on a bed of grim-looking blended sausage meat, Anthony says: "I'm going to give it a try… and I don't know what to say about this, to be honest.
"It's just OK, but it's not hateful. It's a little bit weird in the mouth though."
In his teans on boast recipe, he blends baked beans, adds flour and baking powder, mixes it and then bakes it into a bizarre loaf.
He then add croutons to a mixture of butter, flour and water, before pouring it over his bean-based "bread".
"Honestly, it wasn't that bad," he says of that concoction.
His chich and fips recipe sees him batter the potato mixture, then fry chunks of cod in the style of chips.
Read more: Supermarkets may have 'unwittingly sold rotten meat' as trading standards probe alleged rogue supplier
Anthony uses his TikTok to make "cursed food" he said, but makes serious dishes on his YouTube channel.
He said he thought it would be funny when he visited Greggs and wanted to try his hand at making a "rausage soll".
"Gordon Ramsay called me a "big boy"," the New Jersey-based cook's Twitter bio states.
One comment on his TikTok says: "Bro is Rordon Gamsay."
"This is a crime against humanity," said another user.