Matt Hancock confirms £60m support offer for Greater Manchester still stands
20 October 2020, 19:11 | Updated: 20 October 2020, 20:32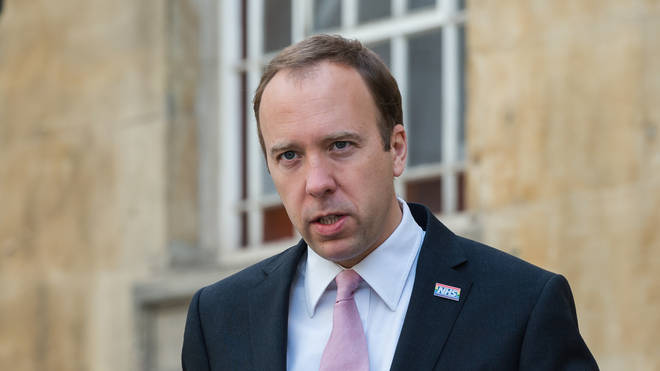 Health Secretary Matt Hancock has confirmed the £60 million support package offered to Greater Manchester "is still on the table"/
Speaking in the House of Commons on Tuesday evening, the minister announced the funding would still be available to the region if it chooses to accept it.
It comes after confusion arose about how much money the government would offer local leaders in Greater Manchester, which is set to move into Tier 3 restrictions at midnight on Thursday.
The region's mayor, Andy Burnham, demanded a minimum of £65 million to help the city's businesses. However, after talks between civic leaders and Westminster failed to reach an agreement on Tuesday, it was reported that only £22 million would be offered from No 10.
Downing Street later insisted the money was still available despite Prime Minister Boris Johnson failing to confirm it during a press conference.
But on Tuesday evening, the health secretary finally confirmed the figure in front of MPs while giving a statement in the Commons.
Read more: Greater Manchester will move to Tier 3 restrictions, PM confirms
Read more: Andy Burnham warns of 'punishing' winter, adds No 10 walked away from talks
Mr Hancock told the people of Greater Manchester that the government will be "by your side".
He said: "I understand the impact of these measures but we must take the decisions to save lives and ultimately livelihoods in Greater Manchester.
"And to everyone in Greater Manchester, I say this: throughout these difficult times for your great city we will be by your side, and the best thing all of us can do now to protect our loved ones and to get back to normal as fast as possible is for everyone to come together, to follow these new rules and for all to play their part in tackling this deadly virus."
Shadow Health Secretary Jonathan Ashworth responded to Mr Hancock, asking: "Where is the chancellor? He should be here to defend the consequences of his decisions that will mean a winter of hardship across the North.
"Now the leaders of Greater Manchester were prepared to compromise, they offered to settle for £65 million to support jobs and livelihoods, the government insisted on £60 million, but rather than finding the £5 million extra, the prime minister pulled the plug on negotiations and then this afternoon took £38 million off the table.
"What a petty, vindictive, callous response in a national crisis. The PM may think he's punishing the politicians, in fact, he's punishing the people of Greater Manchester."
Read more: Manchester now facing Tier 3 lockdown as talks end 'without agreement'
Read more: UK records 241 coronavirus deaths in largest daily rise since early June
Mr Hancock said that daily hospital admissions in Greater Manchester are higher now than they were at the end of March.
He said: "So we must act where the virus is spreading. In the parts of the country where it is spreading the fastest, it is our sombre duty to take action necessary to protect people's lives and protect the NHS."
Mr Hancock added: "It has been clear for some days now that further action is needed across parts of England."
He continued: "In Greater Manchester, there have been more coronavirus infections already in October than in July, August and September combined.
"The average daily hospital admissions in Greater Manchester are now higher than they were on 26 March and there are now more Covid-19 patients in Greater Manchester hospitals than in the whole of the South West and the South East combined."
Listen & subscribe: Global Player | Apple Podcasts | Google Podcasts | Spotify