'Last godfather' of Sicilian mafia Matteo Messina Denaro who was on the run for 30 years dies aged 61
25 September 2023, 09:18 | Updated: 25 September 2023, 09:30
Mafia boss Matteo Messina Denaro, who was on the run for 30 years for allegedly murdering 50 people, has died aged 61.
Messina Denaro, dubbed the "last godfather" of the Cosa Nostra, was suffering from colon cancer when he was caught by armed police at a medical facility in Sicily in January.
In recent weeks, his condition deteriorated rapidly and he was transferred to a hospital from the maximum-security prison in L'Aquila that he was being held in.
The mafia boss had been on the run for 30 years for the alleged murder of 50 people, including a boy dissolved in acid.
He helped organise the kidnapping of 12-year-old Giuseppe Di Matteo in a bid to deter his father from giving evidence against the mafia, prosecutors said.
The boy was held in captivity for two years before he was strangled and his body dissolved.
Messina Denaro earned the nickname "the devil" for ordering several other brutal attacks too, such as the murders of anti-mafia prosecutors Giovanni Falcone and Paolo Borsellino and a series of car bombs in Florence, Milan and Rome.
Read more: Met chief backs armed police over Chris Kaba protest as army set to step in
Read more: 'Beyond partisan politics': Both parties must agree on climate change to secure green future, says Gordon Brown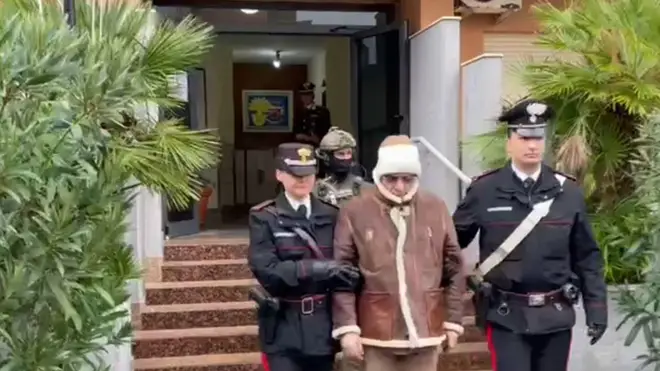 L'Aquila Mayor Pierluigi Biondi confirmed he had died in hospital "following a worsening of his illness".
His death "puts the end to a story of violence and blood," Mr Biondi said. He thanked prison and hospital staff for their "professionalism and humanity".
It was Messina Denaro's several visits to a private clinic that led to his arrest at the start of the year. He had been sitting in the clinic waiting to see a doctor for cancer tests when he was surrounded by officers.
He is not believed to have given any information to the police after he was captured.
The mafia boss requested no aggressive medical treatment, according to ANSA. Medics are said to have stopped feeding him after he was declared to be in irreversible coma.
Messina Denaro was born in the Sicilian town of Castelvetrano in 1962. He followed his father into the mob and carried out his first killing when he was 18, police said.