It will take 'up to three years' to clear Met of corrupt police officers, says Met Commissioner Sir Mark Rowley
8 September 2023, 08:24 | Updated: 8 September 2023, 13:57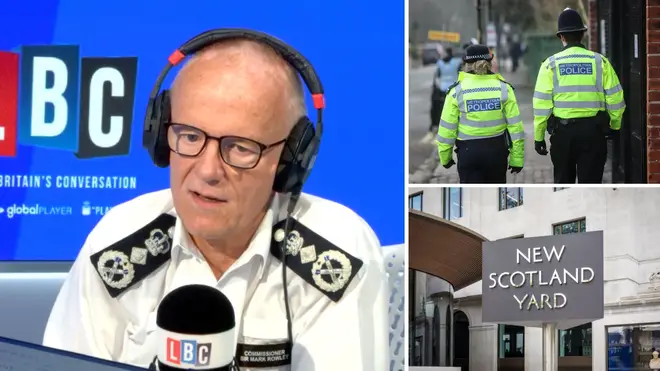 Cleaning up the Metropolitan Police of crooked officers will 'take two to three years', Met Commissioner Sir Mark Rowley has told LBC.
Reinstating trust in the Metropolitan Police could take up to three years following an increase in the number of officers being dismissed for "bad behaviour".
It comes after five former Met Police officers pleaded guilty to sending grossly offensive racist messages on Whatsapp at Westminster Magistrates' Court on Thursday.
Sir Mark told LBC's Nick Ferrari that "bureaucratic" processes are slowing down investigations into corrupt police officers, resulting in a blockage at the hearing stage.
But he refused to be drawn on whether there was a "cultural" problem within the Met.
"I think this is two or three years work where we get rid of those hundreds of officers who are letting everyone down.
"Because we don't have clear route to sack officers who fail revetting, system has fallen into disrepute," he added.
Changing the regulations around sacking officers will be "so important to accelerating people out".
Sir Mark would not reveal the exact amount of Met cops under investigation but confirmed that the number is in the hundreds.
Read more: Terror suspect's jailbreak was 'pre-planned,' says Met chief Sir Mark Rowley as he doesn't rule out 'inside job'
Read more: Shoplifting crisis is a 'policing capacity challenge', says Met Commissioner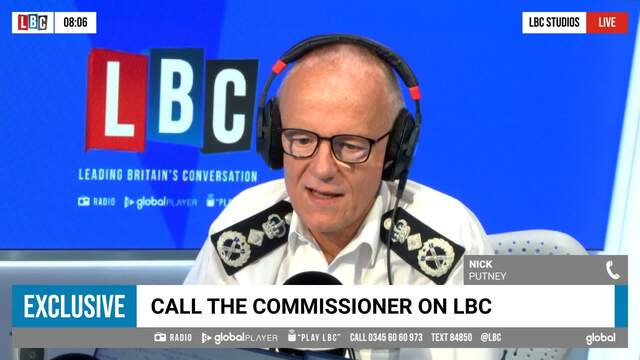 Sir Mark Rowley: '2 or 3 years' work to clean up the Met
He added that he is "potentially" a third of the way through the time required to rid the force of these corrupt officers, as he has been in the role of Met Commissioner for a year now.
"When I took over, the Met was only sacking five officers a month on average.
"So we're talking about hundreds in a small number of years, it's a big uptick to clear some mistakes from history, which is embarrassing and frustrating and undermines public trust".
When pressed on whether a "cultural" problem in the Met is attracting these rogue officers, Sir Mark said: "I think there's a lot in the systems, there's some stuff in the culture that we have responsibility for in terms of leadership decisions, culture, not moving with the times.
"I think there's some big issues for policing across the country, you're seeing a smattering of cases elsewhere as well."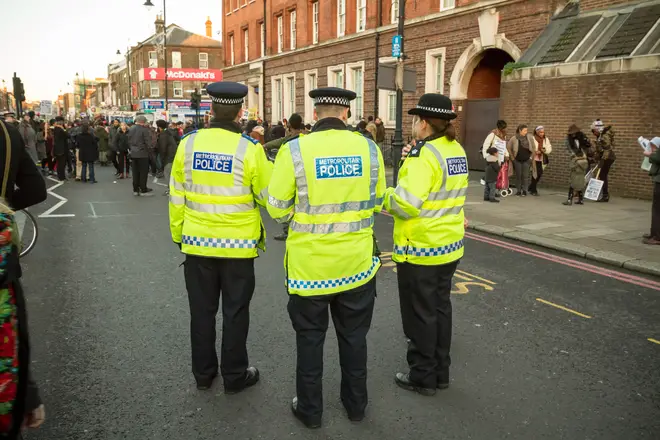 It comes after it was revealed on Wednesday that the Met is losing more officers than it is recruiting.
In April, the force was 1,000 short of its recruitment target of bringing in 10,000 new officers as part of the government's uplift programme.
It follows figures from earlier this year which suggested that only four in ten Londoners still trust the Met after a string of scandals involving dangerous, racist and misogynistic cops in the force.
Women under the age of 35 reported the lowest level of trust in the force's officers.