Mo Salah calls for end to 'slaughter of innocent souls' in Gaza, as Egypt to let 20 lorryloads of aid across border
18 October 2023, 21:06 | Updated: 18 October 2023, 21:50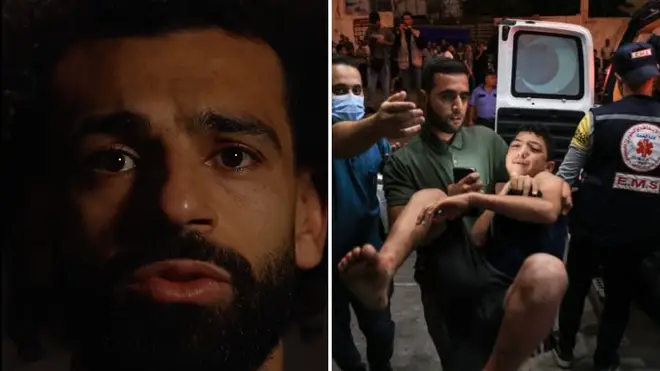 Mo Salah has urged world leaders to come together to help bring about an end to the conflict between Israel and Hamas.
The Egyptian Liverpool footballer published an impassioned address on Wednesday evening, calling for an end to the "slaughter of innocent souls".
Hamas massacred more than 1,000 Israelis on October 7 in the biggest loss of Jewish life in a single day since the Holocaust and kidnapped about 200 people.
That led to a furious retaliation from Israel, including a bombardment that has killed more than 2,000 Palestinians, and displaced hundreds of thousands from their homes.
A hospital was hit by a strike last night, with both Israel and Palestinian terrorist groups blaming each other. Hundreds are feared to have died.
Read more: New livestream footage claims to prove rocket fired from Gaza killed hundreds at hospital
Read more: Lord Dubs, who fled Nazis as a child, calls for UK to take Palestinian refugees amid Israel-Hamas conflict
Some faint hope may be on the horizon for Palestinian civilians, as Egypt has promised to let 20 lorryloads over its border with south Gaza, according to Joe Biden.
Israel has promised that it will not stop aid coming into Gaza, as long as it does not get intercepted by Hamas.
In a video posted to social media, Salah said: "It is not always easy to speak in times like this.
"There has been too much violence and heartbreaking brutality. The escalations in the recent weeks is terrible to witness.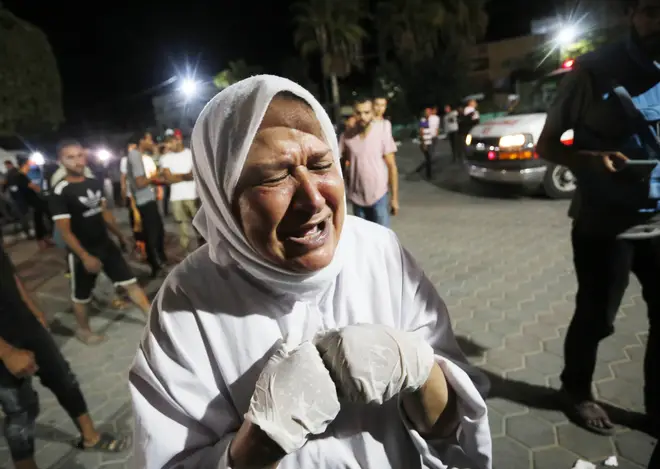 "All lives are sacred and must be protected. This needs to stop. Families are being torn apart.
"What is clear now is that humanitarian aid must be allowed to Gaza immediately. The people there are in terrible conditions.
"The scenes at the hospital last night were horrifying.
"The people of Gaza need food, water and medical supplies urgently. I'm calling on the world leaders to prevent the further slaughter of innocent souls.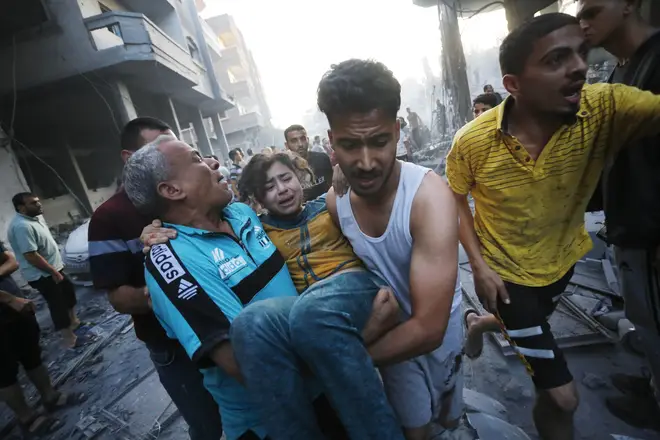 "Humanity must prevail."
Israel confirmed on Wednesday following a visit from Joe Biden that food, water and medicine would begin to flow into Gaza, though the timing was not immediately clear.
England and Italy held a minute's silence for all victims of the conflict ahead of their Euro 2024 qualifier on Tuesday night.
Last week, the Government encouraged sports bodies in the UK to pay respects to the victims of the recent violence in Israel and the Gaza strip.
The Department for Culture, Media and Sport wrote to various governing bodies suggesting they pay tribute in an appropriate manner at forthcoming events.
While the Government has expressed its steadfast support of Israel, the Football Association opted not to light up the Wembley arch with the colours of the Israel flag for England's friendly against Australia last Friday.
England players wore black armbands during that match and a period of silence was held before kick-off to respect "the innocent victims of the devastating events in Israel and Palestine".
Israel and Palestine flags will not be allowed into stadiums for Premier League matches from this weekend.