More than 60 arrested after Just Stop Oil protesters bring traffic to standstill in Parliament Square
30 October 2023, 13:04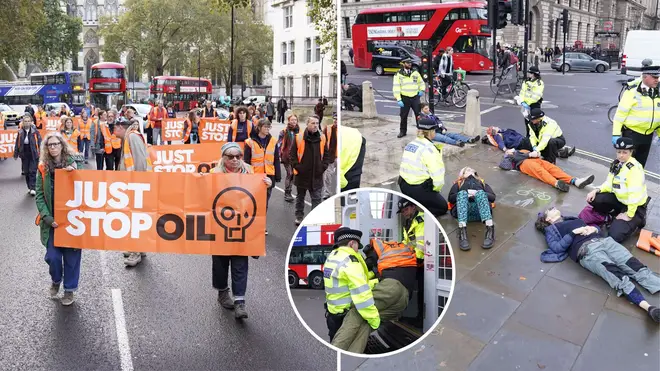 Officers have arrested 62 Just Stop Oil protesters after they blocked a road in central London on Monday morning.
Dozens of demonstrators laid down in the road near Parliament Square in Westminster at around 10am.
The Metropolitan Police said officers arrived four minutes after receiving a report and began making arrests, with 62 people arrested under section seven of the Public Order Act.
It is the first of the group's planned three weeks of action across London as it calls for the government to immediately stop all new oil, gas, and coal projects in the UK.
The Met has said it will "use all available powers" as part of its policing response so Londoners can "continue their daily business".
Read more: Just Stop Oil spray orange powder over replica of the world's biggest ever dinosaur at the Natural History Museum
Read more: Just Stop Oil vandalise 200-year-old Wellington Arch, spraying central London monument with orange paint
🚨 65 PEOPLE MARCHING NOW TO DEMAND AN END TO NEW OIL AND GAS

🦺 Ordinary people are in the road at Parliament Square, calling out our government's genocidal policy of new fossil fuels.

💀 We will not stop. Sign up to march together at https://t.co/7BzUVS02dZ pic.twitter.com/woLRMxcoxi

— Just Stop Oil (@JustStop_Oil) October 30, 2023
The force said in a statement on Twitter: "Officers have arrested 62 Just Stop Oil activists who were in the road in Parliament Square, #Westminster.
"We arrived four minutes after receiving the initial report."
A Just Stop Oil spokesperson said: "Just Stop Oil supporters are willing to slow march to the point of arrest today, and every day until the police take action to prosecute the real criminals - the people who are facilitating new oil and gas when they know that to do so will kill hundreds of millions of people.
"Just in the last week, seven people have died in the UK as a result of extreme weather and scientists are telling us it will only get worse. Neither major political party is serving the interests of the country - they are serving the mass murderers profiting while the world burns. There is no real opposition.
"In times of crisis, it is down to ordinary people to take a stand against the rich and powerful by disrupting business-as-usual. We know it works.
"A mass road blocking campaign has just forced the Dutch government to halt oil and gas subsidies. 
"That's why people are coming together from all over the UK to march day after day in London from today."
It comes after activists last week sprayed a dinosaur exhibit with orange paint inside the Natural History Museum in London.
Members of the group sprayed the Titanosaur dinosaur inside the museum in front of shocked members of the public.
A Natural History Museum spokesperson said: "We are aware of a Just Stop Oil protest which took place at the Natural History Museum this afternoon. 
"The police have been informed and the affected gallery has been temporarily closed to visitors. If you have tickets booked for the exhibition this afternoon, you will be refunded. Please contact feedback@nhm.ac.uk."