'Ridiculous': Campaigners slam Nadine Dorries who raked in £145,000 despite not speaking in Parliament for a year
7 July 2023, 12:39 | Updated: 7 July 2023, 16:36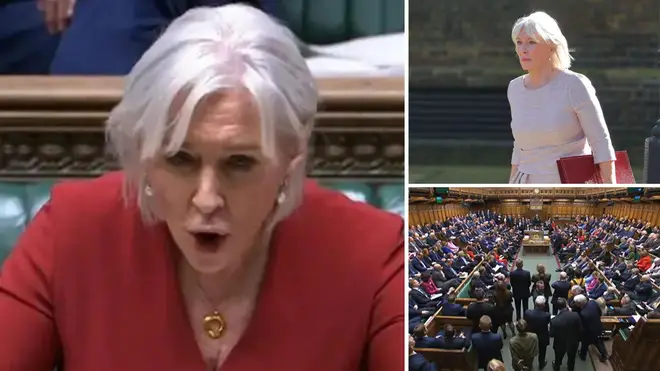 Campaigners have said that it is "ridiculous" and "gross neglect" for Nadine Dorries to earn nearly £145,000 despite not speaking in Parliament for a year
The Former Culture Secretary has not spoken in Parliament for a year, and in that time has earned a healthy salary, leaving some of her constituents to claim they are "not being represented".
Nadine Dorries last spoke in the House of Commons on the 7th July 2022, when she was the Secretary of State for Digital, Culture, Media and Sport, and was speaking about support for leisure centres in the cost of living crisis.
In that time LBC analysis has shown that she may have earned £144,538.91.
Ms Dorries earned:
£84,754 in her capacity as a Member of Parliament
A Ministerial Salary during the 'interim' government of Boris Johnson of £11,281.66 for 61 days work
A partial advance for a new book from Harper Collins of £20,500 for work between April and May of this year
Royalties of £10,647 in royalties for book sales
Meanwhile, if Ms Dorries claimed her ministerial severance package that would equate to an additional £16,876.25 – giving a total combined remuneration – since she last spoke in Parliament – of £144,538.91.
Read more: 'He has no choice': Keir Starmer backs London mayor Sadiq Khan over controversial Ulez scheme
Read more: Rishi Sunak faces another byelection as ex-minister Chris Pincher set for eight week suspension over groping claims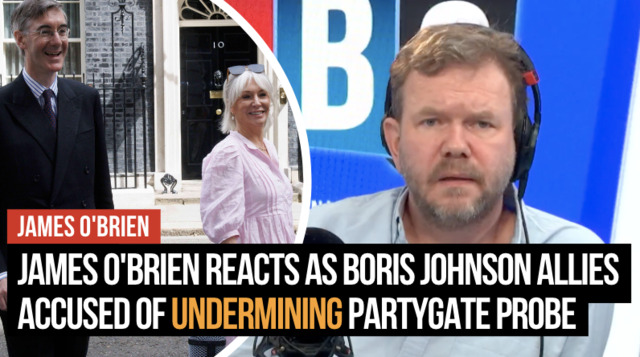 James O'Brien reacts to Nadine Dorries and Jacob Rees-Mogg accused of undermining Partygate probe
But that figure is expected to rise further, as the Mid Bedfordshire MP has not so-far declared any earnings from her work as a presenter at TalkTV and a weekly columnist at the Daily Mail.
Gareth MacKey, an independent local councillor in her constituency slammed the situation as "quite ridiculous". He said her constituents "can and must expect better from their MP" and went on to question why she had not spoken in Parliament "in such important times" when "many of her constituents are suffering, and the economy is suffering".
Mr MacKey went onto say that her salary as an MP would be better spent on "local services" and called for her to resign "immediately".
Nadine Dorries had pledged to stand down as an MP with "immediate effect" on the 9th June, but so far has not triggered the formal mechanism to do so.
That situation was described as "very unusual" by Eliot Wilson, a former Clerk of the House of Commons. He said "speaking in the chamber" was the "bread and butter of what MPs can do to advance constituency interests and scrutinise the government".
Mr Wilson, the former senior official in Parliament, said it was "extraordinary that she has been quite so inactive for a full calendar year", adding that it appeared she was "carrying out a grudge or vendetta" which was damaging to the reputation of Parliament.
Dr Alice Lily, a senior researcher from the Institute for Government added that her constituents were now "left in limbo", questioning "if and when there will be a by-election", but said her situation did not currently trigger any formal mechanism for a by-election.
Nadine Dorries has been approached for comment.