NHS bosses press for £1 billion bailout to avoid 'profound financial crisis' - with doctors' strikes blamed
13 October 2023, 10:11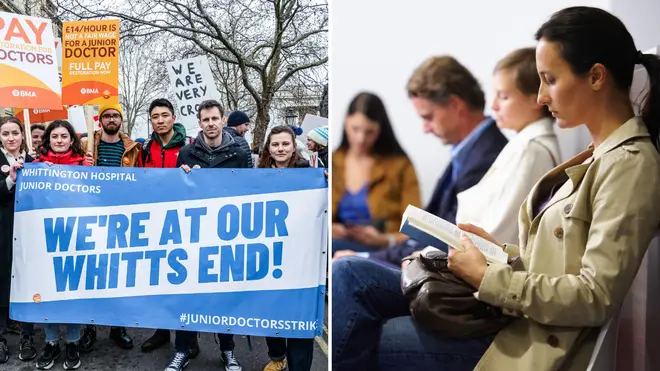 NHS bosses are pressing the Treasury for a £1 billion bailout to prevent a financial crisis, after a wave of doctor strikes piled pressure on the system.
Health chiefs have begun talks with ministers, warning that aims to bring down waiting lists might have to be abandoned if they are not given the extra cash.
The warning comes as waiting lists for routine procedures hit a record 7.75 million yesterday.
NHS bosses have blamed the potential crisis on the series of doctors' strikes taking place across the country this year.
Hospitals had to pay some consultants up to £6,000 a shift to cover striking doctors, with walkouts costing hospitals close to £700 million this financial year.
This cost could reach £1.5 billion if strikes continue through the winter, estimates suggest.
Read more: 118,000 hospital appointments rescheduled during three days of NHS strikes
NHS England's financial director, Julian Kelly, told a board meeting that "productivity and efficiency improvements" had not happened, as bosses were too busy coping with industrial action.
There had been a "really sizeable" overspend of more than £1 billion this year, Kelly said, singling out strikes as "the dominant factor".
Matthew Taylor, head of the NHS Confederation, said: "If we don't get money in the autumn statement, we are going to be in a profound financial crisis. And you can forget progress in relation to things like waiting lists."
The chancellor, Jeremy Hunt, is reluctant to give out extra cash; he is currently under pressure to deal with a £23 billion increase in the cost of government debt interest and cut taxes before the next General Election.