1.7m doses need re-testing and supplies from India delayed, Matt Hancock confirms
18 March 2021, 14:22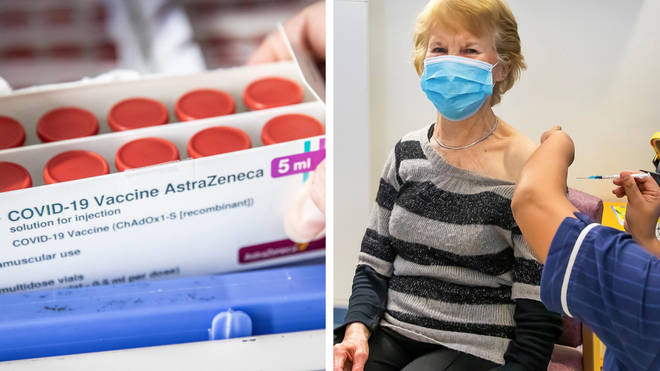 The need to retest 1.7million coronavirus vaccine doses as well as a delay in supplies from India have caused the jab shortage in the UK, Matt Hancock has said.
The number of people getting their first dose of the vaccine will be "constrained" from the end of March due to a "significant reduction" in supply, health officials said yesterday.
Explaining the reasons for this in the House of Commons, the Health Secretary said a batch of 1.7 million doses had been delayed "because of the need to retest its stability".
EXPLAINED: Vaccine delay: When will over 40s get their Covid-19 jabs?
READ MORE: Almost half of UK adults have now had at least one Covid-19 jab
He told MPs: "In April, supply is tighter than this month and we have a huge number of second doses to deliver. During April, around 12 million people, including many colleagues in this House will receive their second dose.
"These second doses cannot be delayed as they have to be delivered within 12 weeks of the first dose.
"In the last week, we've had a batch of 1.7 million doses delayed because of the need to retest its stability.
"Events like this are to be expected in a manufacturing endeavour of this complexity and this shows the rigour of our safety checks."
Mr Hancock also insisted the partnership with the Serum Institute of India (SII) is one the UK "can be proud of", despite a delay to supplies coming from there.
"We have a delay in the scheduled arrival from the Serum Institute of India," he said.
"Now, I want to put on the record my gratitude to the Serum Institute of India for the incredible work that they're doing producing vaccine not just for us in the UK, but for the whole world.
"Their technology and their capability, which has been approved by the MHRA, is remarkable. The Serum Institute of India producing a billion doses of the Oxford AstraZeneca vaccine this year, it truly is partnership that we can be proud of."
The Indian government has been accused of temporarily holding Oxford-AstraZeneca vaccine exports to the UK amid reports a shipment of five million doses produced by the SII has been delayed.
The UK already received an initial batch of five million doses at the beginning of March.
CEO of the SII, Adar Poonawalla, told The Daily Telegraph the delay was "solely dependent on India and it has nothing to do with the SII. It is to do with the Indian Government allowing more doses to the UK".
Back in February, he wrote online that the SII had "been directed to prioritise the huge needs of India and along with that balance the needs of the rest of the world".
Dear countries & governments, as you await #COVISHIELD supplies, I humbly request you to please be patient, @SerumInstIndia has been directed to prioritise the huge needs of India and along with that balance the needs of the rest of the world. We are trying our best.

— Adar Poonawalla (@adarpoonawalla) February 21, 2021
The batch will reportedly only be delivered once the company is given the green light by the Indian government.
New Dehli is said to be keen to stockpile vaccine doses for rollout within its own population amid growing concerns of a spike in coronavirus cases in the country, with exports to other countries also being held.
A source told The Telegraph the SII would deliver the remaining five million doses as soon as possible, and it would not "take months" to fulfil this commitment.
Housing Secretary Robert Jenrick insisted today the UK is still on track to meet its coronavirus vaccination targets despite the supply issues.
He told LBC the UK is "still very much on course to meet our objectives" and that all over-50s are expected to receive a first dose by mid-April, and all adults by the end of July.
He said: "We are experiencing some supply issues but the good news is that we are still very much on course to meet our objectives, which are to vaccinate all those groups one to nine by the middle of April, those are the people most vulnerable who account for 99% of mortality, and to give every adult in this country their first jab by the end of July.
"There's no cause for concern but we are going to experiencing some issues for a couple of weeks until international supply ramps up again at the end of April."
Pressed on the reason for the issue, he added: "This is an international issue, there is a finite supply of vaccines and for a short period of time we'll have less than we might wish but not less than we need to meet our objectives.
"We're still on course to vaccinate those groups that we said we were going to vaccinate in the month of April, one to nine, and anyone who has an appointment either for their first and more importantly for their second jab will still have those appointments honoured."
AstraZeneca insisted yesterday there is no problem with its UK vaccine supply, with a spokesman saying: "Our UK domestic supply chain is not experiencing any disruption and there is no impact on our delivery schedule."
A letter sent by NHS chiefs to local health leaders warned vaccine supplies will become "significantly constrained" over a "four-week period" from March 29.
The reduction in supply means vaccination centres and community pharmacy services should "close unfilled bookings" from that date, it said.
Hubs should focus on the top priority groups and giving people their second doses, the letter, signed by Dr Nikita Kanani, medical director for primary care for the NHS in England, and Emily Lawson, chief commercial officer, added.
Despite the stark warning, just minutes after news of the letter broke, Mr Hancock told a Downing Street press conference the letter is "standard", "technical" and reductions in supply are normal due to "small fluctuations".
He said: "Vaccine supply is always lumpy and we regularly send out technical letters to the NHS to explain the ups and downs of the supply of the future weeks and what you are referring to is a standard one of those letters."
Last week Vaccines Minister Nadhim Zahawi told the Women and Equalities House of Commons Committee that the NHS could expect a "big uplift in supply" in the second half of March.
The Department of Health and Social Care (DHSC) has insisted the number of vaccinations varies due to supply but it remains "on track" to offer a first jab to over-50s by mid-April.
A spokesman said: "Health services across the UK are working tirelessly to vaccinate those most at risk and more than 25 million people have already received their first jab.
"The vaccination programme will continue in the coming weeks and more people will continue to receive first and second doses.
"As has been the case since the programme began, the number of vaccinations carried out over time will vary due to supply - but we remain on track to offer a first vaccine to over-50s by April 15 and all adults by July 31."
The news comes as the number of people in the UK who have received at least one Covid-19 vaccine dose passed 25 million.
Figures show the UK health services vaccinated a total of 25,273,226 people between 8 December and 16 March with first doses of the Pfizer and Oxford-AstraZeneca vaccines, while 1,759,445 people have had their second dose.
Prime Minister Boris Johnson said the latest latest milestone is "an incredible achievement" and represented "25 million reasons to be confident for the future as we cautiously reopen society."
He added: "Thank you once again to the brilliant NHS, scientists, armed forces, volunteers, and all those who've helped our rollout."
It also comes as the World Health Organisation said the "benefits of the AstraZeneca vaccine outweigh the risks" as some European countries suspend its use over fears of blood clots.
The jab has been widely used across the UK, but fears were raised over if it can cause blood clots. 
As a result, 10 countries have temporarily suspended its use and are awaiting the results of an investigation.
READ MORE: All over-50s in England invited to book coronavirus vaccination
READ MORE: What is a vaccine passport and how do I get one?
But a statement from the WHO said: "Vaccination against COVID-19 will not reduce illness or deaths from other causes. Thromboembolic events are known to occur frequently. Venous thromboembolism is the third most common cardiovascular disease globally.
"In extensive vaccination campaigns, it is routine for countries to signal potential adverse events following immunization. 
"This does not necessarily mean that the events are linked to vaccination itself, but it is good practice to investigate them. It also shows that the surveillance system works and that effective controls are in place."