NHS patients warned to 'expect extreme disruption' as consultants and junior doctors begin 72-hour walkout over pay
2 October 2023, 06:48 | Updated: 2 October 2023, 06:52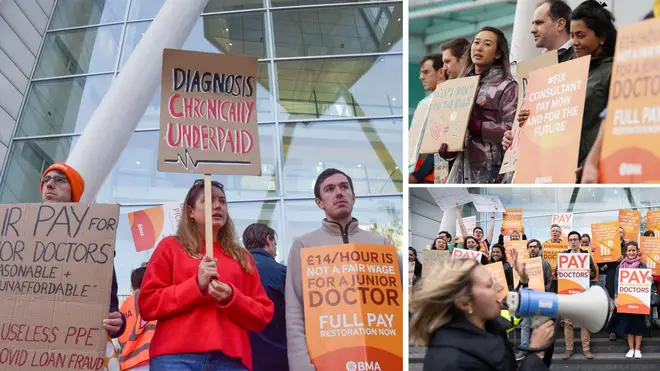 Patients have been told non-emergency care will be brought to a "near standstill" starting today as NHS consultants and junior doctors stage a three-day joint strike in England.
Consultants and junior doctors who are members of the British Medical Association (BMA) are set to begin the walkout at 7 am on Monday.
It is thought to be the longest joint strike in the history of NHS England amid ongoing disputes over pay.
The strikes are set to coincide with Rishi Sunak's first Conservative Party conference as prime minister.
Striking consultants and junior doctors represent about four-fifths of doctors working in hospitals.
"NHS services have had very little time to recover from the previous action and now face three consecutive days which will prove extremely challenging, with almost all routine care brought to a standstill," NHS England medical director Prof Sir Stephen Powis said.
The BMA has promised "Christmas Day" cover will be provided throughout the 72-hour strike, meaning there will be emergency care staff but other services will be brought to a "near standstill".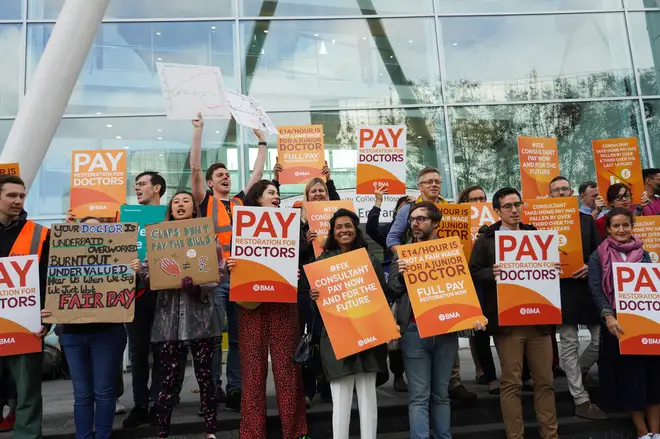 Read more: Hunt vows to 'make work pay' announcing benefits reforms and boost to National Living Wage
Read more: Boris Johnson 'won't be attending' Conservative party conference Rachel Johnson reveals
Both groups staged a joint walkout for the first in NHS history last month - but the overlap between their two walkouts only lasted 24 hours.
The strikes come after the government implemented a 6% pay rise for consultants and 6% plus a £1,250 lump sum for junior doctors earlier this year. It said its offer was "final and fair" and there would be no further offers.
Thousands of operations and appointments have been cancelled as a result of the strikes, with NHS leaders warning that some patients are seeing their appointments rescheduled three times.