Officer exodus: 4,500 leave policing in their probation period during flagship uplift programme
15 November 2023, 08:26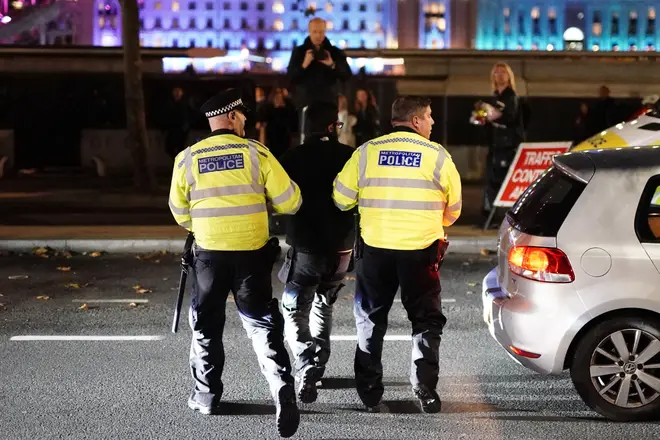 Almost 4,500 officers have left policing during their probation period since 2019, with 'nonsensical' policing degrees being singled out as a reason why new recruits are leaving in their droves.
Figures provided to LBC by over thirty police forces across England and Wales detail the number of people to depart within the first two years of their employment during the Uplift Programme, a scheme launched by the then Prime Minister Boris Johnson four years ago to add 20,000 police officers to Britain's streets.
The findings illustrate a concerning picture about police retention across the country, with the failure to keep hold of new recruits exacerbating the staffing shortfalls highlighted by many chief constables.
Notably, the entry pathway which resulted in the most officers departing (1,381) was the Police Constable Degree Apprenticeship, a course which requires participants to balance their shifts with studying for a degree in professional policing practice.
Read more: How the British 'woman with flower tattoo' was identified: Name of Belgium murder victim revealed as police hunt killer
Read more: 'It isn't sour grapes': Dorries blasts Cameron's Cabinet role and peerage saying he had it 'easy' as he went to Eton
According to Donna Jones, who chairs the Association of Police and Crime Commissioners, the elevated workloads faced by those following this pathway is causing good people to abandon policing: "A lot of people with really good skill sets - high levels of common sense, people that have got great interpersonal skills, [who are good at] diffusing situations - are not necessarily people who want to be in a classroom undertaking a degree.
"The reason that we're seeing a high turnover is because police officers have been under immense pressure - studying on their days off, studying on their rest days, studying on annual leave days - to keep up with the academic side of becoming a police officer, rather than relaxing and unwinding, which is what they need to do when they are undertaking a pretty stressful job.
"The Police Entry Degree Qualification - so having a police degree - is nonsensical. It is not something that should have ever been made mandatory. Police officers do not need a degree to be decent police officers - they need life skills."
Whilst former Home Secretary Suella Braverman ended the requirement for new recruits to have a degree, Ms Jones noted that a significant number of former servicemen and women have been deterred from joining the police owing to the emphasis on the degree pathway.
Retention rates vary across forces, but the Metropolitan Police offers a compelling example of how problematic this exodus of new officers can be.
During his appearance before London Assembly members in September, Commissioner Sir Mark Rowley revealed the Met was now losing more officers than it was recruiting, before outlining his fear that the UK's biggest force is on course to have a shortfall of 1,500 officers.
Yet, LBC's figures show that this shortfall could have been almost entirely eradicated had officers been retained beyond their probationary period. Since 2019, almost 1,300 left the Met during their first two years.
Responding to these findings, Steve Hartshorn, Chairman of the Police Federation of England and Wales told LBC: "[some] find the work-life balance of trying to be a full-time police officer, be it frontline policing or a direct entry detective, and then have to do your study as well, too impactive and they're just not coping… there are some major concerns here for the future of policing."
Mr Hartshorn also touched on the impact that an officer leaving can have on ongoing investigations:
"All the things you've built up in the months or years to get to the court case [and] suddenly someone's playing catch up.
"That's when you might miss a really crucial piece of information because no matter how diligent the officer might have been in case preparation, unless you know that case intimately, and can go through it with everybody, you might just miss something so good that it could be the key between getting a successful prosecution or someone walking away who was guilty and should have been convicted.
"It's vital we have the right people, doing the right thing at the right time to get trust and confidence back from the public that we can do our job properly."
Earlier this year, it emerged that a record 9,200 officers departed police forces across the country in the year to March 2023.Whilst these figures included those who retired, had to leave owing to medical reasons or were dismissed, there was a striking increase in the numbers resigning voluntarily, with the figure more than doubling compared to 2021.
Furthermore, a survey of Police Federation members earlier this year found 1 in 5 officers were planning to leave the force over concerns ranging from pay to working conditions and cultural problems.