'It isn't sour grapes': Dorries blasts Cameron's Cabinet role and peerage saying he had it 'easy' as he went to Eton
13 November 2023, 18:36 | Updated: 13 November 2023, 20:02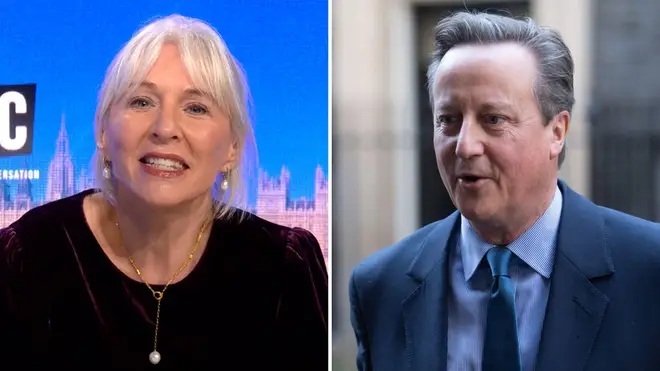 Nadine Dorries has blasted former PM David Cameron over his peerage and appointment as Foreign Secretary, saying it is "easy" for someone who went to Eton.
Speaking on LBC's Tonight with Andrew Marr, Ms Dorries said she found Rishi Sunak's decision to give David Cameron a peerage and appoint him Foreign Secretary "utterly bizarre".
"[David Cameron] has gone to the House of Lords – it's so easy for someone who went to Eton to just be popped into the House of Lords overnight. But if you went to a council school in Liverpool, a secondary modern, it's not so easy," she said.
"And that sounds like sour grapes. I mean, it isn't really, he's an ex-Prime Minister who had a long career as leader of the party.
"But the issues with this are David Cameron has been made Foreign Secretary. He went to the EU to get some concessions to try and prevent a referendum, he failed.
"The referendum happened [and] it was incredibly divisive. He wrongly, as a Prime Minister, nailed the government's colours to the mast of remain. Remain lost and then he took his bat and ball home and resigned, which he should never have done.
"And then David Cameron, who had once predicted that the next big scandal would be a lobbying scandal, was the architect of the next lobbying scandal with all the Greensill texts and issues that he had.
"I think what this is about is rehabilitating David Cameron. It's rehabilitating his image so that he could get into the Lords."
Read more: David Cameron says his return to Cabinet is 'not usual' but hopes his six years as PM can be beneficial to Sunak
Read more: Andrew Marr: Rishi rolls the dice by bringing Cameron back - but a more troubling question remains...
Nadine Dorries tells Andrew Marr that David Cameron's appointment as Foreign Secretary is 'bizarre'
Ms Dorries went on to say: "It's all about this group of men who actually control the Conservative Party. For them it's about power, it's about influence, it's about connections to money. And that's the driving force. And that, in its own way is about personalities and feeding on the ambitions of some very disturbed people.
"What it's not about is providing a vision for the future. It's not about saying to people in their homes here is how we're going to provide you really good energy policy that's going to bring down your bills.
"Here's how we deal with the cost of living. There is no infrastructure, no great vision."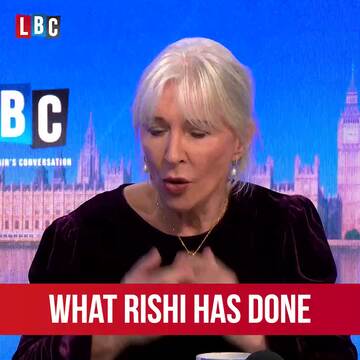 A Suella Braverman bid for leadership 'will not work' says Nadine Dorries
When asked whether she believes the country needs a Labour government, Ms Dorries said: "I am a lifelong Conservative and I've suffered for being a Conservative. I come from the poorest council estate in Liverpool."
She continued: "To abandon what I have suffered for, for so many years, would take a lot.
"But you know, like George Osborne, I do believe that Rachel Reeves will make a really good chancellor.
"She's a really nice person and that might seem like a trite word to use but, for me, the qualities of the individuals are important too."
Addressing whether Labour will be next, Ms Dorries said: "I don't think anyone doubts that… unless of course I am totally wrong and Rishi Sunak is absolutely right and by doing what he's done today we will suddenly see a rise in the polls."
Former Prime Minister David Cameron was offered the role of Foreign Secretary after Suella Braverman was sacked as Home Secretary in the Cabinet reshuffle on Monday.
Mr Cameron was seen entering Downing Street at around 9am on Monday, and Mr Sunak's office confirmed the move about an hour later.
It came after then-Foreign Secretary James Cleverly was appointed to replace Ms Braverman - leaving the job of Britain's top diplomat open.