We need similar moral outrage shown for Israelis killed by Hamas as there was for George Floyd, says Deputy PM
5 November 2023, 10:55 | Updated: 5 November 2023, 11:19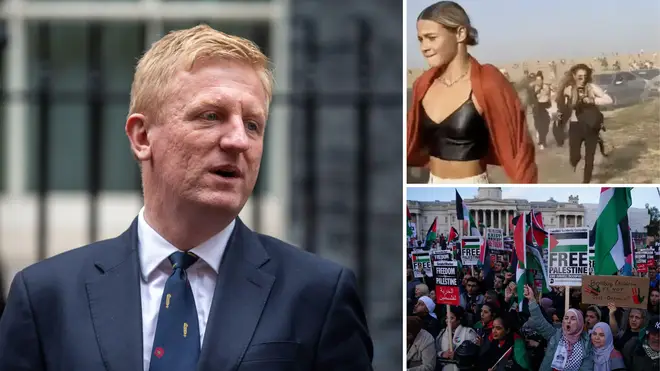 We need similar moral outrage shown for Israelis killed by Hamas as there was for George Floyd, Deputy PM Oliver Dowden has said.
Speaking to Matthew Wright on LBC, the deputy PM said he believed there was "hateful content" within the weekly pro-Palestine protests taking place across the UK.
It came after Home Secretary Suella Braverman said that the protests had turned into "hate marches".
"If you think about the cries of jihads, 'from the river to the sea', those are deeply offensive to the Jewish community and they are hateful," Dowden said.
"Other people who are on those marches need to think to themselves are they – however inadvertently – aligning themselves with those sorts of views.
"If you think about the moral outrage that followed the murder of George Floyd in the United States with the Black Lives Matter movement, I think we, as a British society, need to have a similar moral outrage about what has happened in respect of the murder of over a thousand Jews in cold blood in Israel."
He said "in many ways" the country had not "stepped up" in that sense.
Read more: Pro-Palestine protesters who vandalise Cenotaph 'must be jailed faster than feet can touch the ground', warns Braverman
Read more: Met arrests 29 at march for ceasefire in London - as police adviser revealed to have sang anti-Israel chant
Dowden was then challenged about the thousands of civilians that had been killed in Gaza but did not comment.
The soaring death toll has sparked growing international anger, with tens of thousands taking to the streets in major cities across the world on Saturday to demand an immediate ceasefire.
Gaza's Health Ministry has said more than 9,400 Palestinians have been killed in the territory in nearly a month of war, and that number is likely to rise as the assault continues.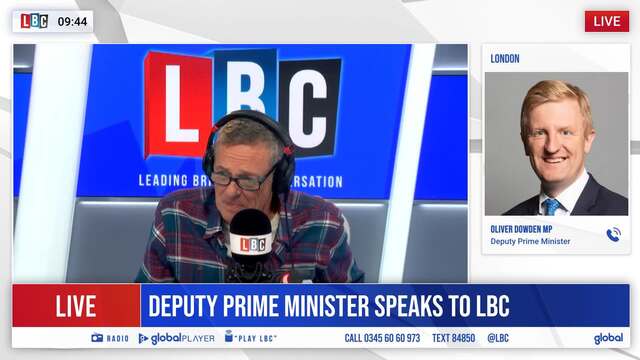 Oliver Downden speaks to LBC's Matthew Wright
When questioned about the demonstrations last week, after an emergency Cobra meeting chaired by Rishi Sunak, Suella Braverman said: "To my mind there is only one way to describe those marches: they are hate marches.
"What we've seen over the last few weekends, we've seen now tens of thousands of people take to the streets following the massacre of Jewish people, the single largest loss of Jewish life since the Holocaust, chanting for the erasure of Israel from the map."
She has since warned that she "won't hesitate to act" if it is found that police need stronger powers to deal with what she called "utterly odious" behaviour at demonstrations.
Thousands of people descended upon central London on Saturday to demand a ceasefire.
A total of 29 people were arrested in London, including for inciting racial hatred, other racially motivated crimes, violence and assaulting a police officer, the Metropolitan Police said.