'I think I need to be a bit more clued up': Palestine protesters say they 'don't believe' Hamas attacked Israel
9 November 2023, 20:05 | Updated: 9 November 2023, 20:24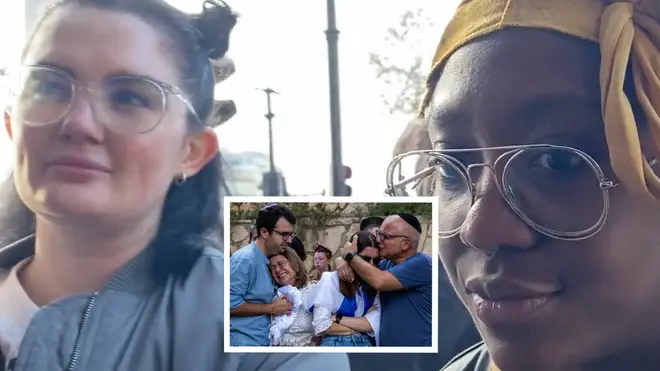 "Clueless" Palestine supporters on a protest in London have said that they "don't believe" Hamas attacked Israel.
Hamas committed a series of atrocities on October 7, murdering 1,400 people and taking around 240 hostage.
Protesters have been marching in London and in cities across the world over the past month in support of Gaza, which is being bombarded and invaded by Israel as they try to wipe out Hamas and take back their hostages. Over 10,000 people have died in the territory, authorities have said.
But seemingly some activists on the London marches aren't in full command of the facts of the situation.
Two young people interviewed by British pro-Israel group the Campaign Against Antisemitism said they weren't sure it was "factually correct" that Hamas had attacked Israel.
The interviewer asked them: "When Hamas invaded Israel on 7th October, what was your initial reaction to that?"
Read more: Israel to begin four-hour 'humanitarian pauses' in Gaza but 'no chance' of ceasefire, Biden says
Read more: Calls grow for Suella Braverman to be fired over police bias comments, despite backing from Rishi Sunak
"Hamas are freedom fighters."
"It's not Hamas that are terrorists. It's America that are terrorists."
"[October 7th] was a beacon of hope for me."

The organisers of the anti-Israel marches say they are peaceful.

So we spoke to attendees to see for ourselves. pic.twitter.com/fQnz44jSa4

— Campaign Against Antisemitism (@antisemitism) November 8, 2023
One replied: "I don't believe they did, did they? Hamas?"
The other said: "I think so... honestly I think I need to be a bit more clued up on everything that's going on, so I feel like I'm not really qualified to answer that too well."
The first activist added: "I mean, I'm not sure if I've seen anything that shows that that's actually happened or factually correct."
The protester was holding a sign that read: "Rishi, Keir U must be invertebrates cause ur spineless!!!! Call 4 ceasefire."
The interview was posted as part of a video that included a series of talks with pro-Palestine protesters. Some said they supported Hamas as "freedom fighters".
Several people have already been arrested on pro-Palestine marches for anti-Semitic hate crimes, as well as dozens more for public order offences. Organisers have stressed that these people represent a small minority of the overall group of marchers.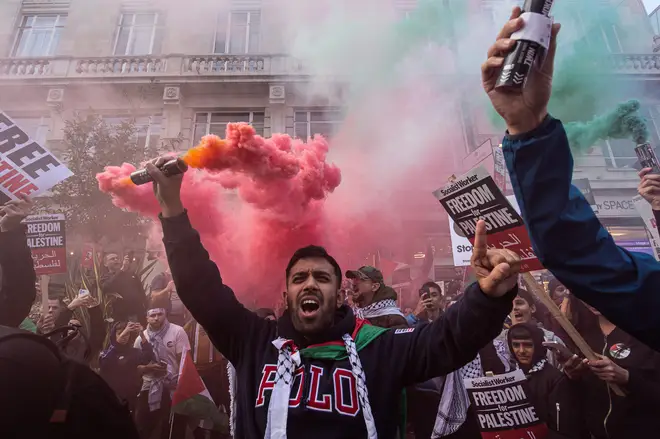 A spokesman for the Campaign Against Antisemitism said: "These people are clueless and dangerous. Is it any surprise that opinions such as these, accompanied by genocidal chanting, anti-Semitic signage and calls for violence, are terrifying the Jewish community?
"London cannot continue to be a no-go zone for Jewish people week after week."
A Community Security Trust spokesman said: "These two people are a stunning example of willful idiocy, ripe picking for whatever extremist ideology comes down the track, including anti-Semitism."
It comes as tens of thousands of pro-Palestine activists are set to march again on Armistice Day this Saturday to call for a ceasefire. A Hamas leader has said the group would not accept a ceasefire, and would instead launch an attack similar to the October 7 atrocities.
Israel does not want a ceasefire either, but has agreed to daily four-hour humanitarian pauses in northern Gaza - the policy that the British government and Opposition have been calling for, alongside the US and other Western leaders.