Pogues singer Shane MacGowan's wife gives health update on frontman's condition after asking for 'love and prayers'
17 November 2023, 20:19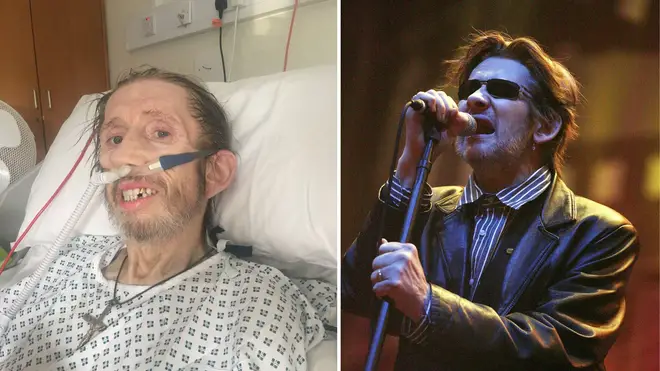 Shane MacGowan's wife has given an update on his condition after sharing images of her husband earlier this week.
A photo shared by his wife, Victoria Mary Clarke, earlier this week showed Shane pictured in a hospital bed using a breathing apparatus as he battles a brain condition.
He has been in intensive care for months after being diagnosed with viral encephalitis last year.
On Friday, Victoria shared a health update on the singer, as she wrote on X: "Shane is feeling much better today! I am so grateful to everyone who is willing him to get home for Christmas."
Shane is the frontman of The Pogues, known for their iconic Christmas hit Fairytale of New York.
He has been hospitalised several times since being diagnosed with the condition.
X users took to the comments to share their support, as one wrote: "I hope and pray Shane gets home for Christmas. His music and lyrics have given joy to so many."
Another said: "It would be a beautiful fairytale with a happy ending if Shane could get home for Christmas xx."
Read more: Pogues singer Shane MacGowan's wife shares harrowing hospital photo of star and asks for 'love and prayers'
Read more: Wayne's World star Dana Carvey's son Dex dies of accidental overdose aged just 32
In a message to their fans earlier this week, Victoria said: "Love is the most beautiful and powerful thing that we can experience as humans but love can also feel painful especially if you are afraid of losing a person or anything else that you love.
"The really really big challenge that we all face is to go beyond what our minds think are the limits of love and what love really is.
"A lot of the time that thing we call love can more accurately be described as attachment or desire or need or longing or closeness or connection.
"And all of these are totally valuable and human and we need to acknowledge and appreciate and accept every part of our experience."
He has been married to his wife Victoria since 2018 after they had been together for 36 years, including some stints where they broke up.
Shane fell and broke his pelvis in a horror fall in 2016. He went on to fall again, breaking his knee before ending up tearing ligaments in his left knee and he has previously said he never expects to walk again.