Police finally get tough on M25 eco mob and shut down latest protest within minutes
17 September 2021, 08:44 | Updated: 17 September 2021, 17:47
Police have finally taken a firmer stance on a group of climate protesters who have repeatedly caused chaos on the M25 this week, making several arrests in a targeted operation and shutting down their latest protest within minutes.
The group named Insulate Britain attempted to set up a blockade at junction 28 in Brentwood in Essex on Friday morning.
It came just hours after Priti Patel told police officers to take "decisive action" against any "selfish" protesters who have continued to cause disruption on the M25 this week.
Officers from Essex Police were ready and waiting at the junction and managed to arrest a number of demonstrators before they could get onto the road.
However, seven or eight people managed to march through with some blocking the road. There were long queues on the approach to the junction, but all of the group was rounded up swiftly by police and thrown into patrol cars and traffic resumed.
Read more: Furious cafe owner refuses to take whip round cash from eco protesters
Read more: Eco mob brings CHAOS to M25 as cars crash and drivers tell LBC 'we'll lose our jobs'
Read more: Sympathetic cops were TOO SLOW to clear off M25 eco-mob, minister suggests
Other demonstrations also took place at junction 1 of the M3 and 9 of the M25.
Surrey Police said in a tweet that 14 people have been arrested following the protest at junction 9 of the M25.
Police arrested 10 people at junction 1 of the M3, and the carriageway was cleared.
A group of protesters are also understood to have blocked junction 8 of the M11, and the A120 close to Stansted Airport is closed.
The group said 79 of its members who were released by police after taking part in protests earlier this week were again blocking the motorway today.
An Insulate Britain spokesman said: "Early this morning, 79 people from Insulate Britain attempted to block the M25 for a third time in a week, hours after being released by police.
"We told police we would go back to the M25."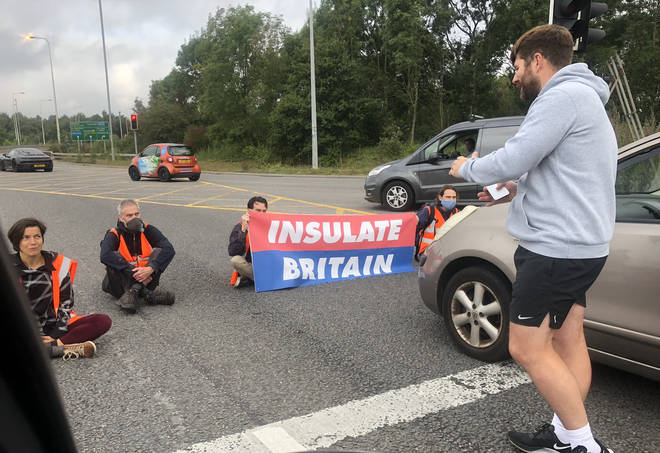 Video taken by LBC on Wednesday showed officers asking if the demonstrators "needed anything" and checking on their welfare.
They faced further criticism after it emerged that some of the eco-extremists arrested for shutting down the M25 during the Monday morning rush hour were set free without bail conditions and allowed to do the same 48 hours later.
Transport Secretary Grant Shapps tweeted this morning: "This is dangerous and counterproductive.
"We all agree that climate change must be tackled, but this sort of behaviour achieves nothing, puts drivers at risk and INCREASES pollution. I expect the police to take swift action to clear the roads."
During this week's demonstrations more than 200 arrests were made by police, who have been criticised for their handling of the protests and not clearing them "swiftly" enough.
Read more: 'You've ruined your cause': Driver takes on Insulate Britain supporter
Read more: Tired NHS worker stuck on way home from night shift SLAMS eco protesters
On Thursday evening, the Home Secretary spoke out against the "guerrilla tactics" used by protesters which she said "detract from their cause".
Ms Patel warned: "They must uphold the law and take decisive action. This kind of disruption is dangerous and takes police away from communities where they are needed most.
"Peaceful protest is a cornerstone of our democracy and there will always be space for legitimate groups to make their voices heard.
"But this Government will not stand by and allow a small minority of selfish protesters to cause significant disruption to the lives and livelihoods of the hard-working majority.
"The guerrilla tactics used by Insulate Britain detract from their cause and I know the public will agree that the scenes on the M25 this week were completely unacceptable."
Read more: Ex-cops BLAST police response to climate protesters who targeted M25
Insulate Britain protests on M11 right now. Am surrounded by lots of angry people. 'Insulate Britain' people calmly putting there point across whilst being abused from all sides. pic.twitter.com/g3b6aVyrcV

— Andy Goodey 💙 (@andy_goodey) September 17, 2021
A number of ex-police officers who have called LBC this week have hit out at the response of cops to the protesters.
It comes as the Defence Secretary Ben Wallace has suggested police should have acted more "swiftly".
One ex-officer told Nick Ferrari: "I'm absolutely shocked and appalled by the behaviour of the police officers in Hertfordshire.
"Especially with the bail conditions... You don't give bail if there's a risk of committing the same offence. They should be put away until they're prosecuted, and locked up until they go before the judge for their sentencing.
"We've turned into a nanny state. We're all too frightened as police officers to carry out our duty, because we might get sued or someone might say something."
This story is being updated