Theresa May blasts Priti Patel over Rwanda migrant plan
18 April 2022, 21:35 | Updated: 19 April 2022, 16:50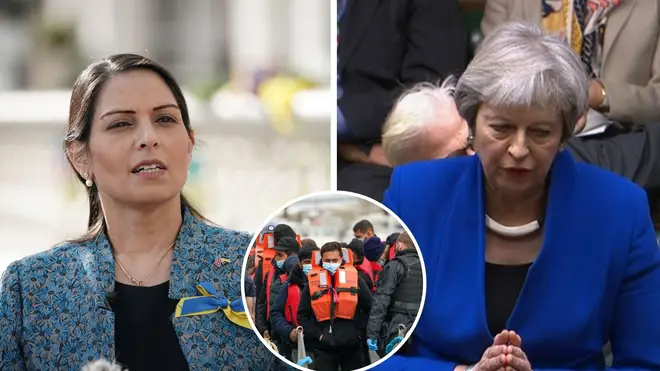 Theresa May has condemned Priti Patel's plans to send asylum seekers to Rwanda, saying she cannot support them on the grounds of "legality, practicality and efficacy".
The Home Secretary set out the plans in the House of Commons on Tuesday afternoon.
However, former Prime Minister Ms May told MPs: "From what I have heard and seen so far of this policy, I do not support the removal to Rwanda policy on the grounds of legality, practicality and efficacy."
She added that she wanted to address "one very specific issue".
"I understand that those who will be removed will only be young men," she said.
"Where is her evidence that this will not simply lead to an increase in the trafficking of women and children?" Ms May added.
Ms Patel replied: "There is an MOU (memorandum of understanding) that has been published which spells out in full detail the legalities but also the nature of the agreement.
"I'm not going to come to the floor of the House and speak about the eligibility criteria, because... it is that type of criteria that is used by the smuggling gangs to then effectively exploit various loopholes in our existing laws."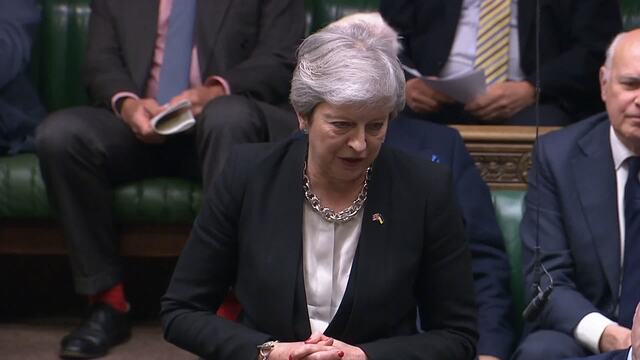 Priti Patel attacks Labour benches for criticism in the House
Previously, Priti Patel defended plans to send migrants to Rwanda, arguing critics should "offer their own solutions".
It comes after the archbishop condemned the Government's "ungodly" plan to send migrants thousands of miles to Rwanda.
In his Easter sermon at Canterbury Cathedral, Justin Welby said there are "serious ethical questions about sending asylum seekers overseas".
However, Ms Patel hit back at his comments on Monday, writing in the Times that critics of the plan failed to "offer their own solutions".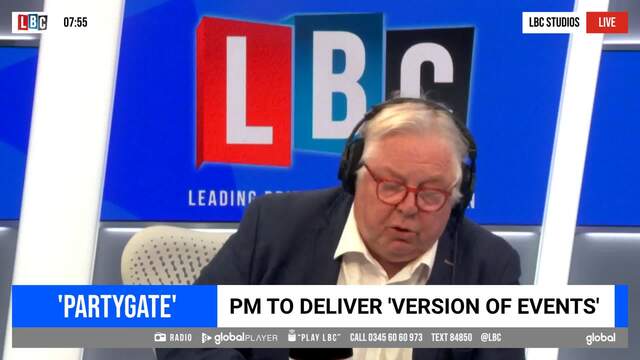 Rwanda is a country the UK can 'rely on and trust'
In the joint article with Rwandan foreign minister Vincent Biruta, Ms Patel said: "We are taking bold and innovative steps and it's surprising that those institutions that criticise the plans fail to offer their own solutions.
"The UK and Rwanda stand together in their efforts towards promoting a new, fairer and more effective global asylum system... Allowing this suffering to continue is no longer an option for any humanitarian nation."
She explained that the move would put an end to the "deadly trade" of people smuggling and allow people fleeing persecution to reach safety.
Read more: Archbishop condemns 'ungodly' Rwanda asylum scheme as Home Office concerns made public
Read more: Patel hails 'world-class' plan to send migrants to Rwanda amid reports of Home Office row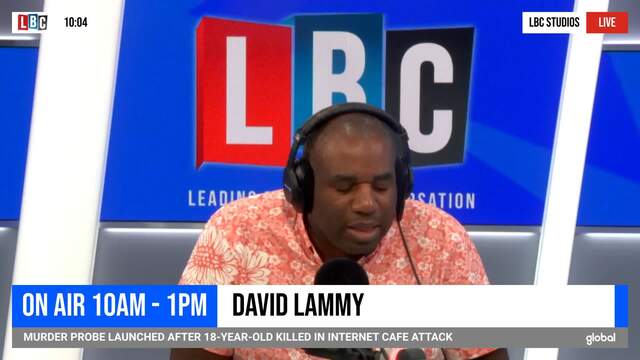 David Lammy: It would seem Middle England is against the Rwanda asylum policy
Under the deal, which was signed last week, migrants who arrive illegally in the UK face being sent to Rwanda, where they will be offered the chance to claim asylum.
Flights could leave as early as next month, with migrants who have made the journey to the UK since January on board.
However, legal challenges could cause delays.
The Archbishop of Canterbury was just the latest figure to denounce the scheme following widespread criticism.
He was joined by Archbishop of York Stephen Cottrell who said it was "depressing and distressing".
Their comments also echoed that of the United Nations, with the UN Refugee Agency previously describing the policy as "unacceptable".
It also claimed the plan was a breach of international law.