Rwanda defends migrant plan as protests erupt and Prince Charles slams 'appalling policy'
11 June 2022, 19:11 | Updated: 14 June 2022, 09:28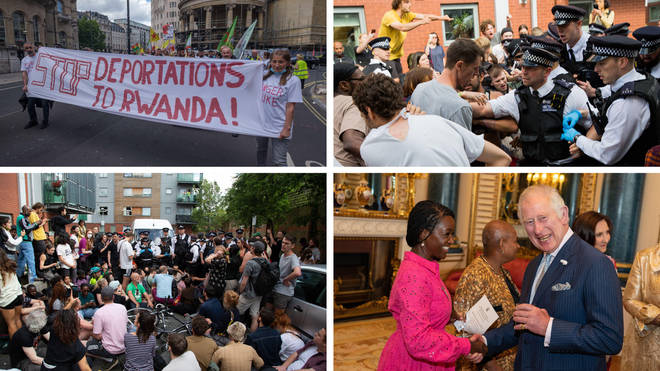 Rwanda has come out in defence of the UK's immigration scheme after the Prince of Wales privately described the move as "appalling" and protests erupted across the UK.
Up to 130 people have been notified that they could be removed from the UK under Priti Patel's new policy to send migrants to Rwanda in a bid to curb channel crossings.
On Friday the high court in London heard that 31 people were due on the first flight on Tuesday, with the Home Office planning to schedule more this year.
Prince Charles is said to be "more than disappointed" by the Government's policy, with reports that he privately described the move as "appalling".
The Times reported that Charles is especially frustrated at the policy as he is set to represent the Queen at the Commonwealth Heads of Government Meeting (CHOGM) in the Rwandan capital later this month.
Read more: Prince Charles 'slams Rwanda migrant plan' as High Court rules first flight can go ahead
But Yolande Makolo, a spokesperson for the Rwandan government, told Sky News people should give the migration partnership "a chance".
"It's very well thought out, it's going to be well-resourced, we're determined to make this work, we have the experience, we're building the capacity to do this properly," she said.
"So everyone just needs to give this a chance to work. And we need to look at migration differently.
"I understand there's a lot of excitement about this, but we also need to work together as global partners to make things right, to protect people, and to correct the imbalance in opportunities."
On Saturday, huge crowds of protesters gathered in South East London in an attempt to block police officers from carrying out an immigration raid.
More than 100 people shouted messages of support as police detained a man in a police van in Peckham.
Footage from the scene showed a crowd of people sitting on the ground in front of the vehicle in Peckham, while another clip showed members of the public standing and shouting "let him go".
It is understood the man is Nigerian and was suspected of overstaying his visa.
Metropolitan Police officers were called to Evan Cook Close shortly after 1.30pm on Saturday "to a report of protesters obstructing immigration officers".
A Metropolitan Police spokesperson added: "Officers attended and found a van was being prevented from leaving the location.
Read more: Rwanda flight to remove asylum seekers from UK can go ahead, High Court rules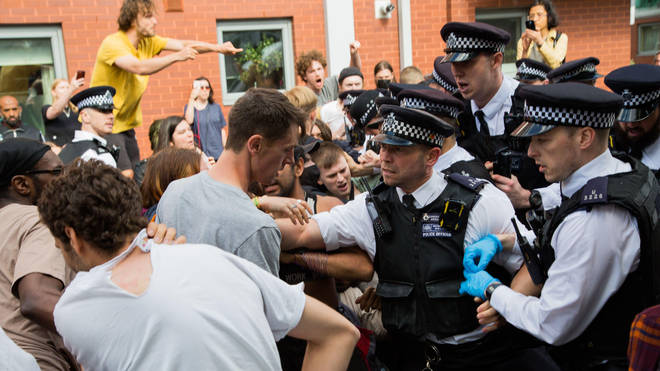 This is what it looks like when we #withdrawconsent. The walk of shame for police and immigration enforcement officers leaving a Peckham estate, after releasing the person they detained today is a thing of beauty. pic.twitter.com/NTvpcfJjuS

— Michael Morgan (@mikewhoatv) June 11, 2022
"One man has been arrested by Border Force officers for immigration offences. Officers remain at the scene."
But after hours of protesting the Met confirmed the man had been released on bail.
Lewisham Anti-Raids said: "On Saturday south Londoners showed us what solidarity looks like at its best: the people, united, standing up for our neighbour.
"We came together because we won't abide cops and Home Office agents wrenching our neighbours from their homes, we won't stand for a government that's hostile towards black and brown people in our community.
"And from Glasgow to Peckham, more and more of us are coming together and taking a stand in this way. We're opposing a hostile Home Office and showing we want communities of care and welcome instead."
Labour MP Claudia Webbe Tweeting: "In response to a Home Office immigration raid, with the power of humanity and solidarity, the people of Peckham, SE15, mobilised, fought back and got their neighbour released.
"This is people power - so beautiful to see."
It comes after a High Court ruling paved the way for the first flight to send migrants to Rwanda to go ahead on Tuesday.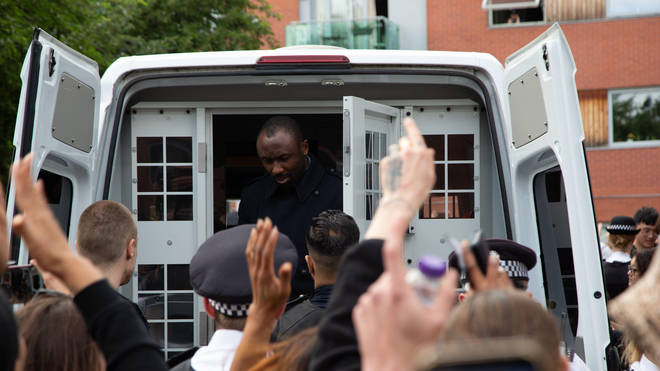 Eleanor Janega, 39, from south-east London, told the PA news agency: "We were alerted that there was an immigration raid in process so locals came down to block it.
"We had been sitting here blocking the van and having ice lollies. They brought more police in and tried to break through the crowd by pushing us. We all sat down."
Labour councillor Reginald Popoola said people had "encircled the van peacefully", but claimed some people were shoved during the demonstration.
Read more: Archbishop condemns 'ungodly' Rwanda asylum scheme as Home Office concerns made public
In response to a Home Office immigration raid, with the power of humanity and solidarity, the people of Peckham, SE15, mobilised, fought back and got their neighbour released.

This is people power - so beautiful to see

pic.twitter.com/l5vRHyyVyV

— Claudia Webbe MP (@ClaudiaWebbe) June 11, 2022
Mr Justice Swift ruled against granting a temporary block to the policy until a full hearing next month, adding: "I do not consider that the balance of convivence favours the grant of the generic relief."
Shortly after his ruling at the High Court, Mr Justice Swift granted the claimants permission to appeal, suggesting Court of Appeal judges would hear the case on Monday.
During Friday's proceedings, it emerged the Home Office had already scrapped removal directions for three people set to be on the first flight, and that two more would also have them cancelled.
But Mr Justice Swift denied an injunction to the two remaining claimants, one who had left Syria and the other Iraq.
"I accept that the fact of removal to Rwanda will be onerous," he said.
"I do not consider there is any evidence for the duration of the interim period that there will be ill-treatment, refoulement, or anything that gives rise to Article 3 treatment."
Prime Minister Boris Johnson and Ms Patel welcomed the decision.
Read more: Brits 'endorsed' Rwanda policy through Brexit and 2019 election - former Tory MP
The Home Secretary said: "I welcome the court's decision in our favour, and will now continue to deliver on progressing our world-leading migration partnership.
"People will continue to try and prevent their relocation through legal challenges and last-minute claims, but we will not be deterred in breaking the deadly people-smuggling trade and ultimately saving lives."
Campaigners said they were "disappointed" and "deeply concerned" for the welfare of those due to be sent to Rwanda but added they would appeal against the decision on Monday.
A Government spokesperson said: "Our world-leading partnership with Rwanda will see those making dangerous, unnecessary and illegal journeys to the UK relocated there to have their claims considered and rebuild their lives.
"There is no one single solution to the global migration crisis, but doing nothing is not an option and this partnership will help break the business model of criminal gangs and prevent loss of life.
"Rwanda is a fundamentally safe and secure country with a track record of supporting asylum seekers and we are confident the agreement is fully compliant with all national and international law."
A Clarence House spokesman said: "We would not comment on supposed anonymous private conversations with the Prince of Wales, except to restate that he remains politically neutral. Matters of policy are decisions for Government."