Rain batters Britain with Exeter Airport flooded and cars submerged after warning half a month's rain may fall in a day
17 September 2023, 19:01 | Updated: 18 September 2023, 00:18
Parts of Devon and Southern Wales have been left submerged following warnings that half a month's rain may fall in the space of a single day, flooding airport terminals and shutting roads.
Exeter Airport was forced to close at around 2pm on Sunday after floodwater engulfed the terminal building, causing chaos and grounding flights for the remainder of the day.
Heavy rain also caused widespread chaos across Devon on Sunday morning, with a bridge crossing over a river in the town of Dawlish, Devon, left partially underwater and cars submerged.
It follows the warnings issued by the Met Office which warned of a "small chance" of a risk to people's lives as thunderstorms roll in over the South West and southern Wales.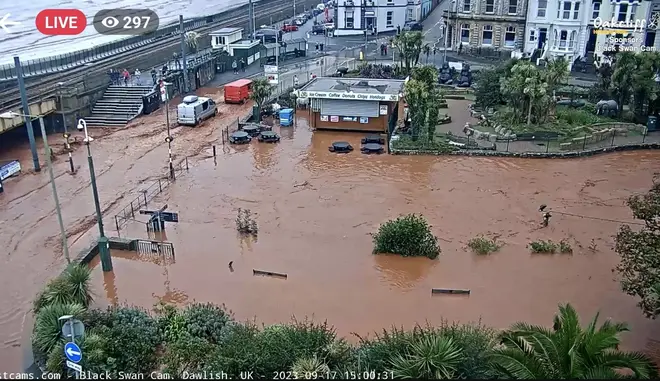 Residents were left stranded as torrents of water poured through the streets after the Dawlish Water stream burst its banks.
Local CCTV footage from Coast Cams shows water engulfing roads and pavements, with local businesses and homes completely flooded following the deluge.
The footage, shot near Dawlish seafront, shows brown floodwater engulfing Station Road shortly before 3pm.
Read more: New thunderstorm warnings issued by Met Office as forecaster warns of hail, floods and lightning strikes
Read more: Summer is over: Thunderstorms and heavy rain to batter UK amid warnings of risk to life and flood fears
Footage from Exeter Airport also shows passengers gathered at one end of the terminal - some cradling plates of food, as the ankle-deep water coursed through the building.
A spokesman for Exeter Airport confirmed the closure, adding they hoped to re-open the airport "as soon as possible" but gave no specific timeframe.
It follows an amber weather warning covering the Exeter area and parts of East Devon, where the airport in located.
A yellow warning for thunderstorms is in place across the rest of the south-west of England and South Wales until 6pm on Sunday.
A similar warning has been issued for London, the south-east and east of England and the East Midlands until 6am on Monday.
Water could be seen surrounding luggage carousels as airport workers surveyed the scene.
A spokesman for Exeter Airport said: "Following heavy rain today (Sunday September 17th) Exeter Airport has had to close due to flooding affecting the terminal.
"We are working to restore normal operations as soon as possible. In the meantime, passengers are advised to contact their airline for further information."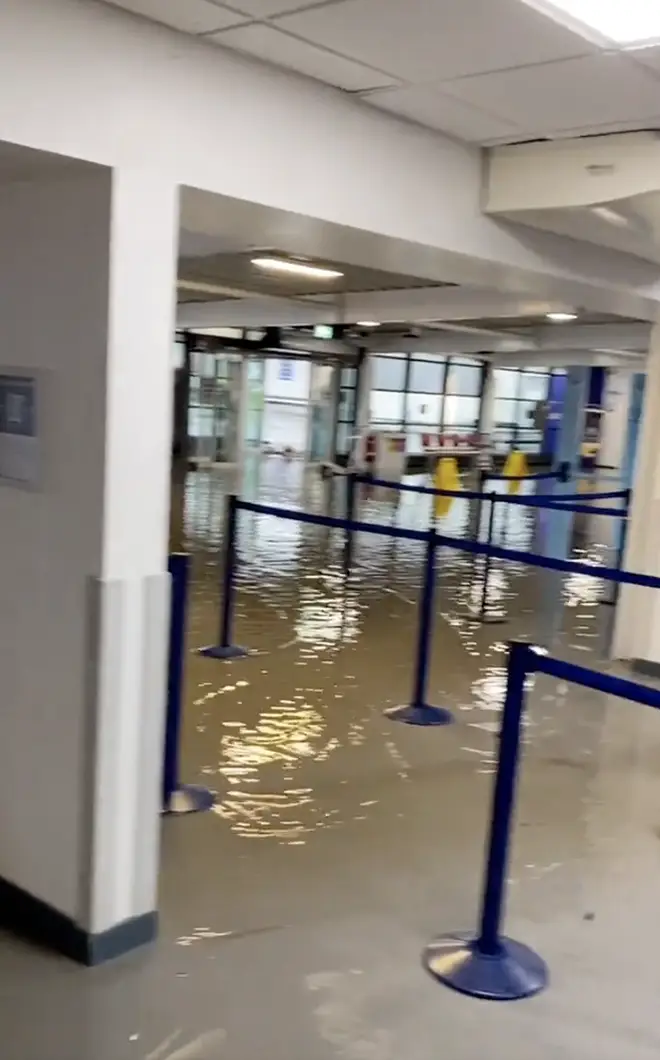 The warning extends until 4pm today, with the yellow warning set to remain in place across Devon and Cornwall until 6pm on Sunday.
Online arrivals boards confirmed all flights arriving and departing from the airport on Sunday were cancelled.