Rebekah Vardy compared Coleen to 'a pigeon that s***s in your hair', Wagatha trial hears
12 May 2022, 10:45 | Updated: 12 May 2022, 17:43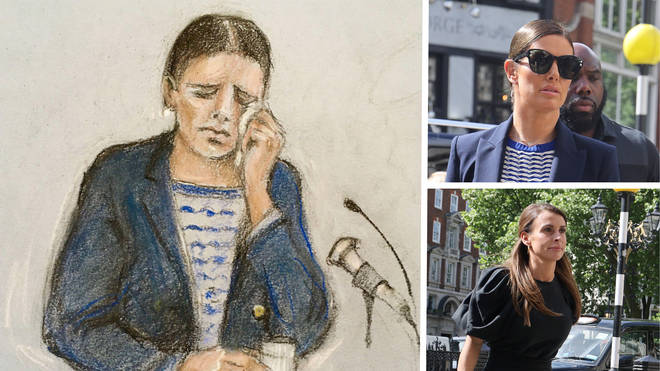 Rebekah Vardy compared Coleen Rooney to a "pigeon that s***s in your hair", the 'Wagatha Christie' trial has heard.
The libel case heard comments made by Mrs Vardy in the aftermath of the original leak accusation.
In the comments, which were read out on day three of the trial, Mrs Vardy claims that arguing with Mrs Rooney "would be like arguing with a pigeon. You can tell it it's right and you're wrong but it's still going to shit in your hair."
Mrs Vardy had earlier broken down in tears in the witness box over whether she had seen an Instagram post from Coleen Rooney.
The 40-year-old began to cry during cross-examination by David Sherborne, Mrs Rooney's barrister, resulting in the court taking a break.
Mrs Vardy had told the court earlier that she did not recall seeing the so-called 'flooded basement' Instagram post - one of the Instagram stories Mrs Rooney claims were only seen by Mrs Vardy's account during her "sting operation".
But Mr Sherborne took her to a letter from Mrs Vardy's solicitors which said she did remember seeing it.
The barrister said: "Your solicitors admit, because you told them, that you had seen the flooded basement post but you just told us some two and a half years after the event that you didn't recall it."
"There was a lot of abuse during that time," Mrs Vardy replied before she started to cry in the witness box.
Mr Sherborne suggested a short break, and as the judge left the room, a tearful Mrs Vardy put her head in her hands on the desk.
When they resumed, the barrister said: "This is the 'flooded basement' post, and we can see in the... corner it was only seen by you, wasn't it?"
Mrs Vardy said: "On the face of it, that is what it says."
Mr Sherborne said: "You know, don't you, that (Mrs Rooney) has limited her followers to just one account, no-one else would have seen it?"
Mrs Vardy replied: "The disclosure suggests otherwise."
What's happened so far?
It's day three of Mrs Vardy's and Mrs Rooney's 'Wagatha Christie' libel case. Here's what's happened so far.
Mrs Vardy has continued giving evidence today, and broke down in tears over whether she had seen the "flooded basement" post on Mrs Rooney's Instagram. She told the court she had not seen it, but when Mrs Rooney's legal team showed she'd previously said she had, Mrs Vardy broke began to weep and the court had to take a break
She has also been extensively questioned by Mrs Rooney's barrister about a photo taken on a 'WAG night out' in Russia during the 2018 World Cup. Mrs Vardy is accused of working with her agent to leak information to the press to ensure a photographer was there to take the photo
Mrs Rooney's lawyer has accused her of lying and displaying "selective amnesia" over her version of events – something she denies
A message was read out in court where Mrs Vardy's agent, Caroline Watt, appeared to admit to leaking information about Mrs Rooney to the press. After Mrs Rooney posted saying one of her followers was leaking information to The Sun, Ms Watt wrote: "It wasn't someone she trusted. It was me." Mrs Vardy said she did not reply to the message because she was bathing her children and watching Gemma Collins 'faceplant' on Dancing On Ice
Mrs Vardy will finish giving evidence today, before Mrs Rooney's turn tomorrow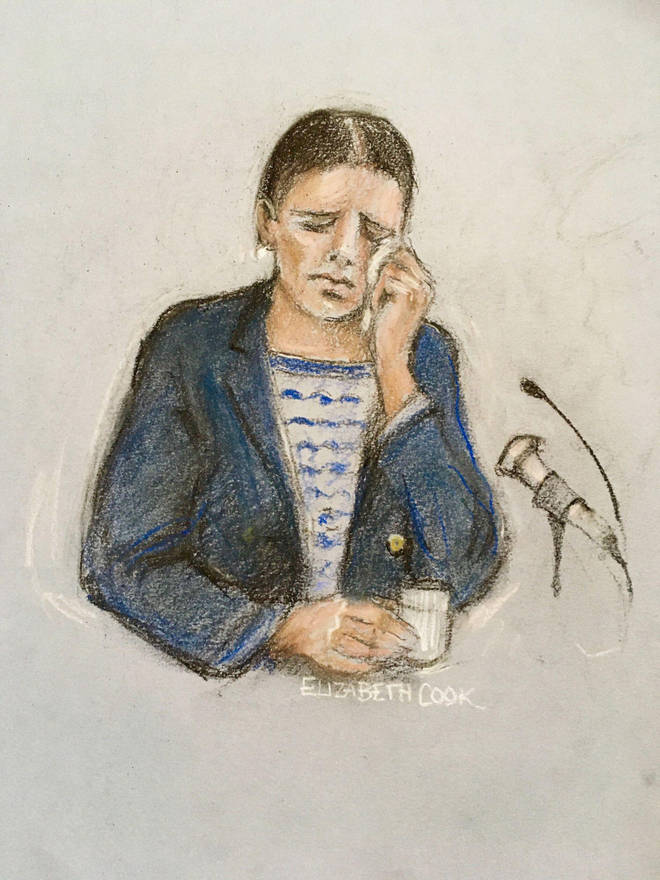 Read more: Vardy admits telling agent to leak footballer's sex secret in Wagatha Christie trial
Read more: Wagatha Christie trial: Dramatic start as Vardy regrets comparing Peter Andre to chipolata
Rebekah Vardy was earlier accused of lying in the witness box.
Mr Sherborne was quizzing Mrs Vardy about a photo taken during the 2018 World Cup of her with other footballers' wives and girlfriends - a photo she is accused of secretly engineering for the press.
Pointing out that Mrs Vardy's witness statements were repeatedly revised ahead of the libel trial, Mr Sherborne said: "The reason you have not got your story straight is because you were lying."
Mrs Vardy denied the claim.
She has also been accused of using the anniversary of Mrs Rooney's sister's death as a "peg" to start a conversation with her after she unfollowed Mrs Vardy on Instagram, something the 40-year-old has denied.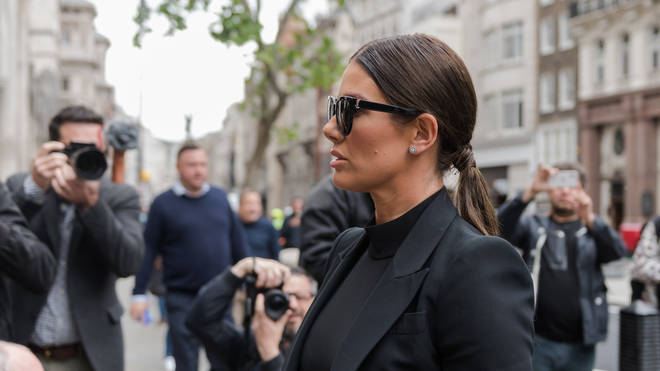 Mr Sherborne was referencing a photo of her and other wives and girlfriends on a night out in St Petersburg.
Mrs Vardy is accused of working with her agent Caroline Watts to arrange a photographer to be there.
In a message exchange at the time between the two, Ms Watt said she had "got a photographer sorted for tomorrow" and Mrs Vardy replied "OK".
In court, Mrs Vardy said Ms Watt had arranged for a photographer to take pictures of her as she left her hotel, but denied giving the photographer the location of either the hotel or a restaurant she went to the same evening the group.
She said she was "happy" to be photographed leaving the hotel but claimed that updates she sent to Ms Watt when plans changed throughout the evening were not because she was working with the agent to arrange a "pap shot" of the group as they left the restaurant.
Mr Sherborne suggested that a message to Ms Watt which said "I have bought about 10 minutes" referred to the fact Mrs Vardy was delaying some of the women from posting a group photograph on social media because a photographer hiding in the bushes had taken a picture of them all and they "didn't want to lose their exclusive".
In response, Mrs Vardy said: "Well, it reads like that, I don't recall it like that and if I'm being honest."
She then said she "had been drinking" and added that the message was her "trying to get [Ms Watt] off my back".
But she was accused of lying by Mr Sherborne, and told she had "selective amnesia" over her version of events.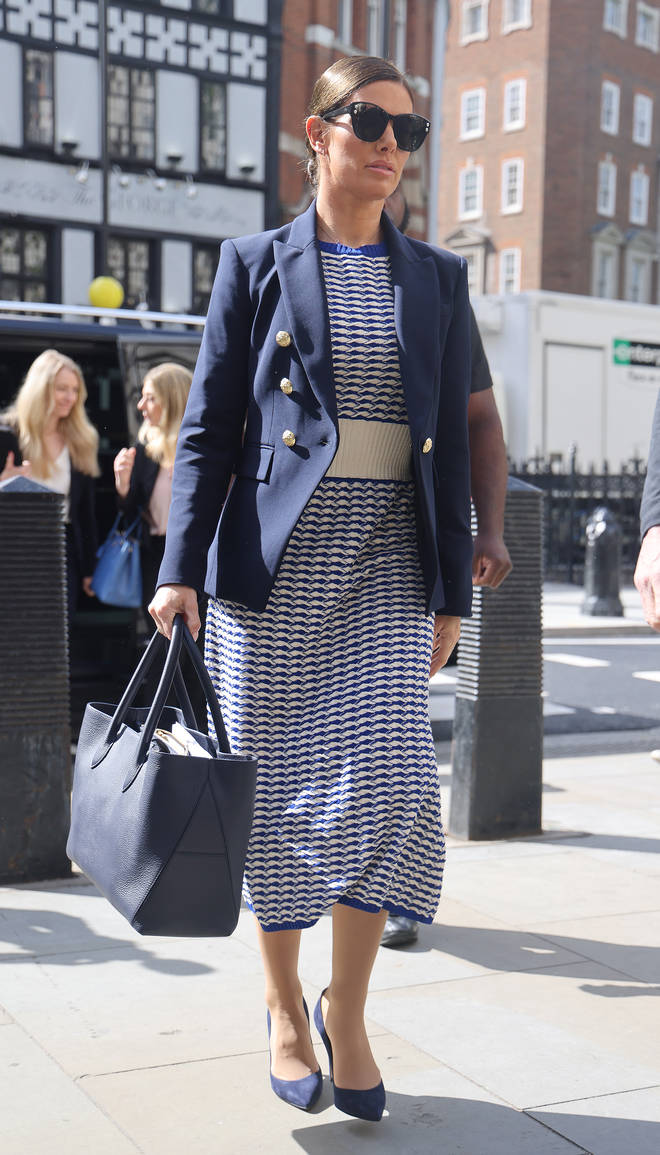 Mrs Rooney's barrister David Sherborne opened questioning on Thursday with a joke, saying Mrs Vardy was "saved by the bell" yesterday after her testimony was cut short by a fire alarm.
He then questioned her extensively about the 2018 photo.
Mrs Vardy denied an accusation from Mr Sherborne that she was trying to distance herself from the idea she had "strong links" with journalists, saying: "I was busy with the kids and under so much stress and we even had to wash our own clothes in the sink at the hotel."
Read more: Check your fridge: Supermarkets urgently recall chicken products over salmonella fears
Read more: British tourist, 34, dies after falling from seventh floor of Magaluf hotel
Mr Sherborne later pointed to a conversation between Ms Watt and Mrs Vardy after Mrs Rooney posted on Instagram saying one of her followers was leaking stories to The Sun.
In a message, Ms Watt wrote: "Such a victim. Poor Coleen."
In another message 20 minutes later, she wrote: "And it wasn't someone she trusted. It was me."
Mrs Vardy said she did not reply because she was bathing her children and watching Dancing On Ice at the time, mentioning Gemma Collins' famous "face plant".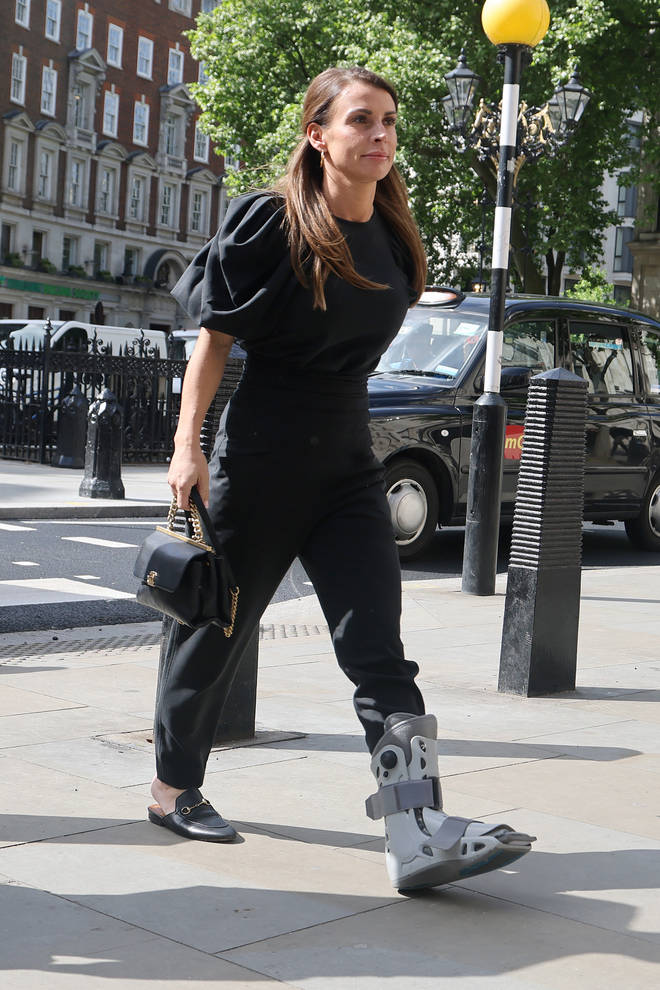 Mr Sherborne then turned to the fact that Ms Watt's phone was dropped in the North Sea before Mrs Rooney's legal team could see WhatsApp messages that could potentially help her case.
He said: "It's lying at the bottom of the sea in Davy Jones' locker."
Mrs Vardy said: "Who's Davy Jones?"
The judge clarified that it meant the phone is at the bottom of the sea.
Read more: Former darts world champion Ted Hankey jailed for two years over sexual assault
Read more: Hero dog saves girl, 2, by biting attempted kidnappers as police launch manhunt
It is day three of Mrs Vardy's evidence.
The TV personality faced about half an hour of questioning on the first day of the trial on Tuesday, before about five hours of cross-examination by Mr Sherborne on Wednesday.
Mrs Vardy, who was watched throughout by Mrs Rooney, who sat metres away in the courtroom, at one point grew tearful at the start of a question about some of the abuse she and her family have received.
It also saw her quizzed about her correspondence with Ms Watt about other celebrities.
Arriving at the High Court on Thursday, Mrs Rooney and her husband Wayne Rooney stepped out of a black Mercedes van before walking in through the main entrance of the court past a dozen photographers.
Mrs Rooney, wearing a black dress, walked side-by-side with her husband, who was wearing a blue suit.
Mrs Vardy also stepped out of a black Mercedes van, walking past photographers wearing a blue and white patterned dress under a blue blazer.
Mrs Vardy is expected to finish her evidence on Thursday, with Mrs Rooney due to begin hers on Friday.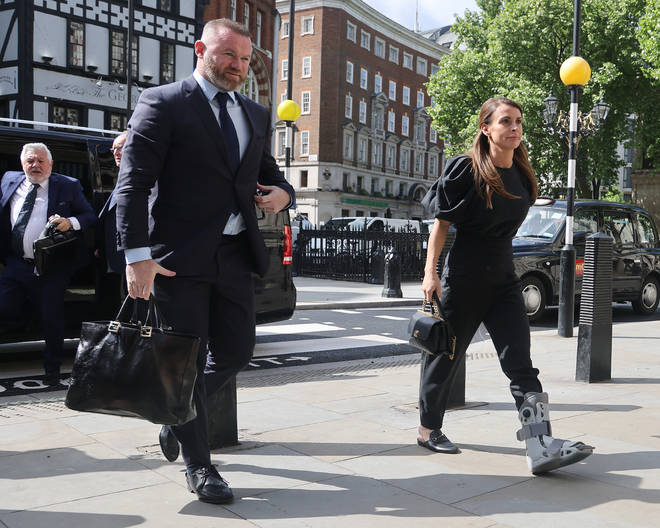 In a viral social media post in October 2019, Mrs Rooney, 36, said she had carried out a "sting operation" and accused Mrs Vardy, 40, of leaking "false stories" about her private life to the press.
The wife of former England star Wayne Rooney publicly claimed an account behind three fake stories she had posted on her personal Instagram account with The Sun newspaper was Mrs Vardy's.
Mrs Vardy, who is married to Leicester City striker Jamie Vardy, denies leaking stories to the media and is suing her fellow footballer's wife for libel, while Mrs Rooney is defending the claim on the basis her post was "substantially true".
On Wednesday, Mrs Vardy denied being prepared "to lie under oath" when she said conversations with Ms Watt about leaking information and receiving payment were "never serious".
Mrs Vardy also said they were "gossiping" or she was "just joking" when questioned about messages between them allegedly about leaking information on a cheating footballer in 2019 and former Leicester City player Riyad Mahrez missing training in 2018.
In her written statement, Mrs Vardy said: "I have sometimes been caught up in the heat of the moment during conversations with Caroline where I have talked about 'leaks' and payment, but these conversations were never serious, and Caroline would have understood that.
"I have never been paid for private information about anybody apart from myself or my family."
The court also heard Mrs Vardy told her agent she "wanted paying" for information about then-Chelsea player Danny Drinkwater leaving police custody after crashing his car in 2019.
Drinkwater was banned from the roads for 20 months and ordered to do 70 hours of community service after pleading guilty to drink driving.
Mr Sherborne asked Mrs Vardy whether she still stood by witness statement evidence, to which she replied: "Yes, apart from the Danny Drinkwater one."
She later told the court: "When I said I want paying for this, it's a fleeting comment and something I probably considered at the time, but that was it."
On day one of the trial Mrs Vardy was questioned about an interview she gave the News of the World in 2004, in which she recalled an alleged sexual encounter with Peter Andre.
She said: "Peter's hung like a small chipolata, shaved, slobbery, lasts five minutes."
The musician has since hit out at the comments, questioning on Instagram how people claim to care about "mental health" and "being kind" when he has been "the butt of all jokes" for such a long time.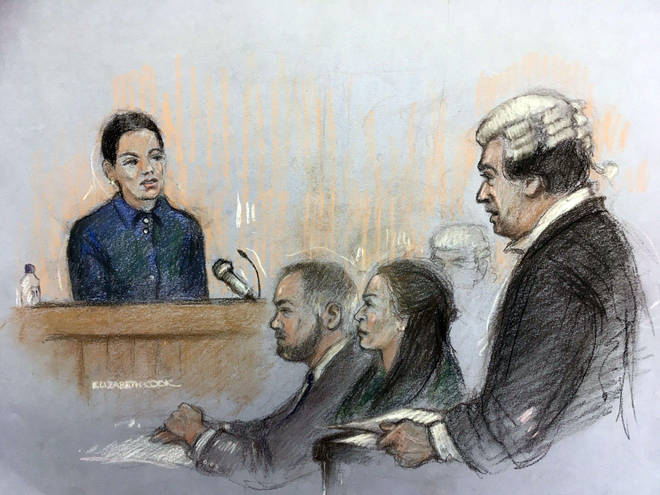 Mrs Rooney is defending the libel claim on the basis of truth and public interest.
The court previously heard that both women have spent "hundreds of thousands of pounds" on the case so far, with the total costs of the case expected to be at least £2 million.
The fake stories Mrs Rooney planted on her Instagram during the sting operation featured her travelling to Mexico for a "gender selection" procedure, her planning to return to TV, and the basement flooding at her home.
In the post on Instagram, Twitter and Facebook, she wrote: "I have saved and screenshotted all the original stories which clearly show just one person has viewed them.
"It's .......... Rebekah Vardy's account."