PM pledges £3m to beef up security at Jewish schools and synagogues after ex-Hamas chief calls for global jihad
12 October 2023, 17:04 | Updated: 12 October 2023, 17:50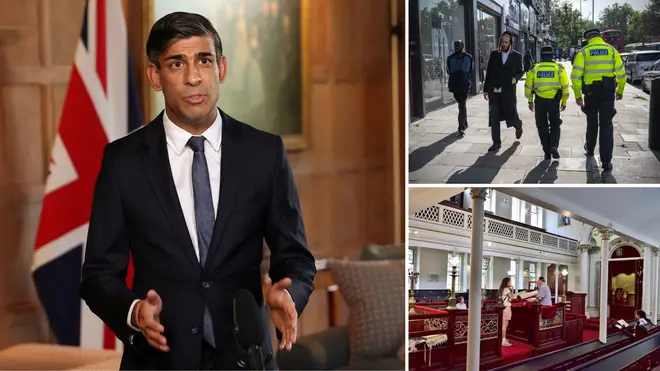 Rishi Sunak has announced £3million of extra funding to protect synagogues, schools and other Jewish community buildings.
The additional funding will be provided to the Community Security Trust (CST), an organisation that protects British Jews from antisemitism and related threats.
The CST has recorded a 400 per cent increase in antisemitic incidents across the UK since Saturday's surprise attack on Israel by Hamas.
It comes as two Jewish schools in London announced they would be closing on Friday as a precaution following remarks made by the former leader of Hamas.
The former leader called for Muslims across the globe to "take to the streets" to protest against Israel on Friday.
He said: "[We must] head to the squares and streets of the Arab and Islamic world on Friday.
"To all scholars who teach jihad … to all who teach and learn, this is a moment for the application [of jihad],"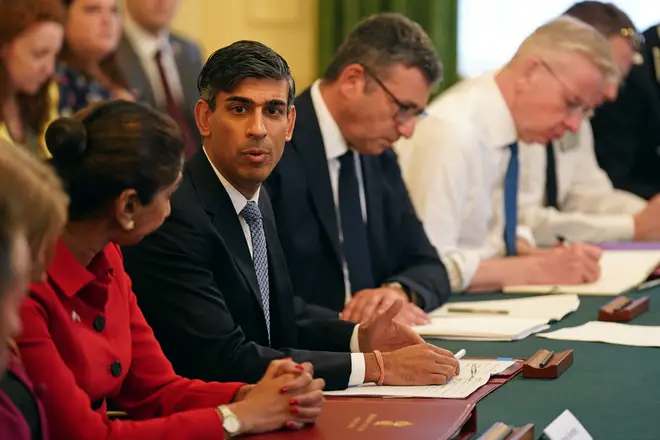 According to the CST, there have been 139 recorded antisemitic incidents in the last four days - an increase of 400 per cent compared with the same period in 2022.
It follows a roundtable that took place at 10 Downing Street to discuss the rise in antisemitism since Hamas' attack on Israel.
Sunak asked police chiefs to ensure a "consistent and clear approach is taken to tackling hate crime, policing protests and protecting Jewish communities".
Sunak said: "This is now the third deadliest terror attack in the world since 1970. The United Kingdom must and will continue to stand in solidarity with Israel.
"At moments like this, when the Jewish people are under attack in their homeland, Jewish people everywhere can feel less safe.
"That is why we must do everything in our power to protect Jewish people everywhere in our country. If anything is standing in the way of keeping the Jewish community safe, we will fix it. You have our complete backing."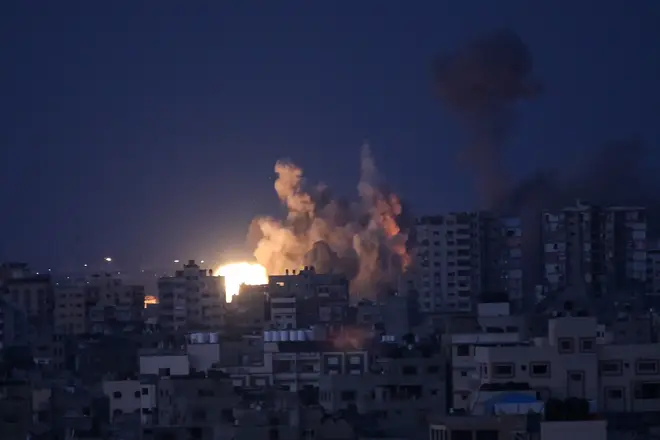 Read More: Biden calls Hamas attacks the 'deadliest day for Jews since the Holocaust'
Read More: Armed police step up patrols after man 'spotted carrying weapon near synagogue'
Mark Gardner, Chief Executive of Community Security Trust has told LBC News: "The support from police over the past few days has been very strong, it's been unprecedented."
"We'd rather have not needed this funding, but we're very grateful for it."
Mr Gardner says whenever conflict flares up in the middle east, there is a rise in antisemitic incidents in the UK.
He added: "The increase that we've had so far has been sharper than before, it reflects the enormity of what's happened.
"It gets to me, it gets to our staff, where it's things like the only Jewish kid in a school and they get abuse from other children for things they have no responsibility over.
"It's just racism. There's been a small number of physical assaults too."
It comes after the Home Secretary Suella Braverman told police officers they should use the "full force of the law" to prevent harassment of the UK's Jewish community in the wake of events in Israel.
In a letter to police chiefs in England and Wales, she said: "It is not just explicit pro-Hamas symbols and chants that are cause for concern.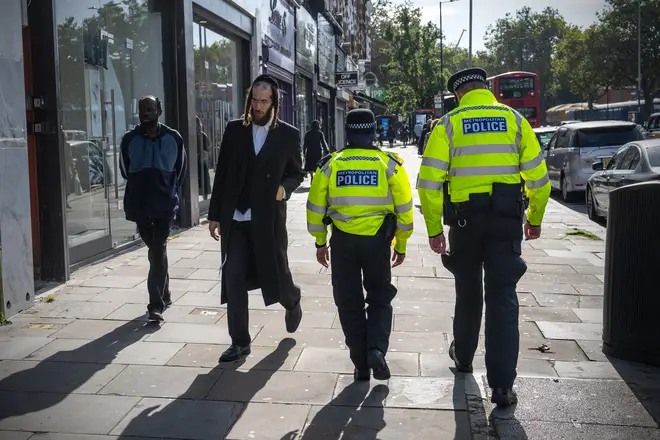 "I would encourage police to consider whether chants such as 'From the river to the sea, Palestine will be free' should be understood as an expression of a violent desire to see Israel erased from the world, and whether its use in certain contexts may amount to a racially aggravated Section 5 public order offence."
Both pro-Palestine and pro-Israel supporters took to the streets in west London on Monday to show support for the respective causes.
Protesters were pulled apart by police as chants of 'Free, Free Palestine!' rang out on High Street Kensington and inside the nearby Tube station, located just yards from the Israeli embassy.
On Tuesday, in Hertfordshire, armed police carried out patrols in Radlett, following reports of a man 'carrying a weapon'.