Rishi Sunak brings in Esther McVey as 'minister for common sense'
13 November 2023, 18:37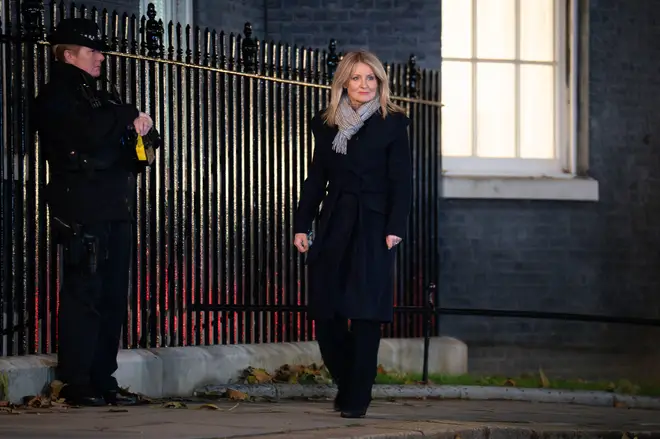 Esther McVey is making a return to a Cabinet role - being given a position in the Cabinet Office as part of Rishi Sunak's reshuffle.
She will officially be a minister without portfolio but it is understood that her brief is to be the 'minister for common sense' in her Government role.
Her focus is expected to be combating 'wokery' and 'standing up for working people.'
Her appointment will be seen as an olive branch to the Tory Right after sacking controversial home secretary Suella Braverman.
Newly-appointed Foreign Secretary David Cameron, who also becomes a life peer, said on Monday he wanted to be "part of the strongest possible team" that "can be presented to the country when the general election is held".
Read more: David Cameron says his return to Cabinet is 'not usual' but hopes his six years as PM can be beneficial to Sunak
Read more: Who's in and who's out in Rishi Sunak's reshuffle?
The new Foreign Secretary insisted the Greensill affair which he was implicated in is "in the past" as he faced questions over accountability.
James Cleverly was shifted from the Foreign Office to replace Mrs Braverman as Home Secretary.
Andrew Marr tells Shelagh Fogarty his take on David Cameron's new appointment as Foreign Secretary
Downing Street stressed that the Cabinet should always "speak with one voice" in highlighting the importance of collective responsibility binding ministers, explaining Mrs Braverman's sacking.
Lord Cameron's appointment was a massive shock in Westminster, not just because of the return of a former prime minister to government - the first since Alec Douglas-Home in the 1970s - but also because of his views on China.
During the Cameron administration there was a "golden era" of UK-China co-operation, something Mr Sunak described as "naive" last year following growing tensions with Beijing.
Lord Cameron has also been critical of Mr Sunak's decision to scrap the northern leg of HS2, while the Prime Minister used his Tory conference speech to distance himself from the legacy of his predecessors.
But the former prime minister made it clear he backs Mr Sunak and will work with him to help the Tories win the general election, which is expected next year.
The new Foreign Secretary said: "Though I may have disagreed with some individual decisions, it is clear to me that Rishi Sunak is a strong and capable Prime Minister, who is showing exemplary leadership at a difficult time."
Mr Sunak's press secretary said the reshuffle reflects his focus on having a "strongly united team" after his ousted home secretary was seen as making unauthorised pitches to the right for a future leadership contest.
The Prime Minister's decision to jettison Mrs Braverman followed inflammatory comments suggesting homelessness is sometimes a "lifestyle choice" and an unauthorised newspaper article criticising the way police have handled pro-Palestinian "mobs".
Sacking one of the leading figures on the Tory right could pose difficulties for the Prime Minister as he seeks to get his party united behind him for the election.
Ominously for the Prime Minister, Mrs Braverman said she will have "more to say in due course" about her exit.
Mr Sunak's press secretary said there had been "issues around language".
"It is clearly very important that we have a united and strong team at the top of Government. I would say there were differences of style and it's right that we can move forward now and focus on what matters to people," she said.
Former minister Dame Andrea Jenkyns submitted a letter of no confidence in Mr Sunak to the Tory backbench 1922 Committee as a result of his decision to axe Mrs Braverman.
She said: "If it wasn't bad enough that we have a party leader that the party members rejected, the polls demonstrate that the public reject him, and I am in full agreement. It is time for Rishi Sunak to go."
She said that Mrs Braverman "was the only person in the cabinet with the balls to speak the truth of the appalling state of our streets and a two-tier policing system that leaves Jewish community in fear for their lives and safety".
Former Tory treasurer Lord Cruddas also criticised Mr Sunak's actions, saying: "The coup is complete, remain has won and democracy has lost."
In another sign Mr Sunak is looking ahead to the election, Richard Holden replaced Greg Hands as Conservative Party chairman following a string of by-election losses and a mauling in council contests during his nine months in charge.
In other moves:
- Therese Coffey, who was deputy prime minister under Liz Truss, was replaced as environment secretary by Steve Barclay;
- Victoria Atkins replaced Mr Barclay as Health Secretary;
- Laura Trott was promoted to Treasury Chief Secretary;
- Former chief secretary John Glen became Paymaster General; an
- Mr Hands was appointed a minister in the Department for Business and Trade.
- Former work and pensions secretary Esther McVey was brought back into Government as a minister without portfolio who is likely to take a prominent role in the media.
Lord Cameron said he has resigned from all his jobs to take the role as Foreign Secretary, as he faced questions over the Greensill affair, in which he privately lobbied ministers in an attempt to win Greensill Capital access to an emergency coronavirus loan scheme.
The Commons Treasury Committee said the former MP displayed a "significant lack of judgment", but cleared him of breaching lobbying rules.
In his first interview since returning to frontline politics, Lord Cameron said: "As far as I am concerned, that is all dealt with and in the past. I now have one job, as Britain's Foreign Secretary."
He also insisted he would be held to account in the House of Lords and to select committees after Commons Speaker Sir Lindsay Hoyle raised concerns that MPs will not be able to question him in the House because he is a peer.
In the junior ranks, Will Quince and Neil O'Brien both quit as health ministers, while veteran schools minister Nick Gibb left his post, Jesse Norman departed from the Department for Transport and George Freeman stepped down as science minister.
Rachel Maclean was sacked as housing minister, with her departure noted by Cabinet minister Kemi Badenoch, who described her as "excellent".
Meanwhile Jeremy Quin quit as paymaster general rather than continue in another job amid reports he was offered the housing portfolio.
Despite pressure from some Tory MPs for a radical tax-cutting change in the approach to the economy, Jeremy Hunt remains as Chancellor ahead of next week's autumn statement.
Mr Sunak's press secretary rejected "tick-box diversity" after the reshuffle left the four great offices of state being held by privately-educated men for the first time since the Tories' 2010 election win.