Rishi Sunak 'confident' over trade deal between UK and India following talks with Narendra Modi at G20 summit
9 September 2023, 15:27 | Updated: 9 September 2023, 15:40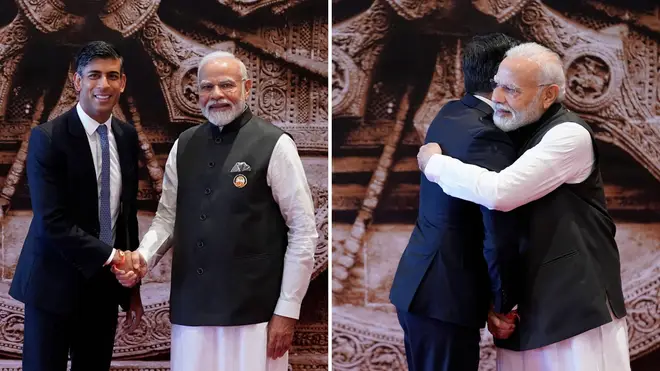 Rishi Sunak has said that he is "confident" a trade deal will be struck between the UK and India after talks with Narendra Modi at the G20 summit.
Mr Sunak stressed there was "hard work" still to do in order to seal a free trade agreement (FTA) with India but said the UK would "keep going for it".
The PM had a meeting with India's prime minister, Narendra Modi, at the G20 summit in New Delhi on Saturday.
The pair are working "at pace" towards an agreement, Downing Street said.
It comes after Mr Modi postponed their meeting on Friday evening, instead meeting Joe Biden to discuss democracy, technology and infrastructure plans.
Read more: Narendra Modi postpones Rishi Sunak meeting at G20 summit as PM insists trade deal is 'not a given'
Read more: 'Fired up' Rishi Sunak vows to keep cutting inflation, but refuses to commit to cutting taxes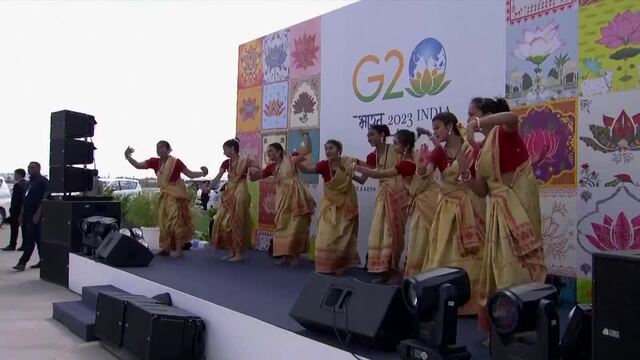 Rishi Sunak arrives in New Delhi ahead of G20 Summit
When asked whether he spoke to Mr Modi about the sticking points in the negotiations, Mr Sunak said: "You wouldn't expect me to get into the micro nitty gritty of the negotiations.
"That is why I said there is hard work to do. Trade deals of this size and ambition are never easy, and that is what we want - we want an ambitious, comprehensive trade deal. That has to be a win-win for both countries.
"I will never put arbitrary deadlines on trade deals for exactly this reason. They need to work for Britain, they need to work for the British people and we will get through the work that requires doing and just keep going for it.
"I'm confident there is a deal there to be done. But as I said there is hard work to go in order to achieve it. But if we can do it, it will be very exciting.
"But as I said, India is going to be an increasingly important country in global affairs over the coming years and decades.
"It is vital that the UK has a close relationship with India and an FTA is a way for us to do that, as well as broadening out our co-operation in a range of other areas too."
It comes as G20 leaders have reached a consensus on a declaration calling for "durable peace in Ukraine".
A statement said: "We call on all states to uphold the principles of international law including territorial integrity and sovereignty, international humanitarian law, and the multilateral system that safeguards peace and stability.
"We...welcome all relevant and constructive initiatives that support a comprehensive, just, and durable peace in Ukraine."