'Not going to be forced into making decisions': Rishi Sunak refuses to clarify future of HS2 northern leg
3 October 2023, 14:00 | Updated: 3 October 2023, 14:15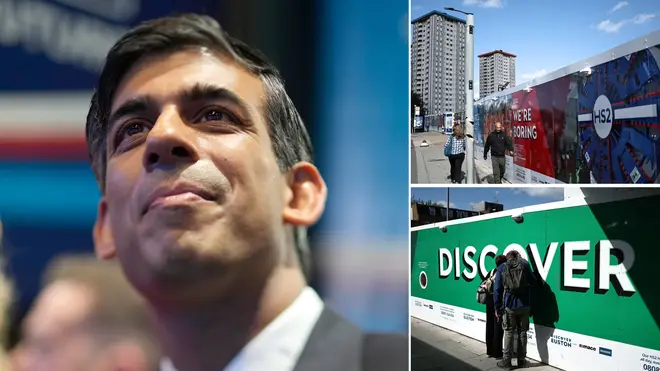 Rishi Sunak has said he is "not going to be forced into making premature decisions" on HS2 amid reports its northern leg has been scrapped.
It has been suggested HS2's northern leg, which would have connected London and Manchester, has been scrapped amid soaring costs.
Mr Sunak has repeatedly refused to confirm whether it has been scrapped, insisting that no formal decision has been made.
"We've got spades in the ground on HS2. We're getting on and delivering it," the prime minister told Sky.
"And all I'd say is there's lots of different ways that we're levelling up communities across the north and the Midlands."
Pressed further on whether the northern leg has been scrapped, Mr Sunak continued: "I think it's right that I'm not going to get forced into making premature decisions.
"Not on something that's so important that costs this country tens of billions of pounds."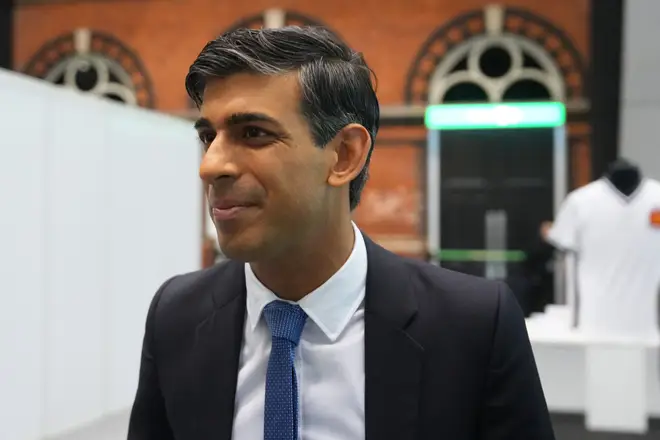 It has been reported Mr Sunak plans to officially announce the northern leg of HS2 is to be scrapped on Wednesday, the final day of the Conservative Party conference.
He is first expected to hold an emergency Cabinet meeting to sign off the measures during his party conference in the city most directly hit by the cut.
Read More: 'We have to see it through': Scrapping HS2 would damage UK's reputation on world stage, Birmingham mayor warns PM
Read More: Nick Ferrari challenges LBC's Henry Riley to deliver Balti from Birmingham to Manchester amid 'HS2 north' row
He is then set to make the announcement during his keynote speech, according to the Telegraph.
The savings are set to free up more than £10 billion that can instead be spent on an east-west high-speed link - Northern Powerhouse Rail - as well as improvement to major roads and bus routes, he is set to say.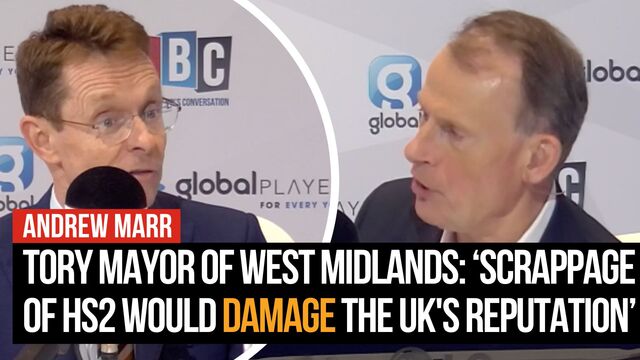 Andy Street" Scrapping HS2 would 'damage' the UK's reputation
The plans have been met with fury by regional leaders, including the Mayor of Birmingham Andy Street, who told LBC's Andrew Marr on Monday that the UK "must see it through" as a "serious G7 country".
"We need the full line from Euston to Manchester for there to be a good national investment," Mr Street said, as he warned there is "no business case" for HS2 to run from Birmingham to Old Oak Common in west London.
He continued: "Therefore, stand back from the bit that is still yet to be planned and say 'how do we do this at much less cost?' and we've got offers from major companies who have done this in other countries."
"There is no question that if we do not go ahead with a connectivity from Birmingham to Manchester, it will be a very, very serious blow to Levelling Up," Mr Street added.
Asked what the effect of scrapping HS2 would have on the UK's international credibility, Mr Street said it would "definitely damage it".
"As a serious G7 country, we have to do the difficult stuff well," he said.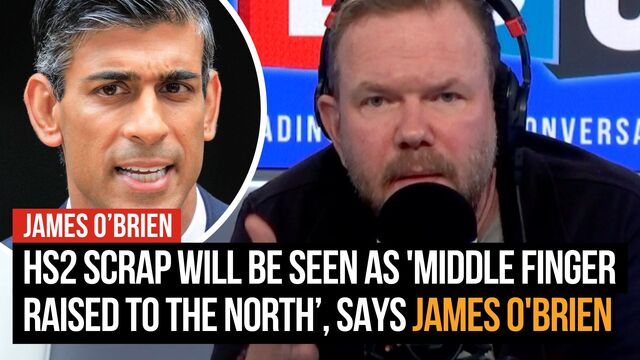 HS2 scrap will be seen as a 'middle finger raised to the North of England', says James O'Brien
It comes after Andy Burnham said the Tories are treating Northerners "like second class citizens" amid speculation over HS2's northern leg.
The Manchester Mayor told LBC he has been "completely shut out" of discussions on the high speed rail line as he is meeting with ministers today to discuss its future.
No10 previously slapped down speculation that the PM is imminently to announce the ditching of the Northern part of the line in a bid to save cash.
Mr Burnham told LBC he was "not aware" he even had a reply from the PM about his request for a meeting last week.
He said the discussions around binning it was "frustrating" and it would have "epic implications for the North if we get left with Victorian rail infrastructure".