'I won't chase short-term headlines,' Rishi Sunak tells LBC, amid HS2 row with former Tory leaders
6 October 2023, 16:23 | Updated: 6 October 2023, 17:21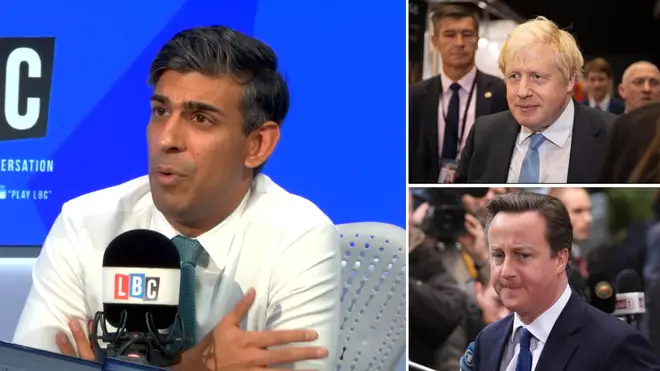 Rishi Sunak said he was "looking to the future" and politics is "not about what happened in the past", after he was criticised for scrapping the HS2 extension to Manchester by former Conservative Prime Ministers.
Mr Sunak told the Conservative party conference earlier this week that he wanted to break with the "false consensus" of politics of recent decades.
As well as delaying the ban on sale of new petrol and diesel cars until 2035 and reducing the scope of HS2, Mr Sunak also announced a revamp of school qualifications and pledged to create a 'smoke-free generation' under new plans to raise the smoking age by one year, every year.
But he has come in for criticism from Boris Johnson and David Cameron for his decision to cancel the HS2 extension. Theresa May also hit out at the decision to push back net zero targets.
Mr Sunak told LBC's Tom Swarbrick in response: "I'm just looking to the future.
Read more: Rishi Sunak refuses to back Suella Braverman after she warned there was a 'hurricane' of migrants coming to Britain
Read more: Government backtracks on key transport pledge 24 hours after Sunak's 'Network North' promises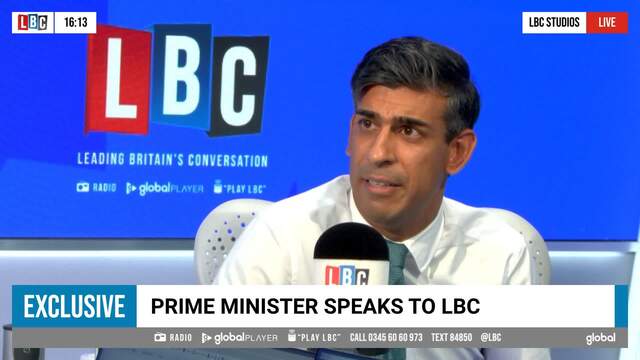 Rishi Sunak speaks to LBC's Tom Swarbrick
"It's not about what happened in the past, it's about who's going to change this country for the better in the future.
"And whether it's on the decision on HS to the more pragmatic cause to net zero, a new approach to our education system to set our kids up for the future, or the decision that I made on on smoking.
"These are all big decisions, which will change our country for the better in the future."
He added: "Those are all examples of the leadership that I'm going to bring."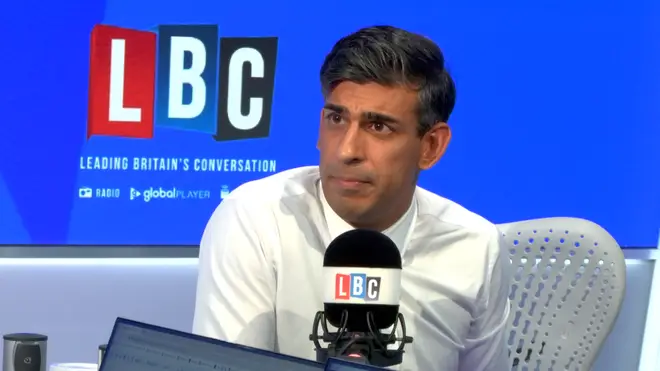 Mr Sunak said he wouldn't take the "easy way out" as Prime Minister, adding that politics over the last 30 years had been characterised by short-termism.
Although the Conservatives have been in power for 17 of the past 30 years, the Prime Minister said that it was unfair to lay the blame at his party's door.
"When I go across the country I don't think this is necessarily about this party, or that party," he said.
"It's a sense that politics for a long time has just not focused on making the right long-term decision for the country, in many cases just taking the easy way out, chasing the short-term headline.
"I want to do things differently."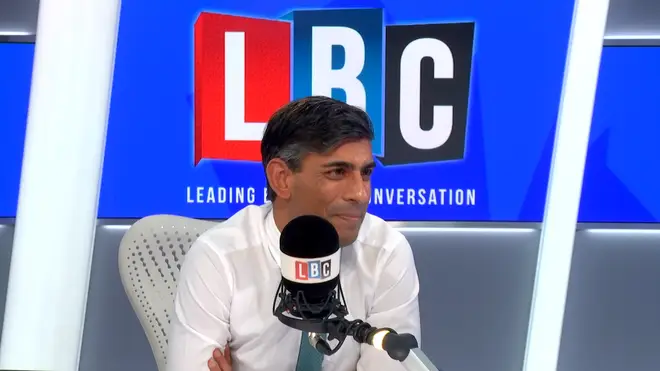 Mr Sunak announced at the Conservative Party Conference that the northern leg of HS2 would be scrapped, meaning it will only run between Birmingham and London.
Instead, Mr Sunak says £36bn saved on the project would be reinvested into other local transport schemes, including by improving links between Manchester and Liverpool.
That decision came after Mr Sunak delayed the ban on the sale of new petrol and diesel cars until 2035 as he watered down a string of flagship environmental measures that sparked a huge Tory row.