Rishi Sunak to condemn Hamas to MPs as he doubles down on support for Israel and vows to protect British Jews
15 October 2023, 22:52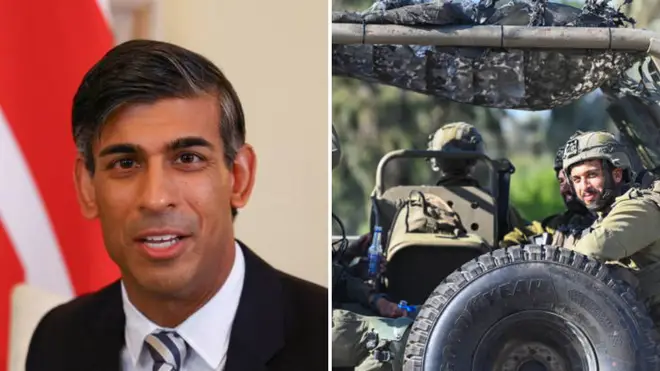 Rishi Sunak is set to condemn Hamas in Parliament on Monday as he reaffirms the UK's backing for Israel and pledges to protect British Jews.
Mr Sunak's comments come as Israel readies itself for an invasion of Gaza, in a conflict that has already seen nearly 3,000 people die.
Mr Sunak will also set out the government's strategic approach to taking part in efforts to avoid the conflict escalating to the wider region. Israel has already exchanged fire with Lebanon and shelled an airport in Syria in recent days.
The Prime Minister will tell MPs about efforts to get British citizens caught up in the conflict either in Israel or Gaza back to the UK. The Gaza crossing to Egypt is set to open to foreign nationals early on Monday morning.
As well as his remarks to the Commons, the Prime Minister is set to "undertake a visit in the morning to demonstrate the government's continued support for the Jewish community", a spokesperson said.
Read more: Hunt for Palestine supporters with 'pro-Hamas hang-glider signs', as Suella Braverman vows crackdown
Read more: Gaza's Rafah border with Egypt to open up for dual nationals and aid, as hundreds of thousands flee to southern city
It comes after Mr Sunak met the King of Jordan, who has gone on a European tour to "rally international support to stop the war on Gaza", his office said.
The monarch has already met US Secretary of State Antony Blinken on Friday, with stops also expected in Italy, Germany and France.
Number 10 said that the king and Mr Sunak discussed diplomatic efforts to prevent "further escalation in the wider Middle East".
"The leaders also agreed on the importance of taking measures to protect civilians in Gaza, including British and Jordanian citizens caught up in the violence, as well as ensuring humanitarian aid reaches those in need," a Downing Street spokesperson said.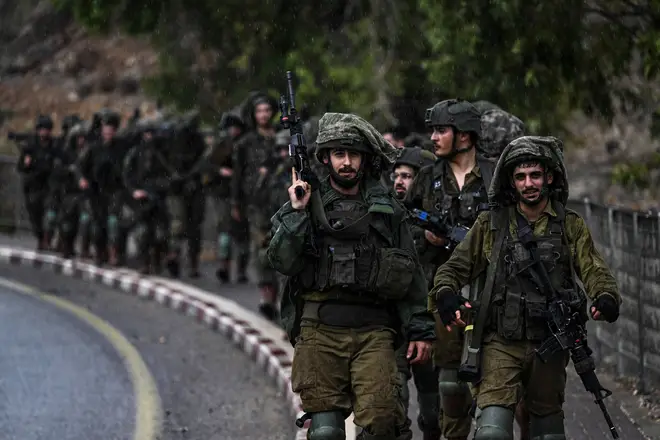 Israel has massed hundreds of thousands of ground troops near the border with Gaza, and has confirmed it is gearing up for an invasion.
Its government has told about a million people from the north of Gaza to move to the south to avoid the invading force, a move that has sparked outcry among many human rights groups.
Khan Younis, a city in southern Gaza that usually is home to around 400,000 people, has seen its population double in a few days.
The invasion is expected imminently, but it is unclear when exactly it will begin.
Israeli Prime Minister Mr Netanyahu convened the first meeting of his government's war Cabinet on Sunday afternoon.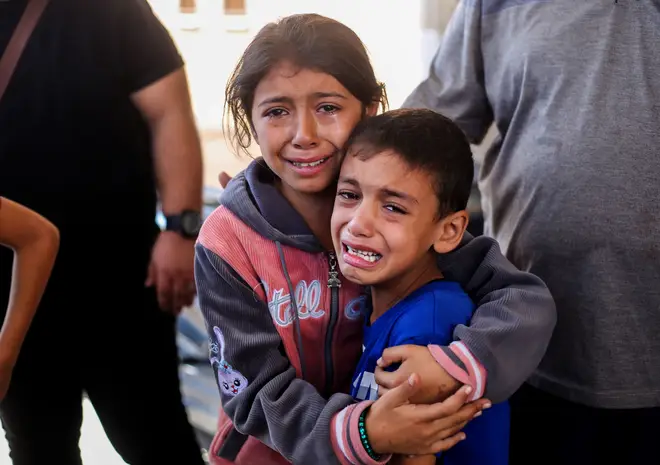 He said that the Israel Defence Forces "are ready to act at any moment, to exterminate the bloody monsters that rose up against us."
"Hamas thought we would be demolished. It is we who will demolish Hamas," he added.
Meanwhile UN Secretary-General Antonio Guterres called on Israel to let aid come into Gaza.
"Gaza is running out of water, electricity and other essential supplies," he said in a statement. "The UN has stocks available of food, water, non-food items, medical supplies and fuel....These goods can be dispatched within hours.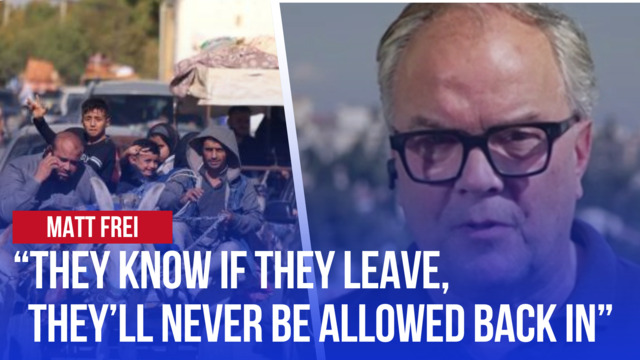 Inside the evacuation of Gaza, Matt Frei reports from Jerusalem
"To ensure delivery, our selfless staff on the ground, along with NGO partners, need to be able to bring these supplies into and throughout Gaza safely, and without impediment to deliver to those in need."
He also called for Hamas to release its Israeli hostages.
"Each one of these two objectives are valid in themselves, Mr Guterres said. "They should not become bargaining chips."