'There is no question of balance, I stand with Israel': Sunak vows to 'stop at nothing' to keep UK Jewish community safe
9 October 2023, 22:50 | Updated: 9 October 2023, 23:26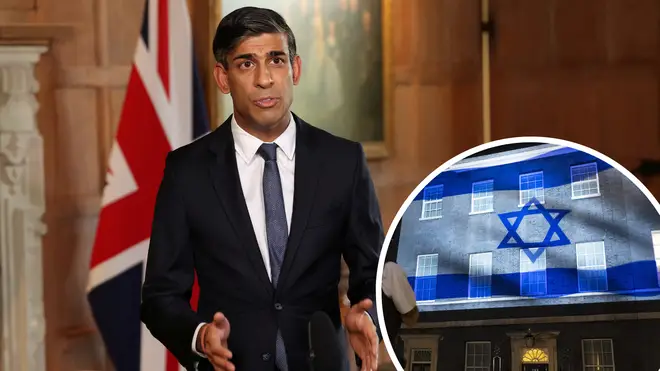 Rishi Sunak has vowed to "stop at nothing" to keep the UK Jewish community safe as he attended a prayer service at a synagogue in London today.
Addressing the prayer service, the prime minister said his stance was "unequivocal" and vowed to keep British Jews safe.
"The people who support Hamas are fully responsible for this appalling attack. They are not militants. They are not freedom fighters. They are terrorists," Mr Sunak said.
"And their barbaric acts, are acts of evil. There is no other word to describe what we have seen."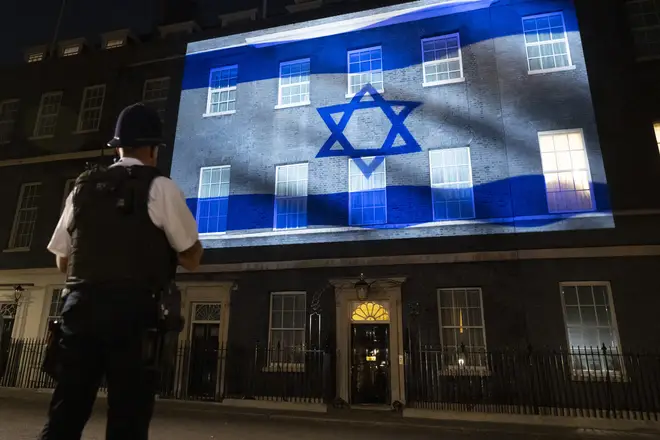 In a joint statement, Mr Sunak, US President Joe Biden, French President Emmanuel Macron, German Chancellor Olaf Scholz and Italian Prime Minister Giorgia Meloni promised their "steadfast and united support to the State of Israel, and our unequivocal condemnation of Hamas and its appalling acts of terrorism".
They said: "We make clear that the terrorist actions of Hamas have no justification, no legitimacy, and must be universally condemned. There is never any justification for terrorism.
"In recent days, the world has watched in horror as Hamas terrorists massacred families in their homes, slaughtered over 200 young people enjoying a music festival, and kidnapped elderly women, children, and entire families, who are now being held as hostages."
They warned that "this is not a moment for any party hostile to Israel to exploit these attacks to seek advantage".
The leaders said they recognised the "legitimate aspirations of the Palestinian people", but "Hamas does not represent those aspirations, and it offers nothing for the Palestinian people other than more terror and bloodshed".
The people who support Hamas are fully responsible for this appalling attack.

They are not militants. They are not freedom fighters.

They are terrorists.

My message tonight from Finchley United Synagogue where I joined @chiefrabbi in vigil with local communities. pic.twitter.com/7eBJ6catbr

— Rishi Sunak (@RishiSunak) October 9, 2023
Two British people have been confirmed dead in Israel, along with two missing. But authorities fear the real number of dead and missing could be over ten.
Concerns have been raised over anti-semitic sentiment in the UK in the wake of the attacks. Pro-Palestinian graffiti was daubed on a bridge in a traditionally Jewish part of London on Sunday night.
A kosher restaurant nearby was vandalised, although police are not treating it as a hate crime for now, and it is unclear if the events are linked.
Police have been told to step up patrols to deter and tackle anti-semitic criminal activity, and will stand guard outside Jewish schools.
Read more: Thousands gather at London vigil for hundreds killed by Hamas, as Palestine supporters protest outside Israeli embassy
Read more: More than ten Brits feared dead or missing in Israel as rocket attacks continue
Israel-Gaza conflict is 'most dangerous' conflict we have faced in forty years
A vigil was held outside Downing Street on Monday evening to mourn the deaths of people in Israel. Supporters of Palestine took part in a protest outside the Israeli embassy in west London.
Mr Sunak said in a speech on Monday evening: "Last night we flew the Israeli flag over Number 10 to show our solidarity with the people of Israel and our utter condemnation of the horrific violence that Hamas unleashed over the weekend.
"On Saturday morning terrorists crossed into Israel intent on murder and kidnap. Whole families were killed. Women, children and the elderly were taken hostage.
"Innocent teenagers at a festival of peace were gunned down in cold blood and the sickening evidence posted online.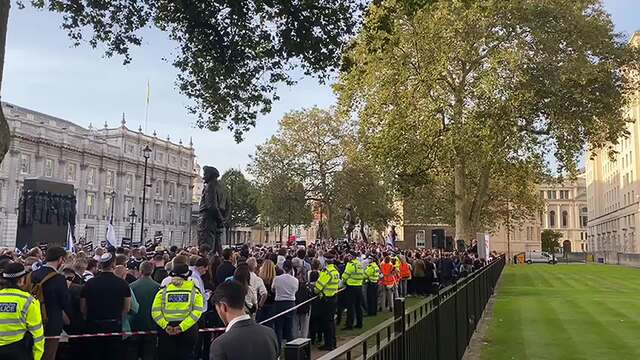 "It is inhuman – and it will not stand. Terrorism will not prevail.
"Israel has the absolute right to defend itself and to deter further incursions.
"We are working with the Israeli authorities to support them and we're doing everything possible to support British citizens who were caught up in the attacks and the families of those who perished.
"I also want to say a word to Jewish communities here at home: I am with you. And we are taking the necessary steps to ensure that you feel safe."
Celebrations were seen in some parts of London after the Hamas attacks on the weekend, which were roundly condemned.
Home Secretary Suella Braverman said earlier: "There is no place for demonstrations, convoys, or flag-waving on British streets that glorifies terrorism or harasses the Jewish community.
"I am writing to police chiefs in England and Wales to urge them to step up patrols and use all available powers to prevent disorder and distress to our communities.
"I have been clear officers should act immediately to crack down on criminality, both in our streets and online."